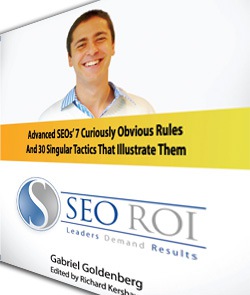 It's true that a lot has been said and written about SEO by now. Experts choose different styles and different ways to put it: some choose to share strategic advice while others (like me) are better at outlining simply DIY SEO tactics and tips.
It is not hard to find well-structured information on the right way to do things: how to do keyword research, craft your web copy, structure your website architecture and interlink parts of it. What's really hard to learn is to how approach SEO creatively.
Advanced SEO Book by Gabriel Goldenberg is a great tutorial on exactly that: it contains 7 not so obvious rules that enable creativity and powerful SEO – that teach you to create your own SEO tactics that work.
I've known Gabe for ages and I have never stopped admiring his desire to learn new things. His restless curiosity is incredibly inspiring.
And this is why he has chosen this specific topic for his book: rules no one else will ever teach you on how to properly learn SEO. This is what Gab is excels at.
The Rules
Basically the book describes the following principles of creative search marketing and critical thinking:
HOW TO: Learn from others. The question is, how does an intermediate-advanced SEO/webmaster learn from others' experience?
HOW TO: Start teaching yourself. Be self-aware when browsing and learning, be ready to work for free to gain knowledge and start sharing what your learn.

HOW TO: Learn to spot and study patterns. Learn by looking for relationships in the data and question the motives.
HOW TO: Think laterally.
HOW TO: Define the problem.
HOW TO: Question the Logic.
HOW TO: Decide.
The Tactics
Besides, describing the rules, the book also lists 30 tactics that illustrate them. These are broken into the following broad categories:
Convert (e.g. "Create beautiful headers for conversion and SEO")
Build Links (e.g. "3 sources for link prospecting inspiration" and "Selecting more natural anchor text using N-grams")
Understand and Discover Keywords (e.g. "Mining fat, juicy keyword lists hidden in plain-view")
Perform Other High-ROI SEO Tasks (e.g. "Research your niche beyond keywords")
Sounds interesting, doesn't it? You can download the free chapter here.
Disclaimer: Gab is an old friend of mine and he did send me the free copy of his his awesome book, although NOT in exchange for this review. My reviewing the book results solely from my desire to share a very useful SEO resource with our readers.