2017 is here! You may be getting on with the new year by catching up with things you missed last year, following through with your resolutions, and checking out trends to look forward to this year. You may even be thinking of where to put your hard-earned money, and whether to spend more, less, or the same on your digital marketing activities for 2017.
Look no further! Our latest #SEJSurveySays poll results can help. How much do other digital marketers and strategists plan to spend this year compared to 2016?
According to a survey sent out to Search Engine Journal's Twitter audience, 71% say they plan to spend more on their digital marketing activities in 2017, while 14% plan to spend less, and 15% plan to spend around the same. These results show that investment in digital marketing activities will increase this year.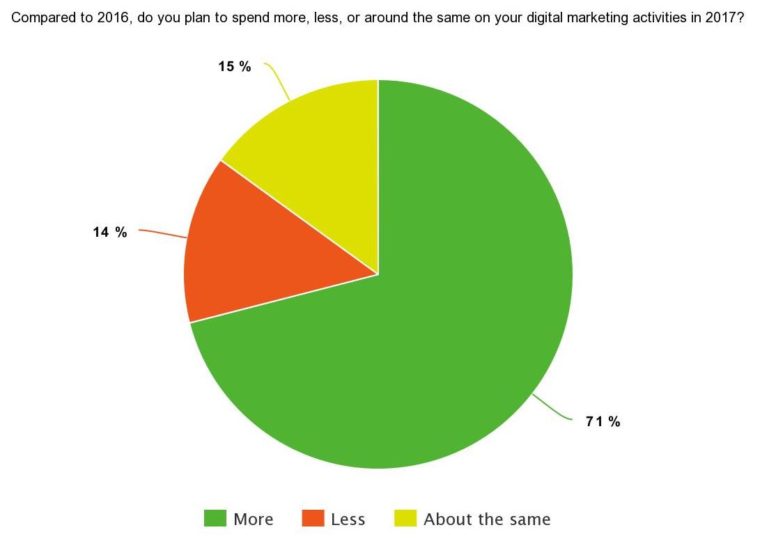 So if you're thinking of investing more on your digital marketing activities, now is the time to do it! But what digital marketing activities should you spend on? Let's take a look at some areas to focus on to make the most of your investments in 2017.
Digital Marketing Activities to Focus On in 2017
What digital marketing activity (or activities) should you focus on this year? Here are a few suggestions:
SEO
SEO can get the work done by ensuring you're optimized for search engine results. Getting your website to the top of the SERPs is a big step towards making yourself known and getting those needed sales, sign-ups, or conversions. You show up at the right place (top of the SERPs) and at the right time (when you're exactly what users are looking for during their searches).
Here are some tips to jump-start your year in SEO:
Paid Media
Next to earned media, digital marketers say paid media can give the best return in 2017. That's because paid media is a time-tested way to get results. If you want to invest in PPC campaigns, paid search, and display advertising, here are a few ideas to get you started:
Content Marketing
Content marketing is a growing industry, and its value is getting stronger than ever. According to an infographic by CopyPress, 84% of content marketing agencies expect content to be more important. So if you're thinking of investing in content to grow your brand, here are some resources to help:
Social Media Marketing
2016 was a big year for social media and it looks like 2017 will be even bigger — with video, influencer marketing, and bots dominating social media marketing trends this year. It's the perfect time to capitalize on social media and use it for digital marketing.
Here are a few tips for your social media marketing year:
Whatever digital marketing activity you decide to focus on, make sure it aligns with your goals for 2017. Your hard-earned money will be well-spent achieving what you had planned out for the year.
Have Your Say
Do you plan to spend more, less, or around the same on your digital marketing activities in 2017? Tag us on social media and have your say in the next survey by checking out the hashtag #SEJSurveySays on Twitter for future polls and data.
Image Credits
Featured Image: cienpies/DepositPhotos
In-post Image: Meta-chart by Caitlin Rulien