You've probably seen these new videos and photos on your Facebook app: the ability to flick through someone's photo as if you were there. You probably wondered how they did it – and thought it was pretty cool.
This nifty new feature on your personal Facebook feed could be leveraged by your brand. And the cost? In most cases, free or under $500.
How Do 360-Degree Photos and Videos Work?
In their simplest form, you can make 360-degree photos on Facebook by taking a photo in panoramic mode on your camera or smartphone and then upload it using the Facebook app. It should automatically detect that it's a panoramic shot, and you'll see the globe icon on the right of the screen.
However, this is just a long photo, not a true 360-degree shot, like this one.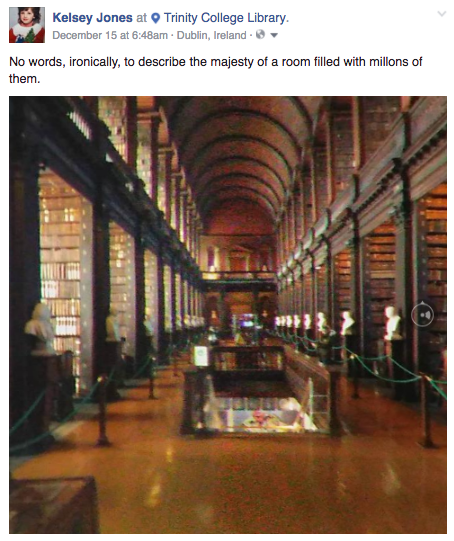 As you can see in this post, you can scroll up, down, and completely around. This image was taken using a 360-degree camera (specifically one from LG that is currently $99 on Amazon). It works by using two wide-angle lenses on either side of the camera. The operator pushes a single button to record an image or holds the button down to record video.
Each wide-angle lens captures an 180-degree image, which are then digitally stitch together create a complete view of the world around them. (Note: Because it does capture 360-degrees, the operator will be in the image. If you don't want this, you'll have to use a tripod and remote timer, but even then, you'd need to be completely hidden from view or else you will still appear in the image.)
Besides this LG model, there are higher end cameras that are more rugged and can shoot in HD. The Ricoh Theta S Digital Camera is currently the leader in the field, but their equipment ranges from $300 up. Also, GoPro also makes a spherical solution that is on the high-end as well.
How to Do 360-Degree Photos For Free
If you aren't ready to spend the money on a 360-degree video camera, there is currently an app you can use to experiment with 360-degree photos. However, it is a bit more time-consuming because it requires you to slow take photos one at a time in a complete circle. It will them stitch them together to make a 360-degree image.
Even if you haven't used the app, you've definitely heard of its maker: Google.
That's right; the free Google Street Video app allows you to manually create 360-degree images that you can then share on Facebook or other platforms that support 360-images.
Platforms That Support 360-Degree Photos and Videos
Unfortunately, as of press time, the only social network that allows you to upload an interactive 360-degree photo or video is Facebook. While I'm certain this will change (like it has with live video– now Instagram, Snapchat, Twitter, and Facebook all support streaming live), it means that if you upload a 360-degree photo or video to a platform, it will simply display as a flattened version– think of how our earth is round, but we see maps as flat. Definitely not as impressive.
However, this doesn't mean we can't get ahead of the game and start planning our strategy accordingly. As with most trends in social media, the early adopters can certainly get the worm, especially because most people don't even know how 360-degree media works. Having already implemented this on Facebook when it starts slowly rolling out to the other social networks will lead to faster engagement with your social media audience base and the ability to learn how to best leverage this type of media before your competitors even learn what it is.
Besides posting on social media, you can also view 360-degree photos and images in certain images viewers that you can embed on your website or use virtual reality headsets to view the image on a supported smartphone.
Ways to Use 360-Degree Photos and Videos in Marketing
For some industries, the benefits of 360-degree photos and videos should be obvious– they are perfect for showcasing a house in the real estate market, and they make sense to use at a tourist location or museum.
Cruise lines have also been taking advantage of this new type of media as well: check out what Carnival has been doing to showcase some of their new ships:
However, if you're a digital publisher or e-commerce website, how can you use 360-degree media in your social media strategy?
Events that your company or employees attend is an easy choice– whether it's networking events, conferences, or even team building exercises. This is a fun way to showcase your company culture and humanizes your brand. We plan on doing this during our next SEJ Summit search marketing conference.
If you have an interesting office or store, you can take 360-degree photos and videos to present as a tour, or you can do product demonstrations (e.g. if an automaker like Ford just completely redesigned the Mustang, a 360-degree image of the new inside would be great content).
If neither of these fit, think about how this type of media can best showcase your local community. Take 360-degree photos or videos at a local parade, give a tour of your office neighborhood or famous local landmarks, or even let the employees take the camera home to create media about their pets, their kids, or what they like to do for fun.
When it comes to 360-degree photos and videos, the opportunities really are endless. This is the closest we have to actually being there, all from the comfort of our computer, tablet, or smartphone screen. Start considering your 360-degree photo and video strategy now, and you'll be able to grow your audience engagement and be a business pioneer in this new and exciting type of media.
Amazon link(s) are affiliate links. Thank you for your support of SEJ.

Screenshots taken by author December 2016. Featured image created in Canva.