The new year is just around the corner, and with it comes trends to predict, goals to achieve, and plans to follow through for 2017. You may be winding down for the remaining weeks of 2016 or laying out some last-minute marketing strategies. If you're in the last-minute group, you may be thinking of different types of media — earned, owned, or paid — that you can leverage to get the best results next year.
So which of those three types of media can give you the best return in 2017? We have the answers for you based on our latest #SEJSurveySays poll results!
According to a survey sent out to Search Engine Journal's Twitter audience, 50% say that earned media will deliver the best return in 2017, while 30% say it's paid media, and 20% say it's owned media. These results show that earned media is the king of all media. But should that be your only focus for the coming year? Let's take a look at how each media type can help get you ahead in 2017.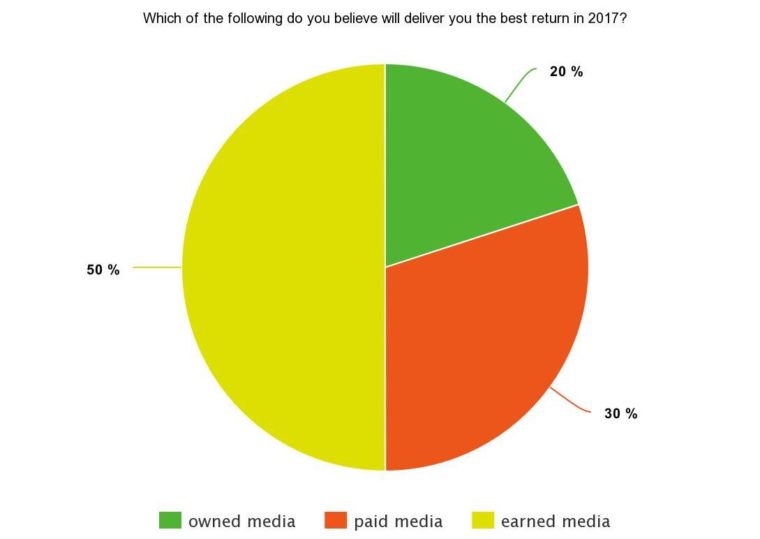 Earned Media
In a study done by Nielsen, 84% of consumers across the globe consider word-of-mouth recommendations from family and friends as the most trustworthy source of advertising. According to Randall Beard, Global Head of Advertiser Solutions at Nielsen:
"Earned advertising channels have empowered consumers to advocate for their favorite brands, something that shouldn't go unnoticed by brand advertisers."
In short, earned media is still the most influential among all three media types. Earned media is cost-effective and is one of the best ways to build trust around your brand or business. But it also takes time to earn the trust of your customers or audience.
Here are some ways you can use earned media for best results in 2017:
Reach out to customers for online reviews: Sara Spivey has insights on how to use online reviews to drive ROI.
Become an expert in your niche or industry: As a person of authority, you'll be given press mentions, you'll be used as a source to quote in articles, you'll be asked to speak at conferences, you'll be interviewed for podcasts, and you'll be asked to share your knowledge at events. All of these are opportunities to gain exposure and get the word out there about your brand or business. So build yourself up and aim for that expert list.
Use earned media for app promotion: Marc Purtell shares tips on how to use earned media for app promotion. This is still a great read even if you don't have an app since the tips mentioned, such as SEO optimization and social integration, can be applied to brands and businesses.
Paid Media
Paid media such as paid search, display advertising, and PPC campaigns can be costly but these are time-tested methods to promote your product or service. Here are some ways you can use paid media for best results in 2017:
Owned Media
Nielsen's study also revealed that advertising on branded websites is the second most trusted advertising format. As with earned media, owned media can be cost-effective. But it may take a lot of time and effort to build your website, blog, or social media following.
Here are some ways you can use owned media for best results in 2017:
Create great content that provides value to your audience: Julia McCoy shares the types of content to invest in to grow your online presence. You can also check out the top-shared posts of 2016 and find out what made them work to serve as inspiration for your content in 2017.
Continue building your social media channels: Social media is a great way to reach out to your audience. Every like, share or retweet counts as a win for your owned media. Post regularly, curate content, and engage with customers. With Facebook adding 360 videos to their Live experience, live videos coming to Twitter, and Instagram, it's now more important than ever to create interactive social media content.
Add CTAs to your content: Create content that eventually leads to a call-to-action for your audience. You can ask users to leave you a review at the end of your podcast, download an e-book at the end of a webinar, or sign up for your newsletter in a social media post.
Mix and Match Media
You can also combine all three media to strengthen your marketing efforts. Here are two ways to do it:
Create valuable content (owned) that you can share on your social media accounts (earned) then pay to make it a promoted social media post to extend your reach (paid).
Create sponsored posts (paid) on your blog (owned) then share it on your social media accounts (earned).
Whichever media you use, make sure that it aligns with your goals and plans for 2017. After all, the choice is ultimately yours.
Have Your Say
Which of the above media do you think will deliver you the best return in 2017? Share your thoughts in the comments below and have your say in the next survey by checking out the hashtag #SEJSurveySays on Twitter for future polls and data.
Image Credits
Featured Image: Slphotography/DepositPhotos
In-post Image: Meta-chart by Caitlin Rulien