According to Hubspot, the buyer's journey consists of three stages:
Awareness Stage: The buyer realizes they have a problem
Consideration Stage: The buyer defines their problem and researches options to solve it.
Decision Stage: The buyer chooses a solution
I completely agree with the buyer's journey. Many times, there is one more stage advertisers should focus on, however: the Retention Stage. The buyer has purchased your product or service, but will likely purchase more
For this post, I define paid media as there three different channels:
Paid Search
Display Advertising
Paid Social
All three of these different paid media channels have tactics that can target users across the entire customer's journey. Many times when talking to clients, they see these channels serving one or perhaps two stages of the customer's journey.
However, I argue they can each serve all three to develop a truly integrated paid media strategy and address all stages of the buyer's journey. I will outline each and tactics within each that you can utilize to help nurture your potential buyers all the way down to repeat customers.
Paid Search
Paid Search is typically thought of addressing both the consideration stage and decision stage.
Long-tail search such as "Vizio 60 inch LCD TV" is an example of a long-tail search query. The individual searching knows the brand they want and the size and type of television. They are researching options (and perhaps prices) to find the best deal. Therefore, this individual is in the Consideration Stage.
The user could then search "Best buy Vizio 60 inch LCD TV". He or she has decided that Best Buy is the retailer to which they'd like to buy and have entered the Decision Stage.
Where advertisers tend not to invest fund is in the Awareness Stage and the Retention Stage.
The Awareness Stage is typically search queries that involve "head terms", in this example it could be "60-inch LCD tv" or even "LCD TVs". The searcher realizes they need a television, but aren't sure what type of television is best for their needs. I realize they keywords have a lower last-click attribution ROI than search queries in the consideration stage, but that doesn't mean that are not valuable to your organization. This is where the concept of attribution comes into play including assisted clicks and conversions that eventually lead to users buying from your organization.
The Retention Stage can be addressed by using tactics such as Remarketing Lists for Search Ads, or otherwise known as RLSA. You leverage the same lists as you would for your AdWords remarketing campaigns but apply them to search. RLSA can address both the Consideration Stage (for individuals that have not yet converted) but also the Retention Stage. Once a purchase has been made, you can have a separate remarketing list for them.
You can then bid on other keywords for products that you offer that relate to what they purchased, such as "HDMI cable", "blue ray player", or "LCD tv stand". You are now using RLSA to retain and essentially cross-sell other products. Since the consumer has already purchased from your web site, it is likely they will buy again if your web site has other products they need. You could even tailor the ad to offer an additional discount for their loyalty.
Display Advertising
Display advertising is typically thought of as addressing the Awareness and Consideration stages.
Targeting people contextually, using third party data providers, or even based on specific demographics, can help you target a large audience to generate awareness of your products or services. For example, you can use topic targeting on the Google Display Network to identify users that are browsing sites that deal with televisions:

For the Consideration Stage, you can go a bit deeper in how you target. Remember, these are prospective buyers that know they have a problem (or in this case a need), and are researching options. To address this audience, the Google Display Network (and other display platforms) can target "in-market" prospects or consumers that have recently expressed interest in your product or service. To really hone in on your audience, I'd recommend layering multiple targeting types, such as "in-market" along with "topic targeting".

The Decision Stage is where retargeting comes along. Now that you've exposed individuals to your brand and products or services via awareness and consideration tactics, you can retarget these users who visited your site. You can even get as specific as showing the same television they looked at via dynamic remarketing. You can also follow past visitors of your site across different web pages until they make a purchase.
After the user as made a purchase, the next step is to retain them in the Retention Stage. Similar to search, you can suggest complimentary products to help cross-sell them. Display partners offer CRM retargeting, which is essentially targeting past buyers across websites based on their email addresses.
You simply share a list of the email addresses from your CRM or point of sale system and your display partner will use their technologies to try to match the email address you provided with the email address that the user is logged into.
Match rates can vary significantly from 20% to over 50%. Long story short, you need a relatively large database of email addresses to use this tactic, but it can be very effective when you do. Also, if your email lists are large enough, you might want to segment them based on what your customers purchased to develop extremely relevant creative and increase the likeliness of success.
Paid Social
Since paid social can consist of so many platforms/publishers, I'll focus on Facebook ads which are the most mature, sophisticated, and also has the largest reach. When talking to many clients, they see Facebook ads as a way to primarily address the Awareness Stage. To create awareness for your brand, you can target Facebook users based on demographics for generating "fans" or "likes" for your brand. This was a common tactic when Facebook ads first rolled out and is still a goal for many organizations today.
To target the Consideration Stage, you might layer on multiple targeting tactics such as demographics, interests, and even third party data providers. For example, you might target people who are interested in "smart TVs", "high-definition televisions", and in the market for "consumer electronics".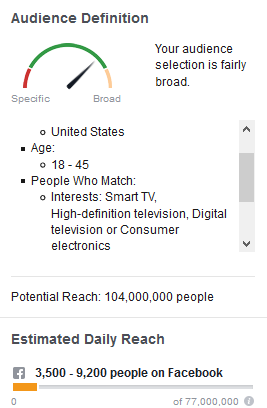 Similar to display advertising, you can retarget people to address the Decision Stage. These are individuals that have been to your site, and even visited particular products or services. You leverage a cookie, just like in display advertising, to track the user and also know which pages he or she visited. You can then show ads on their Facebook feed to these past site visitors to help them make a decision.
Good news, you've acquired a new customer. Now, how do you use Facebook ads to retain and grow their lifetime value and target the Retention Stage? Well, Facebook also has a solution called custom audiences. This is very similar to CRM retargeting for display, but you do not need a partner and fewer email addresses are required to run a campaign. After uploading (and potentially segmenting by products or services purchased) email addresses, you can use a cross-selling strategy and promote complimentary products.
Conclusion
My main point of this post is to illustrate that all paid media channels can address all stages of the customer's journey AND it's important to understand that all stages and channels can and should be utilized to truly create an integrated paid media strategy.
Determining how much to invest in each paid media channel and at each stage is where it gets tricky, and depend on both the advertising budget you have and the analytics capabilities you have in place.
Image Credits
Featured Image: Mazirama via DepositPhotos
Screenshot by Joe Castro. Taken October 2016