When it comes to building an online presence, many brands still believe they can take the easy way out.
Although the icky days of black hat SEO and link stuffed copy have gone the way of the dinosaurs, it's not uncommon for a new or budding company (still) to think they'll succeed by rattling off cheap, backlink-stuffed online content.
This couldn't be further from the truth.
Today, readers (and Google) are more discerning than they've ever been before, and the only way to build an online presence that lasts is to create content that's designed to offer genuine value and relevance – to both of them.
I'm not talking about cheap, one-off, thoughtless stuff meant to drive quick rankings: I'm talking about thoughtful, in-depth, relevant content that offers something real.
Today, I'm here sharing why building links alone doesn't work anymore, and the types of content you should absolutely be investing in to seriously grow your online presence. Ready?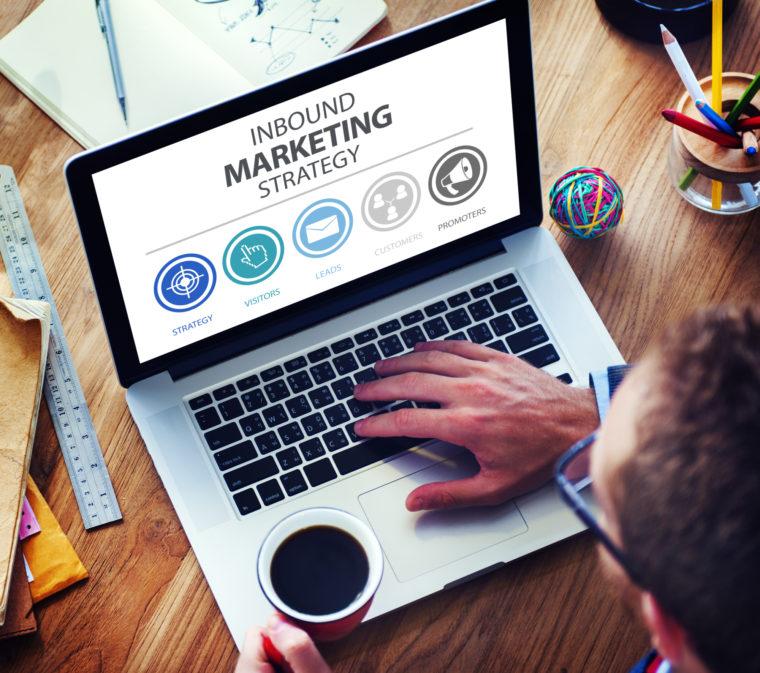 Why Just Building Links Doesn't Work Anymore
Even people who know virtually nothing about SEO, content quality, or engagement know one thing: links are supposed to help you get noticed online.
In some ways, this is true. In others, it couldn't be more off-base.
Yes, high-quality links can help Google determine the authority and relevance of a page. They can also provide context for your readers and help you make valuable SEO connections between the pages on your site.
Low-quality links, however, can hurt your SEO more than they help it. And this is by design rather than by accident.
Here's why: years ago, black-hat SEOs made their fortunes manipulating search results. They did this by either buying links or working dozens of them into spammy pages for the purpose of manipulating Google's search results. Google, not surprisingly, didn't love this. As such, the search engine developed an algorithm update to address it.
The change went by the name of the Penguin update, and it went into effect in April of 2012. Designed to punish sites that use spammy backlink strategies, the Penguin update sought to ensure that sites focusing on links were doing so for quality and relevance rather than perceived SEO gains.
Today, sites that use spammy backlink strategies pay for it in the form of Google penalties and decreased respect in the online environment.
What's more, cheap, link-hungry sites are falling out of vogue with content creators everywhere, and many teams and individuals are simply refusing to create content that doesn't provide value beyond its backlinks.
But the crazy part is that the marketer who thinks crappy content will work still exists. Here's proof: an example of my writing agency talking to an incoming lead with this mindset just this October.
Are Marketers Still Creating Content for Links? The Answer, Sadly, is Yes
In mid-October, my team got a request from a marketer to create content "just for backlinks' sake." The project consisted of web pages for local dentists.
We don't create content like that. So, when we sent him a quote for engaging content that would be written for the reader as well as Google, and not just created secondary to a link, here's what he said. I kid you not. (Names removed for privacy.)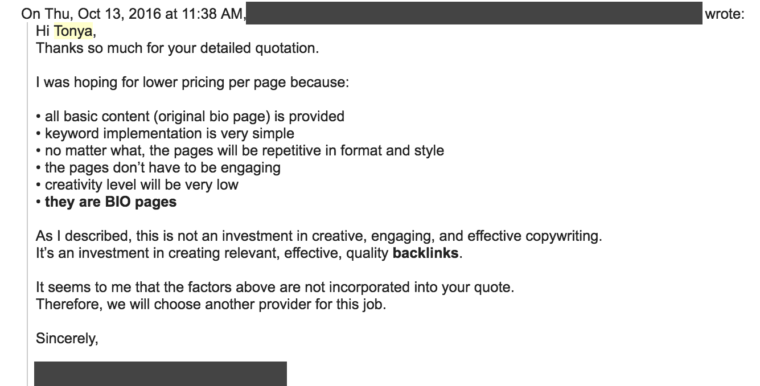 The reason we turn people like this elsewhere is because 1) first, at the rates they offer it is impossible to retain knowledgeable writers, and, 2) writing this content would mean that we'd have to lower every standard we have for our other clients that receive engaging copy.
What's more, this content would not add value to the overall ecosystem of the web.
No time was wasted arguing in the simple reply our support representative sent him: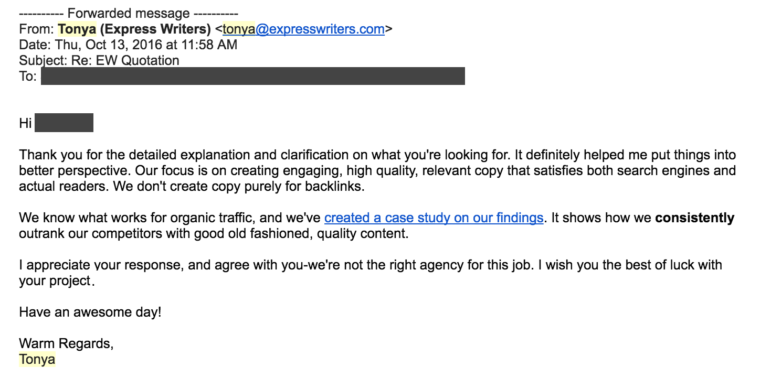 But, there's a silver lining to this story. The marketer came back to us a month later and invested in higher-level services, including our keyword strategy. He also asked our advice on creating local, geo-targeted content for his clients.
Holding to high standards will win in the end, in content marketing.
8 Content Types that Will Boost Your Online Presence
So if spammy, backlink-stuffed content doesn't earn links, what does?
The answer is varied, and it depends in large part what your goals and focuses are.
With that in mind, though, here are the top types of content designed to earn links and help you get noticed online:
1. Engaging, Well-written Content
By far, the best type of content for links is just high-quality material. Forbes calls this "old-school link bait." According to their definition, "link bait was a piece of content that was great. Insanely great." When publishers work to develop fantastic content, they can then put it out online and (here's the key piece) publicize it to a few select sources – the best influencers in the industry, for example – before sitting back and waiting for the results to roll in.
Unlike content that's designed for the sole purpose of claiming links, quality content is intended first for relevance and value and second for SEO. The value of this content is bone-deep, which is why it succeeds so dramatically.
In many ways, value is the golden rule for the entire content ecosystem. Whether you're trying to attract readers, earn links, or boost your SEO, quality and value are the foundation, and everything else builds from there.
2. Non-gated Content Resources
While there's a long, ongoing debate about the value of gating content or not, it's safe to say that free, ungated content will earn you the most value in terms of links. While gated content can be fantastic for harvesting high-quality, in-depth information from leads, free content is where it's at for any company looking to build out their online presence.
In fact, David Meerman Scott, a prominent marketing strategist, reports that simply offering free rather than gated content will earn you 20 – 50 times more downloads.
With this in mind, keep the majority of your content ungated and open to the public. When you combine this with the first tip (quality first, always), you'll soon find yourself with a bullet-proof strategy for links, engagement, and brand recognition.
3. Extensively Researched Guides
When people head to the web today, they're looking for valuable content that teaches them something new. Because of this, content that features deep levels of research, plenty of usable facts and statistics, and opinion-forming material is highly likely to be linked to and shared.
While many marketers believe that creating this type of content will be impossible in their given industry, the fact of the matter is that research-dense content is attainable in virtually any field. By providing in-depth and well-researched content to your followers, you'll reap the rewards in terms of shares and links.
Check out a few examples of guide content that are killing it (in shares, reads, and rankings):
Be forewarned that this type of content can take a lot of time and money. I was talking to my friend Sujan Patel (we live near each other in Austin, Texas), and he's getting ready to do a few of these guides. He estimates a budget of $50,000 to create several, This includes research, copywriting, HTML embed, creating graphics – the whole nine yards.
4. Long-Form Blogs
When it comes to your blogging, long-form content performs better than shorter material. While 85% of the text-based content on the web is 1,000 words or shorter, blogs and articles with between 2,250-2,500 words get the most links and attention.
With this in mind, shift your content strategy to focus more on long-form content. Because it meets several of the above stipulations (it provides value and relevance, and features extensive research), it's highly likely to perform well among your audience and can help you build an online presence that lasts.
Worried about where you'll find the topics to flesh out this longer content? Just turn to your website's comments, FAQ page, or even third-party sites, like Quora, relevant social media groups, and comments, or current events.
5. List-Style Posts
List posts are famously viral, and while they may seem a bit cliché, they'll help you get noticed. Here's why: list posts are readable, actionable, and skimmable, which makes them highly valuable to readers. When a reader comes across a list post, they know the information within it is organized into digestible bits, which makes it easy to implement immediately.
With this in mind, try to incorporate numbers into the headings of your blogs. Because lists are so easy to read and digest, they're likely to go over well with your readers. While some marketers dislike the formulaic nature of lists, they work. Because of this, they're a worthwhile addition to your content strategy.
6. Content with Great Visuals
Images are a powerful addition to any content marketing strategy, and they're a great way to earn links and views. HubSpot reports that colored visuals boost a person's willingness to read a blog or article by a massive 80% and 34% of marketers name visual material their single most important content asset.
With this in mind, don't hesitate to add visual content to your online content. A well-placed series of screenshots, some beautiful stock photos, or a custom-made infographic will all add significant value to your online content and may be exactly what you need to gain the attention (and the links) your brand has been working so hard for on the web.
7. Content that Caters to Your Target Audience
I've said it before and I'll say it again: understanding your target audience is essential in creating content that earns links and shares.
Because content that is targeted directly to your unique base of readers is more relevant, specific, and valuable than less targeted content, it will go the furthest in terms of earning you the views and attention you deserve.
8. Promoted & Sponsored Content
Content that is not promoted often goes unnoticed. Because the web is so vast and the amount of content out there is so extensive, it's not surprising that un-promoted content often sinks to the bottom of the content sea, never to be seen again. Fortunately, you can bypass this and earn your content the attention it deserves by promoting it.
When I say "promotion," I don't mean some half-hearted social media updates. Instead, you'll need to check the following boxes:
Reach out directly to the largest influencers in your industry (especially if you've mentioned any of them in your content)
Share your content several times on social media to gain the widest exposure
Share content in relevant online groups, communities, and forums
Add trending hashtags to your content
Engaging Content Remains the Foundation of Your Brand's Growth Online
For years, the widespread assumption has been that content is meant to help you rank, first and foremost. While this is, in some ways, true, it's also heartbreakingly false. While content does help you rank when you do it well, that's only a secondary effect of its true purpose: delivering relevance and value to your readers.
In recent years, search engines and users have evolved to the point where low-quality content just isn't interesting anymore. Today, search engines aren't interested in cruddy backlink-stuffed material that does nothing but clog up the web and suck value from all of the sites around it.
Instead, they want real, well-researched, long-form content that actually adds something to the ecosystem of the online world.
While bad content is easy to create and many people, like the marketer in my example above, believe it's the golden ticket to outstanding web rankings, good content is the way of the future. It's the only way to get noticed online today. The climate of the web is evolving, and the glory days of low-quality content have long since passed.
Today, cheap content doesn't fulfill a purpose in the online environment.
Tech updates like Penguin, coupled with shifting consumer focus, have made it intensely clear that getting noticed online requires skill and attention, rather than just brute force.
With that in mind, marketers operating in the modern online environment will do well to focus on the types of content that do drive results – promoted content, free content, research-dense content, list posts, visually-enhanced posts, and long-form material. While these things all need to work together to build a robust content strategy, they're a great place for marketers with an eye to the future to start.
Image Credits
Featured image: created by Express Writers
In-post image: Rawpixel/DepositPhotos
Screenshots by Julia McCoy. Taken November 2016.