It's no secret that marketing means something different nowadays. Commercials have turned into 60-second Instagram spots, direct mail flyers have been replaced with personalized email campaigns, and brands have traded celebrity endorsements for mom sponsored blog posts to rep their products.
With this surge of consumer-centric marketing efforts, strategists must consider which platform is most effective for driving not only positive trending business results for their brands but personalized experiences for the consumer.
Enter: Influencer marketing.
What is Influencer Marketing?
Raise your hand if you work in marketing.✋
Now, give me two high-fives if work for a small business or even a big brand. 🙌
If you find yourself sending me any these positive hand signals (or emojis) from the above then, you've probably heard of some or more of these terms: Brand ambassadors, brand advocates, blogger campaigns, sponsored posts, word-of-mouth marketing. While all of these require different marketing tactics, they can essentially be bucketed into the influencer marketing category. All of these tactics drive awareness, action, and acquisition, same as influencer marketing.
Influencers influence the buyer's journey.
Real quick, let's do a pop quiz!
Can you guess the celebrity associated with each catch phrase? (Answers are at the bottom of the article).
Jello Pudding, You Can't Be A Kid Without It
You Want To Know What Comes Between Me And My Calvins?
The Joy of Pepsi (Hint: 2002 Super Bowl)
There was a time when our favorite celebrity would endorse a magical, miracle face cream, the shake weight, or even Total Gym and we'd buy it. Why? In the past, consumers connected with celebrities and trusted the brands they endorsed.
Let's be honest, if Oprah said swimming with blue whales would make you lose weight, then half the women in the U.S. would be exercising with blue whales in the South Pacific.
The market has evolved as the world has changed. With the rise of the internet and social media, consumers were given a voice. Consumers search for authentic opinions online from their peers. Before the internet, consumers didn't have access to ordinary people the way we do today.
When consumers begin to go through the buying cycle, they start to seek out genuine feedback from other consumers that have similar budgets and lifestyles versus searching for the often unattainable bling-bling that comes with the life of being a celebrity.
A 2011 survey by BlogHer stated that 20 percent of women active on social media are motivated to consider products promoted by bloggers they know, yet only 13 percent are motivated by celebrity endorsements. In a recent study by Buzzstream, they discovered that celebrity endorsers did not result in actionable purchase intent by the consumer when compared to vloggers.
Also to show the transition, even more, SheKnows Media estimated that women control 85% of all purchasing decisions in the U.S. Within that report, 86% of the 1,470 women stated they put trust in real peoples' product and service recommendations. Consumers turn to "everyday experts" as the report calls them because they are seen as having an authentic and honest voice.
As times are changing, brands are personalizing their approach with one individual versus targeting the market in mass.
Why Influencer Marketing Works for Brands
While any girl loves shopping for her new make-up buys, there's just something about stalking, researching, and watching tutorials on other beauties. Seriously, if you're going to master the #wokeuplikethis face, then you've got to choose your products wisely. Beauty bloggers have the market cornered, not only on beautiful skin and all-around gorgeousness but on influencer marketing.
These "real" influencers act as the model, writer, and promoter of the product.
Here are a few examples of beauty influencer and brand collaborations:
Maybelline and MakeupbyAmarie
Smashbox Cosmetics and Raye Boyce
Birchbox and Cupcakes & Cashmere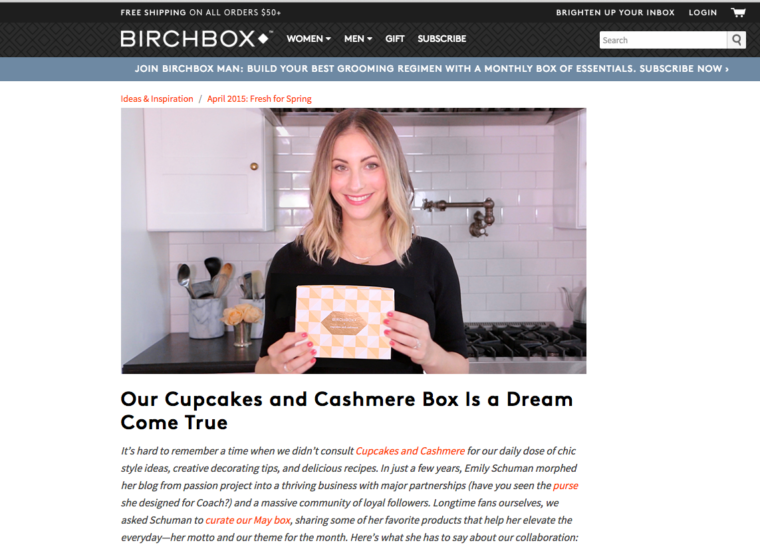 Nars and Bekka Plamer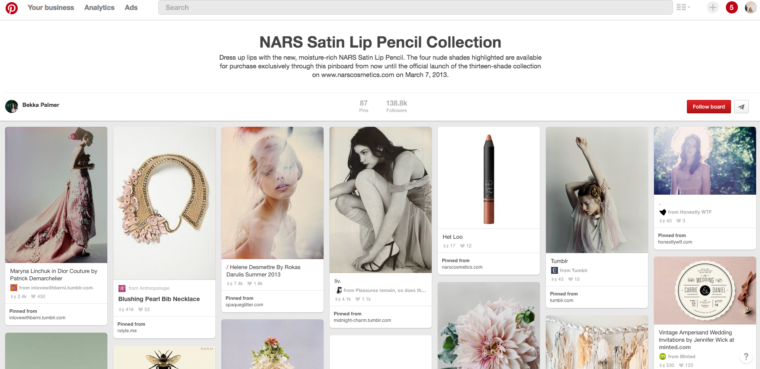 These beauty bloggers and social media powerhouses are just one example of how brands are utilizing the personalization of content and the footprint of influencers to drive authentic brand engagement. Brands get the most bang for their buck when they can mesh the influencers with their brand lifestyle and values.
It Works Because It's Authentic and Personalized
In a survey from digital agency Burst Media, Burst Media discovered that influencer campaigns earn "$6.85 in earned media value for every $1.00 of paid media." Pretty impressive, huh?
Real people are approachable, authentic, and deliver personalized content. Brands enlisting the help of influencers can see an increase in revenue, consumer loyalty, user-generated content, boost in social media, organic growth, and so much more.
The personalized content your influencers deliver have the opportunity to change consumer behaviors. That's insane!
Personalized content is the new king of content. Take a peek at how brands are personalizing their content:
Warby Parker sends a customer a thank you note through a YouTube video.
Warby Parker sends a personal customer service email after a dog ate their glasses.
Birchbox sends custom email newsletters based on your previous subscription preferences.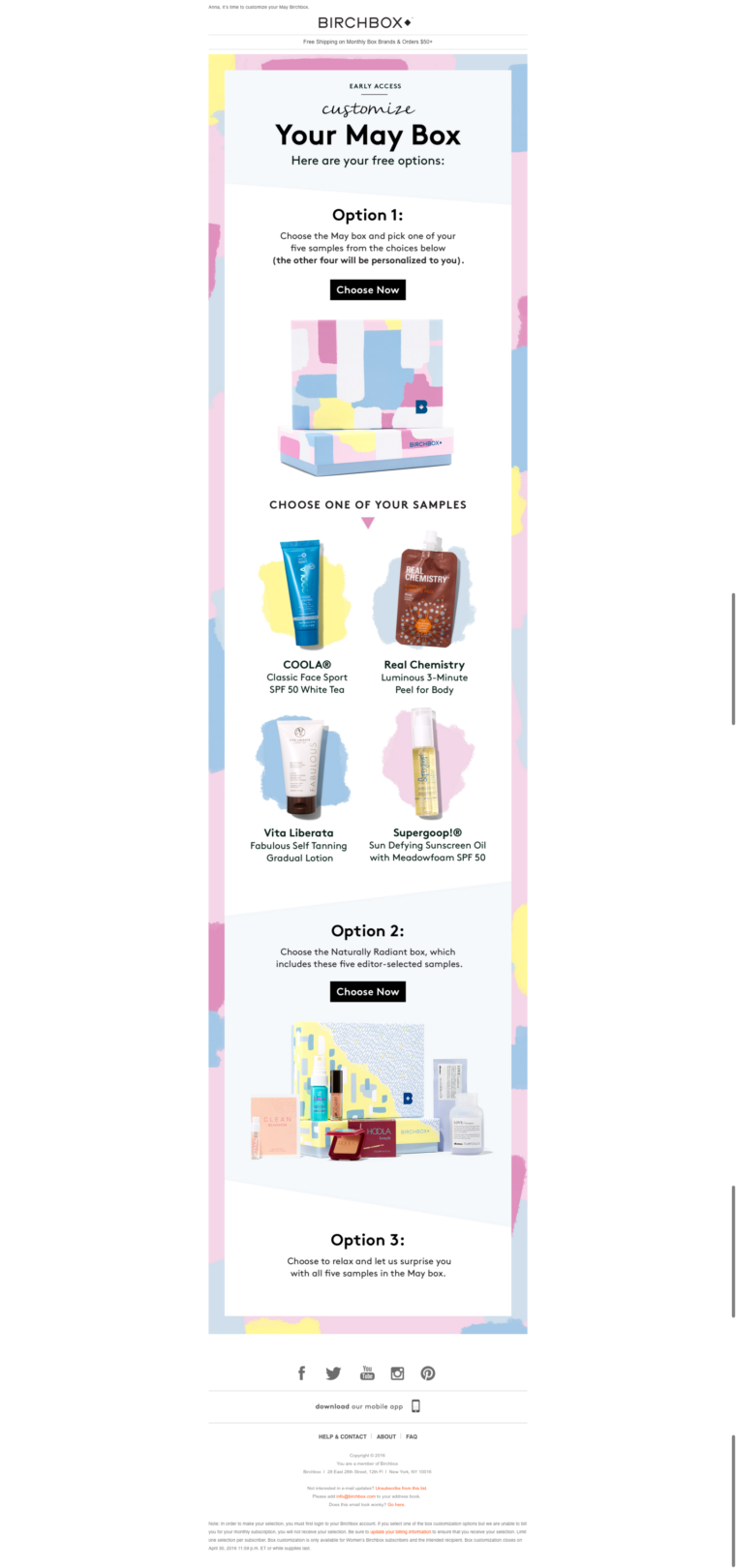 Sittercity targets the homepage you'll see based on location.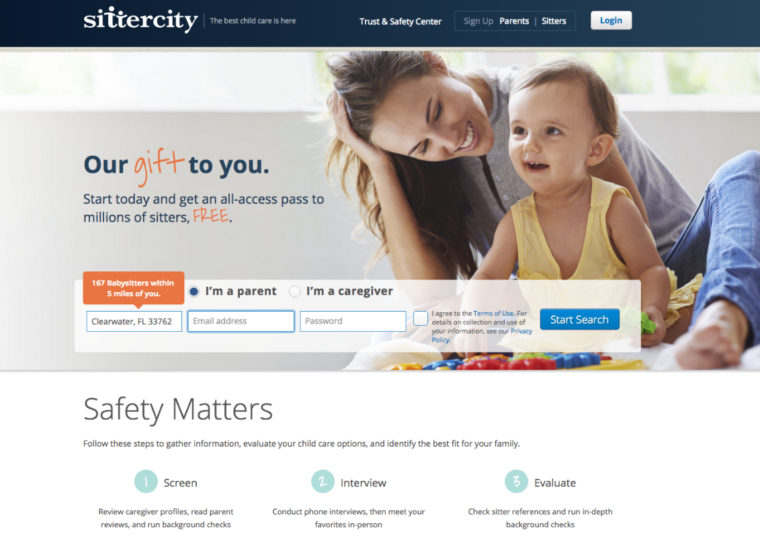 And, check it out…Google does Facebook ads.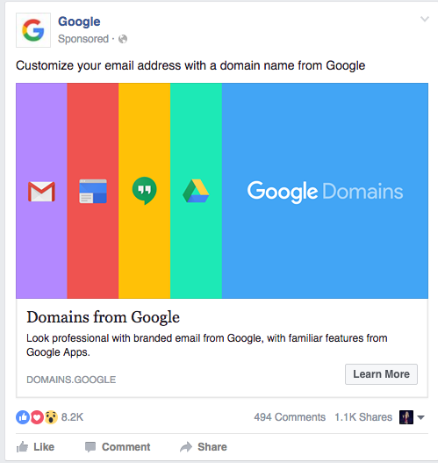 As you can see from the examples above, brands are already doing a good job at turning data into amazing user experiences. Brands can leverage personalization and influencer marketing to guide their potential buyers down the funnel from the awareness stage to the purchase decision stage.
Insights Into My Influencer Marketing Strategy
Real people equal approachable, authentic, and personalized content. Brands enlisting the help of influencers can see an increase in revenue, consumer loyalty, user-generated content, boost in social media, organic growth, and so much more.
Step One: Define Your Goals
Before I get into the nitty-gritty details, let's discuss your goals and expectations of influencer marketing. Do you want people to try a new product? Or, increase sales?
Here are a few examples:
Drive traffic to your website
Increase social following
Promoting a new product
Boosting SEO through earned media
When writing goals, try to be as specific as possible. For instance, instead of saying "drive traffic to my website," make a goal of "increase organic traffic by 20% in 3 months." As a marketer, I use brand influencers to help me achieve my goals. I collaborate with influencers to help win genuine interest for a brand product. They spread the word in an unbiased way while supporting my goals.
Google sponsored this vlog below for the launch of Nexus.
When comparing this 11,000,000 views to Google's 15,000 or so views, it's easy to see how this vlog helped Google introduce a product plus supported their goals.
To start, pull data from your other paid marketing channels to determine how you're performing. You can gain insights by aligning your influencer marketing goals and your other paid campaigns.
Yep, I said it influencer marketing is a paid marketing channel. And, just like any other paid marketing channel, you need a few months of data before you can perfect the strategy. However, the length of your campaign should be directly tied to your goals. For your first campaign, I recommend gaining data for three to six months to gauge what your influencers want and need from you in this specific channel. From there, you can go with 1,3,6,9, or 12-month influencer programs. Whatever works best for you and your brand.
In the past, the longer I've had my influencer campaigns running, the more trust I was able to gain for my brand. Meaning, it wasn't a "one and done" blog post or social promotion with a blogger. The blogger became part of our brand culture, became part of the team, and they had time to truly embrace all the awesomeness our brand has to offer.
Step Two: Determine the Budget
"Wait, what?! You mean people want me to PAY them to write about my product?" said every client I've ever worked with on influencer marketing. I recently worked with a client that wanted to target the top of the top influencers.
Here's the outreach email template they wanted me to pitch to Lauren Conrad:
Hi Lauren,
We're big fans of your May collection with Kohl's! Summer never looked so chic.
We would love to partner with you on a blog post and cross-promote on social media for an upcoming campaign we're launching in July. Does this sound like something you'd be interested in?
Of course, we'll send over some free swag (t-shirts, sweatshirts, the whole sh-bang!).
Please email me back to let me know if you're interested.
Thanks, Lauren!
Well, if you've read any of my past articles on SEJ, I'm sure by now you can guess that I didn't send this email outreach template to anyone, much less Lauren Conrad.
The idea that blog goddesses like Lauren Conrad or others from sites like Oh Joy! or A Beautiful Mess will just naturally mention your product is most likely not going to happen. Like or not, these top bloggers (or influencers) are getting paid one way or another to mention, feature, or post with a product. With bloggers and social media influencers, you have to pay them for the years they've spent cultivating, nurturing, and growing their audience. Think about this way: How much would you pay to rank position one on Google? Or, for a billboard in Time Square? Or, a 30-second spot on during Super Bowl?
There are ways to collaborate with influencers are a small budget. You don't need to pay $4,000 for 50 photos. But, you do need to have a budget.
Here's an example of my budget template for working with influencers: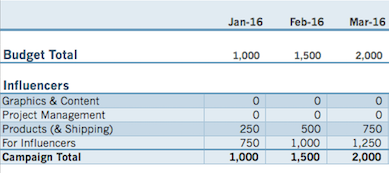 This is how I break down my budget:
Graphics and content: This is the man hours that go into creating these myself.
Project management: The time you spend emailing, calling, and managing the influencers.
Products (and shipping): Depending on your product, set a budget for the influencer to have products.
For Influencers: This is what you pay the influencers. You can split this budget up however you like.
This is a budget for targeting influencers with a smaller reach. In my experience, you can expect smaller influencers to charge around $50 per hour whereas the bigger names can get up to $500 to $1,000 per hour.
Step Three: Develop a List of Relevant Influencers Within Your Niche
When searching for influencers, don't be blinded by the social following. As you can see this massive spike in 2012, your social following doesn't really represent how much influence you have.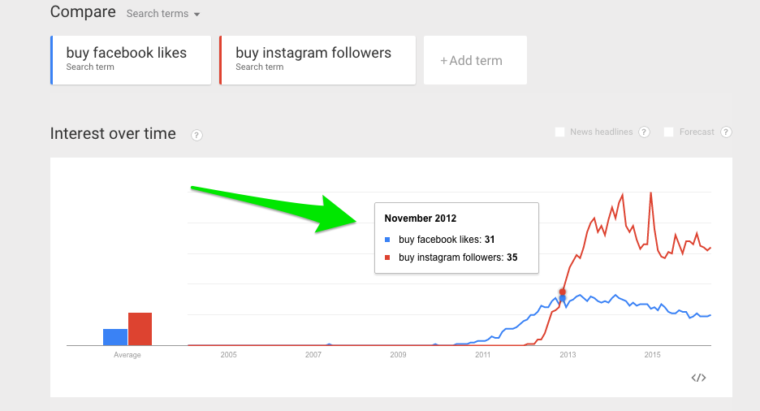 Sites like Fiverr give bloggers and social media maven wannabes engagement metrics only big brands like McDonalds can dream of. This causes marketers to make bad decisions when choosing influencers to collaborate with.
To find the right influencers, first, target influencers that align with your brand image and values. When I stumble across a blogger that may be a good fit for me, I do a site search (site:[www.websitename].com "competitor name") to see if they are mentioning any of my competitors. If they are talking about your competitors or have similar interests, they will most likely be a good match for your brand.
Here are the questions I ask myself when vetting influencers:
Where are they located? Do they speak a specific language?
Are there keywords within the post?
Do they have any brand affinity?
Do they mention any products?
Is there a price range for the products they are mentioning?
How many shares are their posts getting that would be similar to mine?
What type of social following do they have?
What level of social engagement do they receive on their posts?
How many comments do they average per post?
What types of hashtags or mentions do they use in social posts?
Does the influencer have repeat business from other brands?
The last question tells a lot about how well brands work with an influencer. For example, Studio DIY did a workshop with SkinnyGirl cocktails in August and another workshop in October. This tells me that Studio DIY and SkinnyGirl cocktails were a good match for both the brand and influencer.
Think about the lifestyle of your audience and your influencer. Can you imagine your brand naturally fitting? Get creative.
Here is a great example of how HP targeted fashion bloggers: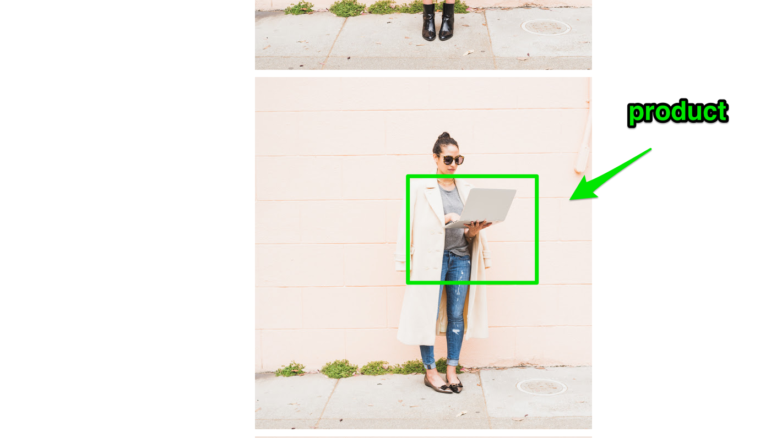 Are you asking yourself why HP didn't target the tech influencers? HP recognized the industry was over-saturated with tech products. They altered their approach to target a niche sector of their overarching target audience.
Step Four: Send Outreach Emails
If you're a fan of copy and paste, then this will be your least favorite step. Personalization is key. You need to craft personalized emails to each and every influencer you want to collaborate with. This step is extremely time-consuming, but it might be the most important. Why? It's your first impression.
This starts with the subject line. Grab their attention by making a connection to another touchpoint and calling attention to something they can personally connect with.
Subject Line: Your article X on Twitter!
Heya [influencer first name],
It was great connecting with you on Twitter earlier this week!🙌 I'm excited to learn more about how your PRIMAL movements class goes this Sunday. Keep me updated!
I'd love to find out more about how you collaborate with brands on [website name]. Your overall vibe, tone, and presence represent the direction our brand, [link to brand website], is heading. I feel we'd make an awesome fit!
Would you be interested in working together with us?
Warmly,
Anna
P.S. I've also attached our media kit for you 🙂
These influencers are real people who want real relationships. Start the collaboration off positively by addressing them by their first name. And, acknowledging how their blog or social presence connects with your brand can give them better insight into how you want this relationship to move forward. You can go one step further and actually read a blog post (insert gasp sound effect). I spend about 20-45 minutes vetting each influencer on my list. I read multiple blog posts, social postings, and learn their likes and dislikes.
Once I get a response from a potential match, I try to set-up a Skype chat or Google+ Hangout. On the call, I'll ask the following:
Have you worked with other brands before? For how long?
What are your business goals?
Are you looking for other brands to collaborate with?
What do you like about our brand?
What do you typically charge for working together with brands?
Before you chat, be sure to do your research. Think about creative ways you can personalize your brand content with the influencers audience.
Here are some examples:
Hither & Thither, a lifestyle and travel blog, partner with Activia in this post.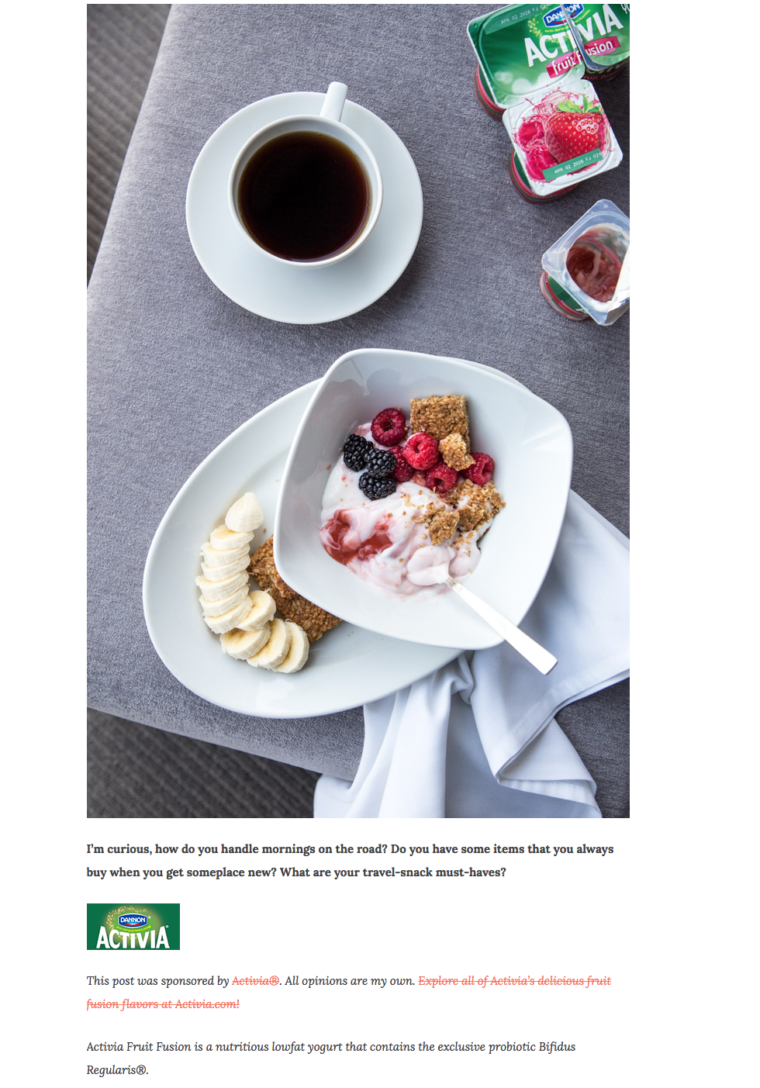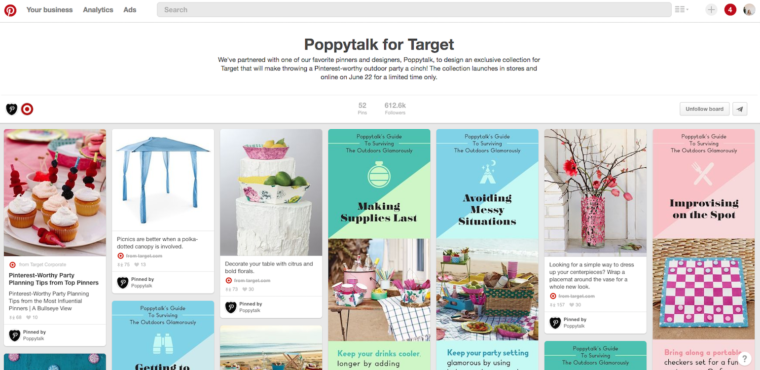 Step Five: Get Your Logistics Together
Whoo hoo! You received a "yes" to your email pitch. Now what? Time to craft your follow-up email response to give the influencer as much information as possible.
Below is what I include in the follow-up email:
1099
Influencer agreement
Timeline
Here's a sample of what the email might look like:
Hi, [First Name]!
Welcome to [my brand name]! My name is Anna, and I will be here to answer any questions you may have.
Thank you for joining us — [brand name] and I are thrilled to be working with you! Now that you've decided to partner with [brand name], I'm writing to follow-up about the next steps.
Next steps:
Please review, agree, and digitally sign the Influencer Agreement.
Please complete this 1099 form.
I've attached a calendar screenshot of rough timelines for us to work together.
I am delighted you're a part of the [brand name] community and look forward to working with you! Please let me know if you have any questions regarding the above.
Thank you, [First Name]!
All my best,
Anna Crowe
Marketing Coordinator
So, the influencer agreement is something that is pretty in-depth with all the FTC regulations popping up and what Google deems "ethical."
Here's an example of an influencer agreement I did on Typeform.
Essentially, your influencer agreement should answer the following questions:
Who gets creative control?
What are the image specs?
How will copy be generated?
How will tracking be implemented?
Will a preview be made available before the post is live?
Will content be promoted on other channels?
What is the length of the campaign?
How much will the influencer get paid?
What are the standard contract details?
Who gets third-party clearance?
You want to give the influencer everything they need to succeed.
Step Six: Optimize and Analyze
With the end on the horizon, there's one thing I always think about: How is my influencer campaign performing? Thinking back to all of my influencer marketing campaigns from the past, I remembered there is no guarantee it will perform. Influencer marketing isn't a Google Adwords or Facebook Ads. It's natural, all-around exciting, and trusted by many. This is what makes it work. By creating custom UTM codes, tracking blog comments, and social mentions, you can analyze what's working and how to spend your marketing budget in the future.
Plus, you've made a new best friend in your influencer. Try creating a private Facebook Group for your influencers to share feedback. This Facebook Group gives the influencers a creative space for open communication with their peers and you.
Wrapping Up
Brands tend to meet the influencer marketing world with a "meh." But, it offers so much more to the brand than one would think. As I mentioned above, influencer marketing is so much more than…influencing.
Influencer marketing is nothing new. Influencer marketing that performs best is all about personalizing your email outreach for the influencer, then personalizing the content for the influencer's audience. It doesn't matter what industry you're in or what your market landscape looks like. Whether you're a food brand talking to a style guru like Emily Henderson or dog lovers looking to giveaway goodies to a fitness fanatic, there are opportunities for your brand to build personalized influencer campaigns.
If you have any other tips or influencer marketing campaigns you admire, I'd love to hear about them in the comments below!
Answers to pop quiz above:
Bill Cosby
Brooke Shields
Britney Spears
Image Credits
Featured Image: Ann Haritonenko/Shutterstock.com
All screenshots and images by Anna Crowe. Taken May 2016.