There are many avenues for driving awareness and acquisition of a new app, all of which can be useful depending on the app itself and its target audience. There are three channels, however, that should be included in the promotion efforts of every app:
App Store Optimization
Search Engine Optimization
Social Integration
While all three of these channels tend to be highly competitive, they share the benefit of being earned media, which is the most trusted form of advertising. This means that performing well in any of these channels will result in a higher level of customer affinity with your app than paid media channels. The affinity achieved through earned media results in more word-of-mouth promotion, both online and offline, multiplying the app's reach exponentially.
ASO
The concept of app store optimization for a mobile app is similar of search engine optimization for a website. The difference is ASO targets searches performed within app stores (Google Play and Apple App Store) while SEO targets searches performed within search engines.
While the concepts of ASO and SEO are similar, there are some tactical differences that must be considered in order to perform.
The first step in app store optimization is knowing how target consumers search within the app stores. In many cases, the keywords searched in an app store can vary significantly from those searched in search engines. Therefore, effective keyword research is dependent upon different technologies than are used for SEO keyword research. There are a number of tools that provide insight into keyword level search volume and competition within the various app stores.
Once you have an idea of the keywords you want your app to rank for in app store searches, the next step is to optimize the relevant elements of your app. These elements vary slightly among app stores. The app title is the most impactful opportunity for optimization as simply having a keyword included in the app title can improve ranking for that keyword by 10%. This space must be used wisely, however, because the Google Play store only allows for 30 characters in the title. Apple, on the other hand, provides more flexibility with 255 characters available.
Other key elements for keyword optimization include the description (available in both Google and Apple), and the keywords (Apple only). Including images and video are also crucial for enticing installations, but do not provide much opportunity for keyword optimization.
ASO also focuses beyond ranking in app store searches to ranking within categories in the app stores. Categories provide users with a popular directory-style functionality for discovering apps. Unlike web directories, however, people use app categories. An app's visibility in category results is largely dependent on the volume of installations and reviews, so to perform well, it is important to have strong performance in app store search as well as a paid promotion plan to drive those installations and ratings.
SEO
When one thinks about search engine optimization, they think about website promotion. With app content becoming more and more ingrained in search engine results, SEO is no longer just about websites. The trend began with app indexing, which allowed content within an app to be crawled and indexed by search engines and has involved to include the ability to install an app using a button directly placed in search engine results.
With the integration of app content into search results also comes new ways to track data. Google Search Console has recently become available for apps, providing troubleshooting and search performance data such as impressions and clicks at the keyword level. This is also a must have for properly setting up and testing app indexing.
App Indexing
For in-app content to display in search engine results, the app content must be indexable with deep linking added. Google provides comprehensive guides to app indexing implementation for both Android and iOS.
An added benefit of app indexing is that app pages appear more prominently in mobile search results than mobile webpages, with the app logo embedded in the snippet. For example, in the search results for "la cucina veneziana", which happens to be my favorite local Italian eatery, the result from Yelp is app content, while the result from TripAdvisor is a mobile-friendly web page. As you can see from the screenshot, the app result includes the Yelp logo, making it more likely to be noticed.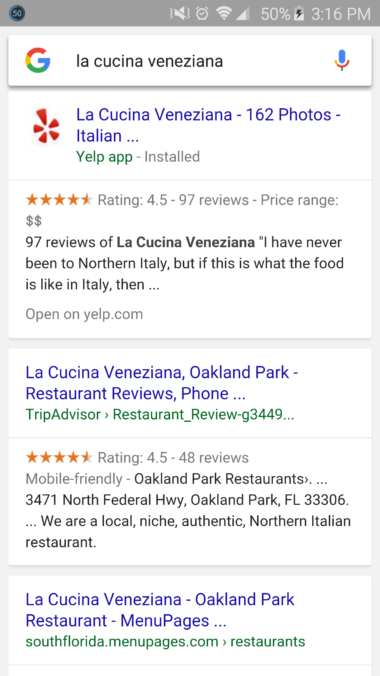 Install Button
SEO provides additional opportunities to promote an app by including an app install button directly in search results. If your app is available in the Google Play store, then proper app indexing and search engine optimization is even more impactful with the integration of the install button in mobile search engine results.
Google Search Console also reports on how many times the install button was clicked within search engine results (in addition to impressions).
Social Integration
It is obvious that an app needs to have a presence in the major social media platforms, but social promotion goes far beyond the app having its own Twitter handle. The beauty of social media for advertisers is that it does not necessarily require a substantial budget to build a powerful method of driving app installations. Anyone promoting an app can leverage social media to some extent.
Although, despite not needing a huge budget, effectively promoting an app via social media does require a comprehensive strategy and strong follow-through. This larger social media strategy is composed of sub-strategies for each relevant platform (i.e. Instagram, Twitter, Youtube, Facebook, etc.)
The first step is knowing which social channels are most used by your target audience and what types of content they interact with. This, of course, will inform which networks to focus efforts on.
It is also crucial to a social promotion campaign to leverage app users after they have installed the app to help with promotion. Integrating social media into the app to allow users to post directly to social media from the app can significantly expand the social reach.
Offer incentives to existing and potential app users for sharing the app. Incentives tied to app functions are best because they do not cost anything and also lead to further engagement with the app, therefore leading to more monetization opportunities. Examples of these types of incentives include additional levels in games, unlocking of new content, and offering a premium version of the app free for a set time.
Social influence adds another layer to earned media via social. Networks such as Grapevine Global have emerged as a way to connect advertisers with social influencers that would be willing to promote their offer. According to Quirk's Marketing Research Review, word-of-mouth is the #1 purchase influencer among millennials. Receiving an endorsement from those with a strong following among the target consumer base can expose an app to a highly captive audience.
Of course, there are many paid promotion strategies that should be considered when marketing a new app. In any case, however, the earned media channels of ASO, SEO, and social media should be part of the app promotion.
What other earned media tactics have you used to promote an app? Let us know in the comments.
Image Credits
Featured Image: geralt/Pixabay.com
Screenshot by Marc Purtell. Taken March 2016.