In 2016, I consumed more marketing material than I ever have. While the internet is packed with some truly awful content, it's home to some real beauties as well.
This post is intended to highlight some of the best things I read over the last year which, if you haven't seen already, definitely need to be added to your reading list.
My favorite posts are always those that inspire action and provide suggestions that you can take away and use yourself, and I guarantee that if you consume everything here and act on just a few of the tips, you'll be a better marketer for it.
So, without further ado…

How to Rank Number One in Google: A Study of 1 Million Pages
Starting with a recent post, this study from Matthew Barby is an incredibly useful insight into what's required to rank well. It's always nice to have some recent data that looks into ranking factors, and this post provides just that in incredible depth.
An extremely comprehensive guide to keyword research that breaks down the best tools and how to use them. With the recent changes in Keyword Planner, this is a really useful read.
A fantastic insight into dwell time, an often misunderstood phenomenon, and its impact on search results. If nothing else, the definitions for dwell time, time on site, and bounce rate are worth bookmarking this.
Cyrus Shepard's post from early in the year is a beautifully simplified way to look at optimizing pages on your site, and people would do well to take a step back and reassess their sites with this in mind. The tip? "Optimize for how users are actually using the page — as opposed to how you optimized the page ahead of time."
How Technical SEO Increased Traffic to Over 1,000,000 Visits Per Month
I'm a big fan of Nick's writing, and this post is a real eye-opener. For those who talk about technical SEO being dead, read this and weep. It's an incredibly interesting case study, as well as being home to some really useful technical suggestions we should all heed, especially when dealing with huge sites.
Quality vs. quantity has been a hot topic through 2016. This case study from SimilarWeb provided more proof of the importance of monitoring the pages you have indexed and only keeping those that offer a good user experience and provide real value.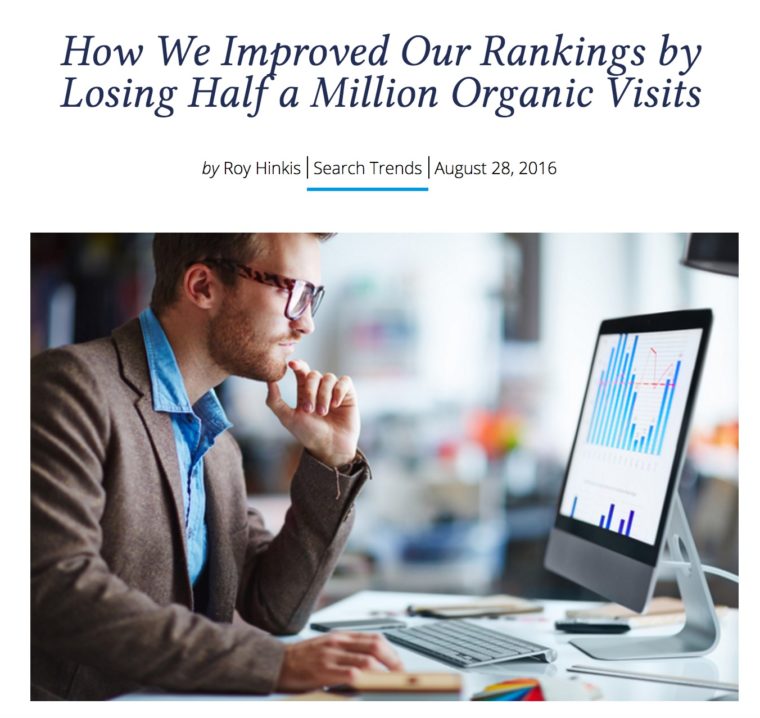 With the impending labeling of insecure sites in Google's search results, moving to HTTPS is a more prominent issue than ever. Fortunately, Aleyda has broken down everything we need to know.
I've never seen such a thorough guide to using excel for SEO and have already picked up a number of great, time-saving tips from this post. I'm sure you will, too.
A start-to-finish breakdown of what you need to do to improve your traffic. It's packed with information and actionable tips, which is always the key things I look for in content I love. Don't miss this one.
You might well have seen this one unless you've been living under a rock for the year. But for the few who haven't, it's a must. Again, these are actionable tips that you can take and use straight-away, which is something Brian Dean delivers time and time again.

People often struggle at the first hurdle with content by not knowing what to target and how to structure the content they do create. This post shows you how to use Analytics to make that process easier – I'd recommend watching the webinar in it, too.
A lack of ideas is often the reason that people stop blogging (or don't start in the first place). That's no longer an excuse with Griffin's help here – you'll end up with more ideas for 2017 than you can shake a stick at.
More ideas! Now there's really no excuse!
47 more options! If you're still staring at a blank page then there's no saving you…
You've got your topic ideas, time for the headline. Don't worry, read this and you're all set there, too.
Unsurprisingly, Jason goes into incredible depth and gives a ton of actionable suggestions in this post and it will leave you with a nice to-do list that will keep you going until the end of 2017.
A nice summary of the year from Buzzsumo which should give you plenty of food for thought on the types of content you could create in 2017, with some nice examples to inspire you as well.
4 Personality Types Who Won't Read Your Copy and How to Change That
A really useful lesson for writers in how to approach their articles based on the kind of readers who will be consuming it. There are examples of the kind of content you should create for each personality type that you can take away and create for yourself.

For those still unsure of whether content marketing is for them, this step-by-step breakdown on Problogger should make it an easy decision to give it a go. Tactics, tools, ideas — it's all in here.
Those people who are unsure would do well to read this one, too. It discusses realistic expectation setting and important lessons on what's required to be successful. But also proof that when done well it can bring a valuable return.
I'm a big fan of Ross Hudgens' work and this is a stand-out piece from him. If you're looking for a process to follow with your content marketing, this is it.
Another fantastic how-to that should inspire you to follow in Devesh's footsteps. Plus, he tells you exactly what you need to do it.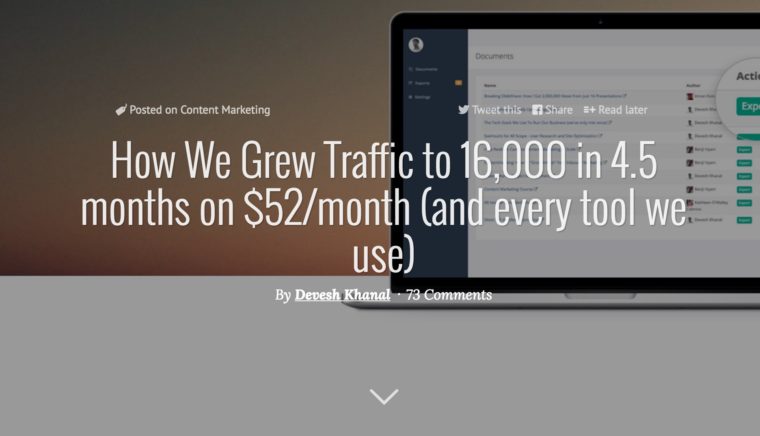 If you're not satisfied with the tools Devesh suggests then here's a ton more for you to check out. Pick and choose the ones that will be the best fit for you.
Here are the pitfalls to avoid. Take this insight and make sure you don't waste your time going about things the wrong way.
One of the biggest problems in most people's content marketing strategy? They don't spend enough time promoting the content they create. Here's a raft of ways you can put that right.
So you've recognized the importance of promotion, here's how to do it right. Spammy emails won't cut it, you need to be more tactical and thoughtful about your approach, as Darmawan tells you here.
Sujan is my go-to guy on the web for outreach tips. You should read this post closely and then go and read a load of his other ones, too.
Measuring the value of your content marketing activity is crucial to ensure you identify what's working, what isn't, and whether your overriding strategy is the right one. The title of this one is bang on – it is extremely comprehensive.
Some inspiring examples from HubSpot to get your creative juices flowing. I always find real-life examples (that I can take and put my own spin on) really helpful, so if you're the same I've no doubt you'll like it, too.

13 Advanced Link Building Strategies You (Probably) Haven't Used
Glen never fails to disappoint, and many of his blog posts this year have gained a lot of attention (you may have seen his post about 16 companies dominating Google). But this is the one that stood out for me and went slightly more under-the-radar. If you're in need of advanced link building inspiration, look no further.
Link Building Strategies: The Complete List
Jon Cooper's resource from 2012 has always been my go-to when I need new link building ideas, and this resource from Joshua Hardwick has taken that and gone a step further with great design, a handy filtering system, and bucketloads of actionable tips. Bookmark it.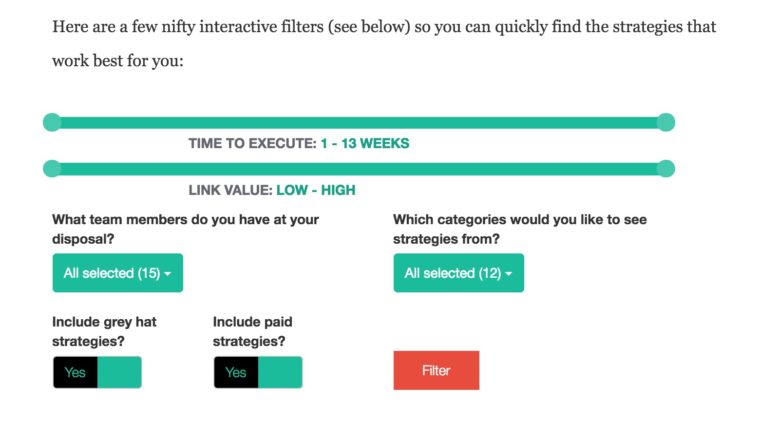 Gael Breton preaches great content and authority building, and this post does a great job of practicing what he preaches. For the guest posters out there, this is invaluable.
There are a lot of posts about image link building out there, but I've never seen a better step-by-step guide than this. All the resources you need, all the actions, and great examples. If you haven't tried image link building before, start here.

If you're a marketer and you're not on Reddit, you need to drop everything and sign up now. But whatever you do, don't go and be a marketer there. The insight you get into what works and what's popular is amazing and you can learn a lot from that, which is benefit enough. But if you participate naturally and occasionally drop in some content you've created that's exceptional, you might just hit a big win, too. Learn how with this breakdown from Eddy Azar.
Test, test, test. You should always be playing with different types of content and measuring what works best, especially on social. These 10 ideas will get you started nicely.
Short of inspiration for your social updates. Here you go. Thank you Buffer.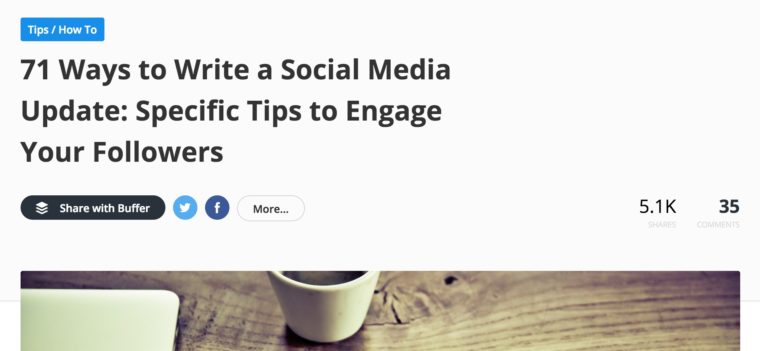 A great post on the importance of being the first to comment on a post if you want to be seen and heard. The data is from Reddit, but the conclusion can be taken and applied to any popular forum or blog where there is a lot of community participation.
If you're interested in using Facebook advertising then you'll like this. A simple but in-depth guide on the best way to build your email list with ads, without spending mountains of cash. It's written for bloggers, but could easily be employed by businesses, too.
If you've already got a handle on Facebook ads then this post will take you to the next level. More complex tactics that need a bit more knowledge of how the platform works, but some mega tips for those who want to take their advertising to the next level.
Snapchat is the current trendy marketing platform and the majority of businesses still don't know how to use it. This list gives you 50 people to follow where you can watch and learn.
More people to follow, this time on Twitter. If you aren't following these 20 people, then go and get adding!
With the impending importance of moving to HTTPS, social share counts are at a big risk of being lost, along with all the social proof and ego boost that goes with it. Fortunately, if you're on WordPress, there is a solution. You need to pay for it, but if you've accumulated a lot of social love for the content you've been creating, it's worth it, right?

The first challenge of email marketing is getting people on your list. This post gives you 21 ways to do just that, and they're all valuable ones (no fluff here).
A collection of tips from the very best. From what to include in emails to how to get better open rates, each one provides great value.
More tips from more experts. More great value.
From "Dormant" List to 66% Open Rate, to 48K Subscribers — Here's How
Fantastic insight into how to send an email to your list and get a good open rate, even if you haven't contacted them in a while. If you're struggling for an email format to use with your list then this should get the juices flowing.

It's a beautiful day when you set up a successful email automation process, but it isn't easy. This guide from Razor social will help you do just that and take your email game to the next level.
Unsubscribers. The soul destroyers of the email world. But what if you could stop them leaving, rescue them from the jaws of defeat? Kaitlyn gives some great examples of brands we can all learn from.
I love examples, they give you something very tangible to aim for. HubSpot brings together some fantastic email marketing ones here to inspire your email exploits.

A top-to-bottom analysis of Expedia's conversion rate optimization techniques. It struck a particular chord with me as someone who specializes in travel, but it offers insight for people in any industry. It's a two-parter; you can read the second one here.
No 2016 rundown would be complete without a nod to the election and this post on Unbounce is a fitting way to do it. The impact of marketing on this year's result has been well documented and how better to learn from it than getting the experts to tear each campaign apart?
The perfect landing page. Fairly straightforward, right? Wrong. Here are more than 7,000 words and 93 examples telling you what's needed. It's a long one, but if you want to convert better it's definitely worth your time.

There were some other gems out there that didn't fall into any of the categories above but that are still well worth a read:
Headline, Controversy, Click, Share – Who is Really Profiting From Our Outrage?
An excellent commentary on the power of controversy in gaining coverage, and how marketing teams exploit it.
Want to convince more people to buy your product or service? Pricing strategy is a key place you can do that, and Nick Kolenda's given you 42 ways to make yours better. With science and everything.
If you have a great product then referral marketing is a fantastic way to build awareness of your brand quickly. This guide will show you how to do it, with examples from the best in the business like Uber, BackCountry, and AirBnB.
Who wouldn't want the ego boost of being interviewed by a popular blog and feeling like you've made it? It doesn't have to just be the marketing celebrities that get interviewed; Ann Smarty breaks down how you can get yourself (and your brand) in the limelight.
Virtual Reality has been mooted as the next big thing for a while, but is it something you should be paying attention to? Yes. Here's why.
Now that you're on board, here are some ideas on how you can use it.
We'll finish with an epic post from Kevin Ho. He knows how to grow a business from nothing, and he's been kind enough to put together 100 very specific tips that you can use for yourself. I challenge you to go and implement ten of them in the next seven days.
Summary
The last sentence there is the most important one in this post. There is a lot of reading to be done to get through these articles, and I would recommend doing it because you'll learn some incredibly useful things to put into action for your own business or personal brand. But that's the key – putting them into action.
There's no point reading tens of thousands of words of material if you don't do anything with it. So make that your target for 2017 – try to implement one tip from each of these suggestions before the end of the year. If you do, I have no doubt you'll make some great progress. Good luck!
Image Credits
Featured Image: Pexels/Pixabay.com
Screenshots by Tom Mcloughlin. Taken December 2016.