Instagram Threads, the new social media platform on the block, is looking like a strong contender to be adopted as a new SEO hangout.
The social media space in the SEO community has seen a lot of disruption over the last year.
Twitter has always been a core favorite hangout until Elon Musk bought it, and many people began to ditch the platform.
Although Mastodon launched in 2016, suddenly, at the beginning of 2023, many SEOs saw it as a new Twitter alternative after renouncing the bird app.
Although promising initially, the decentralized platform has limitations in connecting with other servers, and establishing the SEO community was constrained as people were divided between different servers.
Then Bluesky came along – and yet again, SEO people waited to see if this would catch fire. As yet, apart from a few early adopters, it hasn't seen mass uptake or threatened the domination of other platforms.
For over a year, LinkedIn has been enjoying a resurgence with a lot of activity in the community. Many SEO pros historically vocal on Twitter have started posting long messages about case studies and thought leadership on the platform.
One real positive about being part of LinkedIn is the absence of politics, outrage, and snarkiness that is consuming Twitter.
LinkedIn is professional and a great platform to showcase what you are working on and share ideas about work.
And then, Instagram Threads launched on July 5 at 7:00 p.m. EDT.
It achieved 2 million sign-ups in the first 2 hours.
In 24 hours, it had 30 million. It took ChatGPT two months to get 100 million followers. Threads took five days.
It took Twitter two years to get one million followers; Instagram took two and a half months. Threads did this in less than an hour.
Will Threads manage to sustain and create a new SEO community? At this point, we can't say.
We jumped on the platform quickly within the first few days as it was launching and watched countless people we knew in the community come on board.
It has a fresh feel to it and was like a reunion of old friends together that hasn't been felt in some time. A buzz and vibe of excitement and interest felt like Twitter from many years ago.
For new users to a platform, one of the first things to do is follow people and build your follow list.
Threads doesn't currently support hashtags, so it's even more important to follow the right people to find the discussion you want to participate in.
For anyone in SEO, we've compiled a short list of SEO experts to follow on Threads to help get you started on the platform.
This list isn't intended to be exclusive, all-encompassing, or any statement about who is considered to be better than anyone else.
It's compiled from experts in SEO who are already active on Threads, and we included current Search Engine Journal authors.
An expert is someone who we consider to contribute significantly to the industry through social media and speaking, and through posting content that offers value.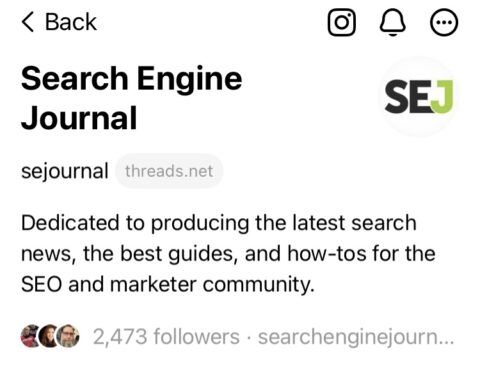 Search Engine Journal Staff On Threads
Search Engine Journal Contributors on Threads
Not all of the SEJ community are currently on Threads, so we have only included the ones that are active so far.

SEO Experts To Follow On Threads
As mentioned above, this isn't an exhaustive or exclusive list and only includes SEOs that were active on Threads in the first few weeks. All of the names below are well worth following for their expertise and community contribution.
There might be lots of names we have missed, and this is not intentional, or any rating of the SEO community.
More resources:
---
Featured Image: Emre Akkoyun/Shutterstock