This is a sponsored post.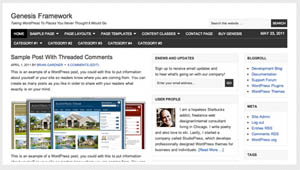 'Tis the season for Turkey, Football and Promotions! StudioPress is offering 25% off their WordPress themes including the Child Themes for the amazing and clean Genesis Framework. You can actually get all the child themes right now with this same coupon code "THANKS"
Here's how to snag this StudioPress discount code:
Using the code THANKS at checkout (don't forget that), you can save 25% off of anything you'd like at WordPress design shop, StudioPress.
1. Get the Genesis Framework for only $45.
2. Snag most Genesis / design combos for a song and save close to $20.
3. Wipe the entire shop clean and get the StudioPress Pro Plus All-Theme Package. Get Genesis plus every design they've made, plus every design they make in the future, and save more than $74 off the regular price and over $875 off the retail price — and that's just the existing 43 designs!
All you need to do is use the code THANKS when you check out and you'll save 25% on anything and everything at StudioPress.com.
This deal ends promptly at 7:00 pm Pacific time on Monday, November 28, 2011. Hurry up and claim your new WordPress theme before the code expires!