Windows Live Search Ties Up with eBay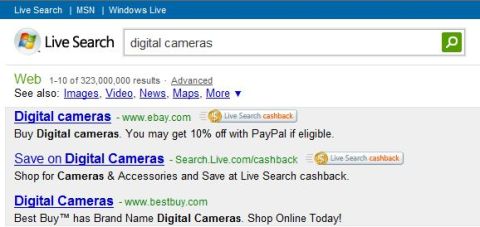 Remember the Microsoft's Live Search Cashback rewards program that we told you about not so long ago? It is now working on a direct-to-merchant system with eBay's "Buy It Now" program. That means, you'll start seeing more cashback ads when searching for jewelries to electronics.
Whereas previously, the CashBack rewards program works only on indirect cashback system wherein a user clicks on a Live Search cashback ad and they will be directed to the cashback page before proceeding to the advertiser's site. But now with the recent tie up between Microsoft and eBay, users will be brought directly to the advertiser's page. The cashback gleam will follow you as you fulfill a sales transaction and then rewards you with a corresponding rebate.
More information about this new program can be found at the eBay's Terms and Conditions page for the cashback offer: