I don't need to tell you the importance of content creation, I'd say it's been pretty well covered in the past few years. However, I do want to talk about a form of content that's widely underused. The main forms of content I usually see on the web are blog posts, videos, infographics, eBooks, and white papers. I've seen some influencers put podcasts to use, but they never really caught on.
What about webinars?
According to a research report from the Content Marketing Institute (CMI), 62 percent of marketers in 2013 used webinars as a tactic to deliver B2B content marketing. This may seem like a large number, but this is only within the B2B marketing space.
Whether companies don't feel like they have the resources or don't know how to approach them, webinars are still widely underused. This is a shame, as I would argue that webinars are the best form of content, because they're live and interactive events – better than video.
According to the CMI study, webinars were ranked the third most effective content marketing tactic, because of real-time content delivery and behavior scoring. Actual events may take the cake as being the most effective, but webinars are a virtual and more cost-effective alternative.
Here are some ideas on how you can utilize webinars in your inbound marketing funnel:
Online Events are Shareable Assets
A new blog posts isn't news and a new video isn't news. Sure, they could be great content and you could receive natural shares, but it's difficult to pro-actively promote these assets. However, a LIVE upcoming event is newsworthy and worth sharing. Here's a recent case study to illustrate this point:
ApplicantPro provides hiring software for HR professionals and holds webinars weekly. The webinars are purely informative and also offer required industry credit (HRCI), so these events have become quite popular. In a campaign of promoting the webinars via Facebook outreach, several relevant Facebook pages were willing to share about the events. Below you can see screenshots of outbound messages sent to HR Facebook pages about the webinar and the responses received (personalized data blocked out in red):
Screenshot #1: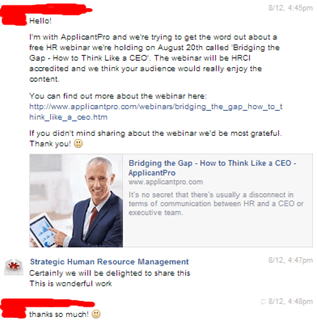 Screenshot #2: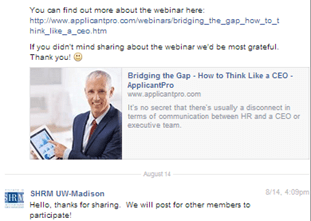 Screenshot #3: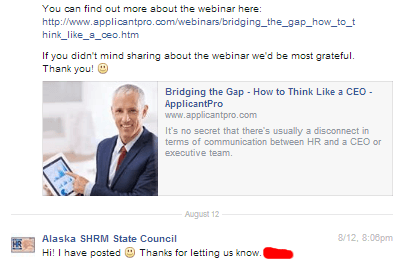 As you can see, because the webinar was an upcoming event and relevant to HR audiences, many social media managers were more than willing to share the event via Facebook. After all, they're always under pressure to share relevant content.
Sell by Teaching
Your sales team should sell and your marketing team should teach. Avoid the temptation to turn your webinars into sales demos (at least directly), as you could turn off prospects real fast. Let your content do the selling for you. The more value you provide, the more participants will appreciate and trust your brand.
Identify the pain points in your industry and solve them with your webinars. You could start by coming up with the top 10 FAQ's you get from prospects/customers and create webinars around these topics. If you haven't read Jay Baer's article or book on Youtility, then I recommend you do so, as he explains this concept better than anyone.
Easily Leveraged For SEO and Content Creation
Too often, content creation becomes a bottleneck for marketing teams. Always find ways to work smarter, not harder. Here are five
ways webinar content can be re-purposed and three easy ways to acquire easy links:
Re-purposed Content
The webinar landing/registration page
Add the power slides to slideshare.net
Upload the webinar recording to YouTube/Vimeo
Re-purpose the webinar outline into a blog post
Expand the blog post to 1000+ words, add more images, have a cover made (easily done for $5 on Fiverr.com), and create an eBook
Links
The Facebook shares of the webinar landing page
Linking back from slideshare.net, YouTube, and Vimeo
Adding on-site content via the webinar landing page, the re-purposed blog post, and the eBook
Just like that, you now have diverse, non-duplicate content, and links to go with it.
Joint Marketing Opportunities
You don't always need to expose your brand to new traffic and prospects. Leverage cross promotional opportunities with relevant influencers who have already established trust with their audiences. These can come in the form of joint presentations or sponsorships.
As you build an audience, eventually you won't even need to create the content, you'll just need to sponsor or host the webinar. And just like Mozinars, you can benefit from brand association of providing value, without having to create any content. Presenters take advantage of Moz's brand and reach, while Moz benefits from the provided content – a win-win for everyone.
Start Utilizing Webinars and Enjoy the Benefits
I encourage you to add webinars to your inbound marketing arsenal and enjoy the benefits. Don't feel the pressure to come up with a six-month webinar schedule or a fancy presentation, start with one webinar and focus on what you're good at.
Image Credits
Featured Image: Project on Government Oversight via photopin cc
Post Image: Gavin Llewellyn via photopin cc
All screenshots taken August 2014