Last week SEOmoz announced the launch of their new backlink checking tool Linkscape and I felt I couldn't help (briefly) reviewing it at our (already traditional) SEJ toolbox series. So…
What's so unique about the tool?
It has its own index (currently 30 billion pages; updated every 25 days);
It introduces the array of new SEO metrics giving you the opportunity to take a closer look at your (competitor's) link profile and even get an idea of possible search algorithm:

Internal and external link counts (juice-passing links to the page);
MozRank (mR) – 10-point measure of global query-independent link authority or popularity;
External mozRank;
Domain-Level mozRank (DmR);
Domain Juice (DJ) – the sum of mozRanks for all URLs in a domain;
External Domain Juice;
MozTrust (mT) – see also my recent post on Trust vs Authority.
Great features:
compare pages and domains side-by-side;
plenty of sorting and filtering options for each report;
export to CSV;
save reviews for further reference;
anchor text search within the backlink results;
see 301s and 302s, shared/same IP blocks, pages with NoIndex meta tag; links from noscript; image links, etc

Reports:
Basic / free report includes domain and URL backlink data overview based on the above metrics: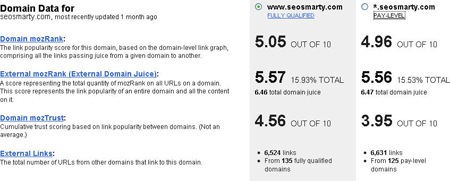 Advanced report:

Dashboard contains the link data overview; 5 most powerful pages linking in (based on the metrics) and 5 most common anchor texts;
"Links to URL" / "Links to Domain" lists bakclinks in order of importance. Plus it gives important data for each linking page and domain (its mozRank, mozTrust and estimated link juice passed);
"URL anchor text" / "Domain anchor text" lists most frequent (important) external anchor texts. Of course, you can click on each one and get the list of linking pages that use it. Note: you can sort the list and see your most powerful anchor text (the one that passes "most mozRank").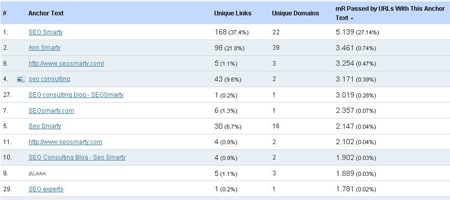 Rates:
the basic report is free;
SEOmoz PRO members ($79/month) are given 20 credits (1 credit = 1 advanced report); the credits will be renewed regularly, I guess.
You can have a look at both positive comments and critique at the Linkscape feedback post and Sphinn.
More on backlink checking:
(Please see SEJ tool review disclosure.)