The industry is rapidly moving from a keyword-focused approach to a topic-driven model. Google's recent rebrand of its ad network, AdWords to Google Ads, provides a perfect example of this.
In the SEO realm, we've seen this shift for a while, as search engines have slowly shifted to semantic search. A Backlinko study from two years ago confirmed this sentiment when its lead authors found little correlation between organic rank and the presence of a target keyword in the page title.
This isn't to say that keywords have lost their importance to SEO, but there are better ways to advance your content marketing campaign by focusing on a topic-driven approach.
The problem with focusing solely on keyword planners and keyword optimization is that they vastly limit the scope of your information hierarchy and new content ideas.
Indisputably, selecting the right keywords and topics are the most important step to reaching your target customers and providing them value.
But by focusing on topics first, you can:
Uncover new opportunities to create content that receives traffic and is valuable to your industry.
Rank for new semantically related keywords that you might not have discovered in your keyword planner by discussing new sub-topics.
Keywords are still important for search engines and users. As searchers, we actively look for bolded exact match keywords in titles and meta descriptions when deciding which page to click on.
But what if we focused on topics first and then picked keywords?
Well, it all depends on what you're optimizing.
Here, I'll provide a step-by-step guide for using keywords and topic selection tools to improve the performance of your most valuable webpage using your content marketing strategy.
1. Audit Your Current Site
The first step to revamping your SEO strategy means understanding where your current site is winning and where it is failing.
Chances are, you have some core service pages and top-level tutorial pages that are sitting just in striking distance on the second page.
So how do we improve their rankings?
Create sub-topical content that links back to that page.
Build backlinks to that page.
Expand on existing content by making it more user-friendly or expanding the amount of information within.
Improve user engagement on these pages.
For the purpose of this article, we won't focus on link building techniques, as they should come naturally.
But one thing I would challenge content marketers to do is make their strategy more performance-based. Aside from being a copywriter, we're also marketers and clients only care about dollars signs, not punctuation marks.
Organic Presence
First, it's important to evaluate the keyword rank of your core webpages.
I use SEMrush and then incorporate it into a spreadsheet.
You're going to run into a lot of junk and random keywords that have no bearing on your business.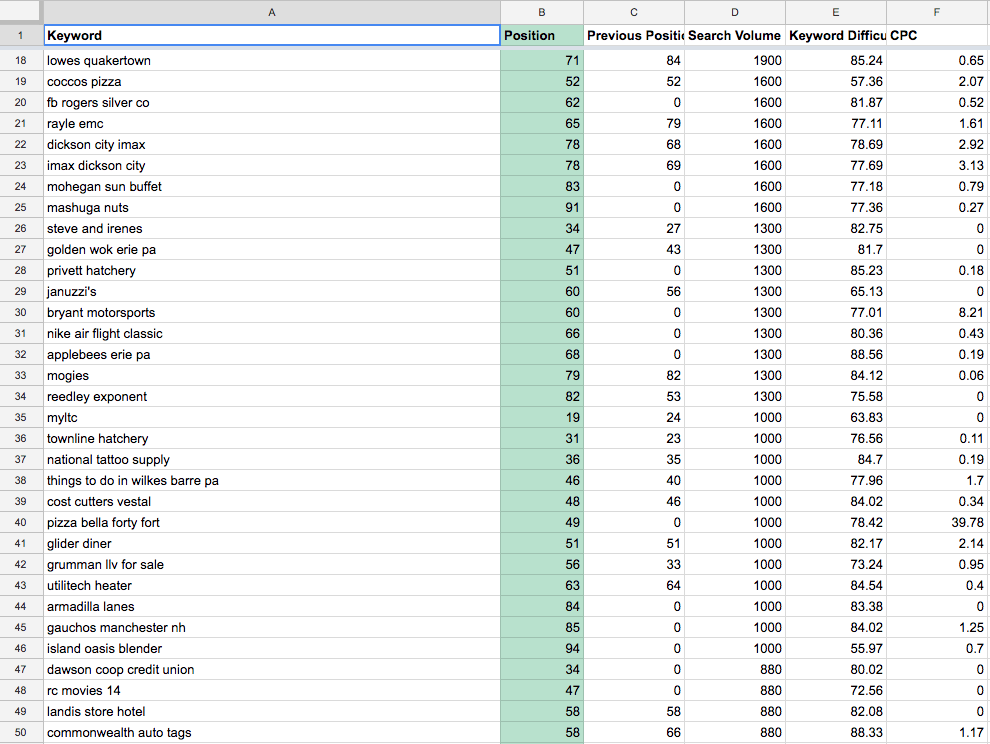 Here, you can identify opportunities for keywords that are relevant to your business that you can scale up in the rankings by using those three previously mentioned strategies.
Select target keywords with high volume and low competition to optimize your existing content that is essential to your information architecture.
Look at other key metrics beyond keywords on a page-by-page basis, such as Page Authority, to see where opportunities exist to scale pages using both internal links and backlinks.
For more information about your organic presence, you can leverage Google Search Console to look at your monthly traffic volume and how many clicks your content is receiving in organic search results.
Here, you can optimize existing metadata and improve the user signals surrounding your content. Indirectly, this should assist in rankings.
User Metrics
To improve user signals you need to know the behavior of users as they land on your site.
Use Google Analytics to assess how users interact with your webpages once they land on them.
The most important metrics include:
Page views.
Average time on page.
Conversions (if tracked).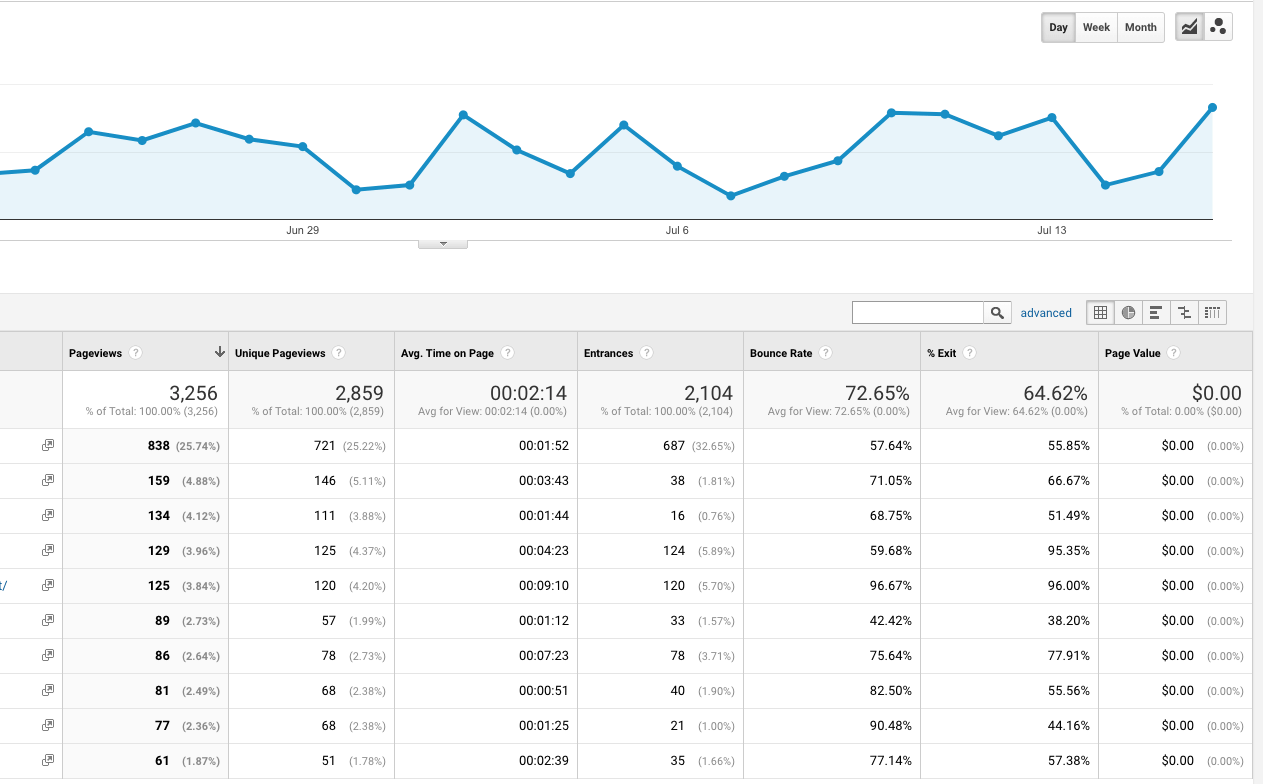 These metrics will provide a good understanding of how well your content is meeting user intent (primary ranking signal) and how users engage with your content: are they leaving or is it encouraging them to explore your site further?
Google Analytics provides a behavioral flowchart that shows you the actions of users as they land on your webpage.
Most informational content will come with a high bounce rate. So in order to keep more users on your site and also boost that contents ranking, it's ideal to add additional resources relevant to that content to further serve your customers or expand on your existing content for longer engagements.
User metrics will provide a general idea of the quality of your content and whether further actions should be taken.
Establish Goals
Each piece of content will serve a different purpose in your sales funnel. So, you need to identify the goal of each page and set up KPIs to track monthly and evaluate the effects of your content marketing campaign.
Generally, content will serve a number of goals, not limited to:
Bringing additional traffic to your website.
Moving the needle on choice keyword terms that are within striking distance.
Ranking for additional semantically related keywords.
Assisting in funneling conversions through your website.
Generating visibility around your brand and business.
Providing thought leadership or topical authority over the subject matter.
Now you need to track these through a quarterly editorial calendar and audit your efforts at the end of each quarter.
2. Build Out Your Website Architecture for More Authority
As most content marketers profess, the best way to set up your information architecture is through a town-down pyramid approach segmented by categorization.
But one of the best methodologies I've found for a topic-driven approach is Hubspot's Topic Clusters.
Essentially, the idea is to use internal linking to improve the rank of core service pages by building out sub-topics around a central piece of content.
For example, if building out a tree around "Agile," you'd want to build out sub-level pages around sub-topics, such as:
Agile Manifesto
Scrum
Sprint Planning
Writing Agile Frameworks
Continuous Testing
This list can also be extended to alternative methodologies, such as Waterfall, RAD, and much more that can still be considered topically similar to agile, even if used as an informative webpage or blog post.
When coming up with subtopics, you should analyze long-tail variants of topically related keywords with high search volume.
You can use Google Keyword Planner, SEMrush, Ubersuggest, and even related search phrases in Google search queries.
For example, when searching for keywords related to agile, you can uncover long-tail phrases with high search volume relevant to your top level topic:
But these phrases only really get us a few ideas for topics, most of which are a little too similar.
Looking outside of this, we can come up with more topic ideas using additional resources.
One of the best resources is competitive analysis. Leverage SEMrush, Ahrefs, SpyFu, or any other competitive analysis tool to evaluate the following metrics:
Keyword gaps for choice terms.
Web pages that are receiving the highest traffic.
Content that is receiving the highest share of backlinks.
Content that receives positive social signals.
Leveraging this information, you can discover to see what keywords these pages are ranking for and create content that's dives more in-depth and provides an entirely unique approach to presentation.
To develop a more coherent strategy you need to understand what people are searching for and what's important to them as consumers.
When leveraging competitive keyword analysis, you can also filter your search for phrases, such as:
Why
When
How
Where
Tutorial
What
Guide
This will provide you with informative content that answers user intent and have high search volume.
But going beyond this, marketers should look to other opportunities to scale their content. For other sources of related topic selection, we can leverage additional tools.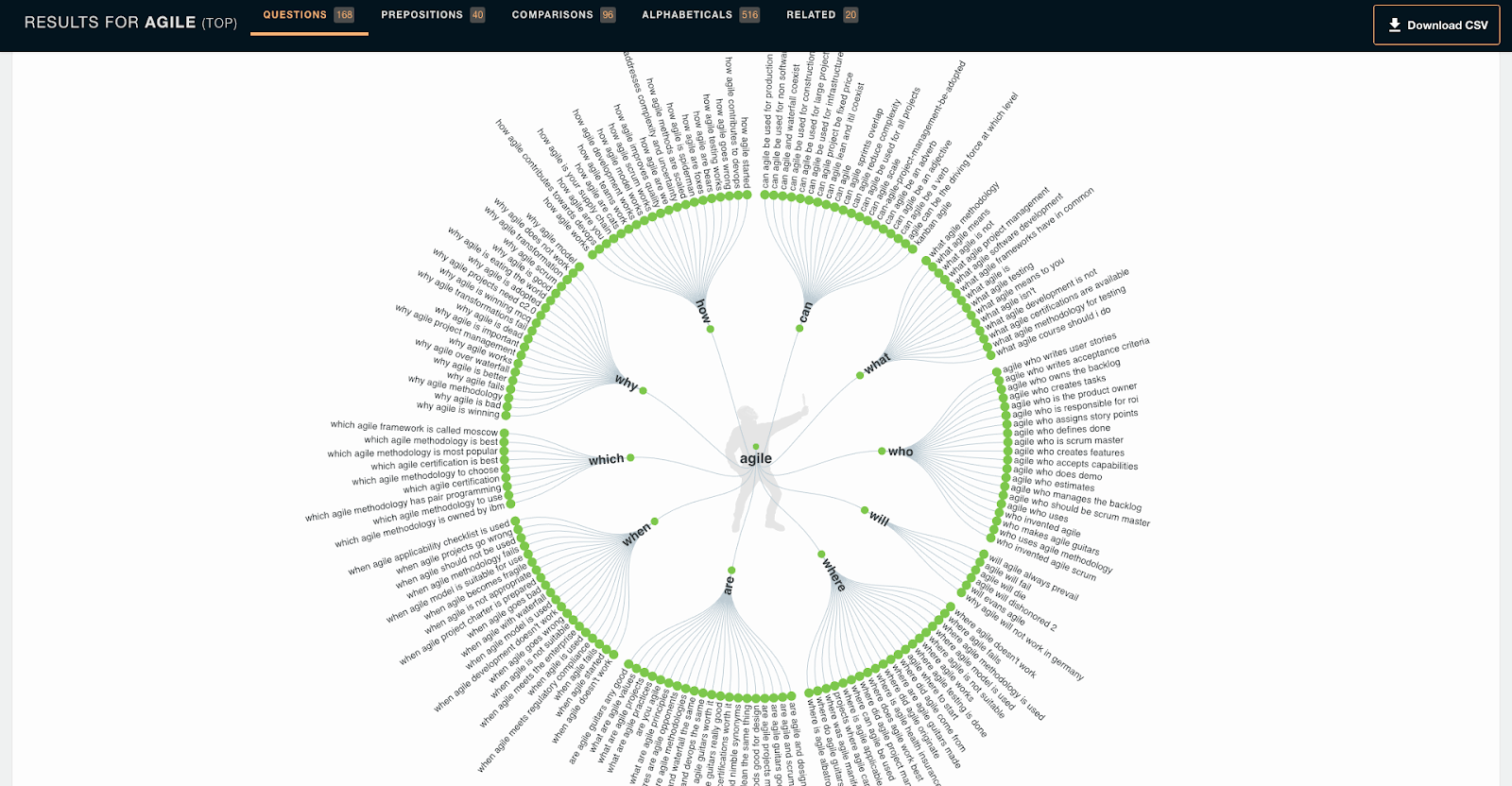 Ask the Public offers questions and prepositions that users are searching for over the web directly related to your broad keyword term.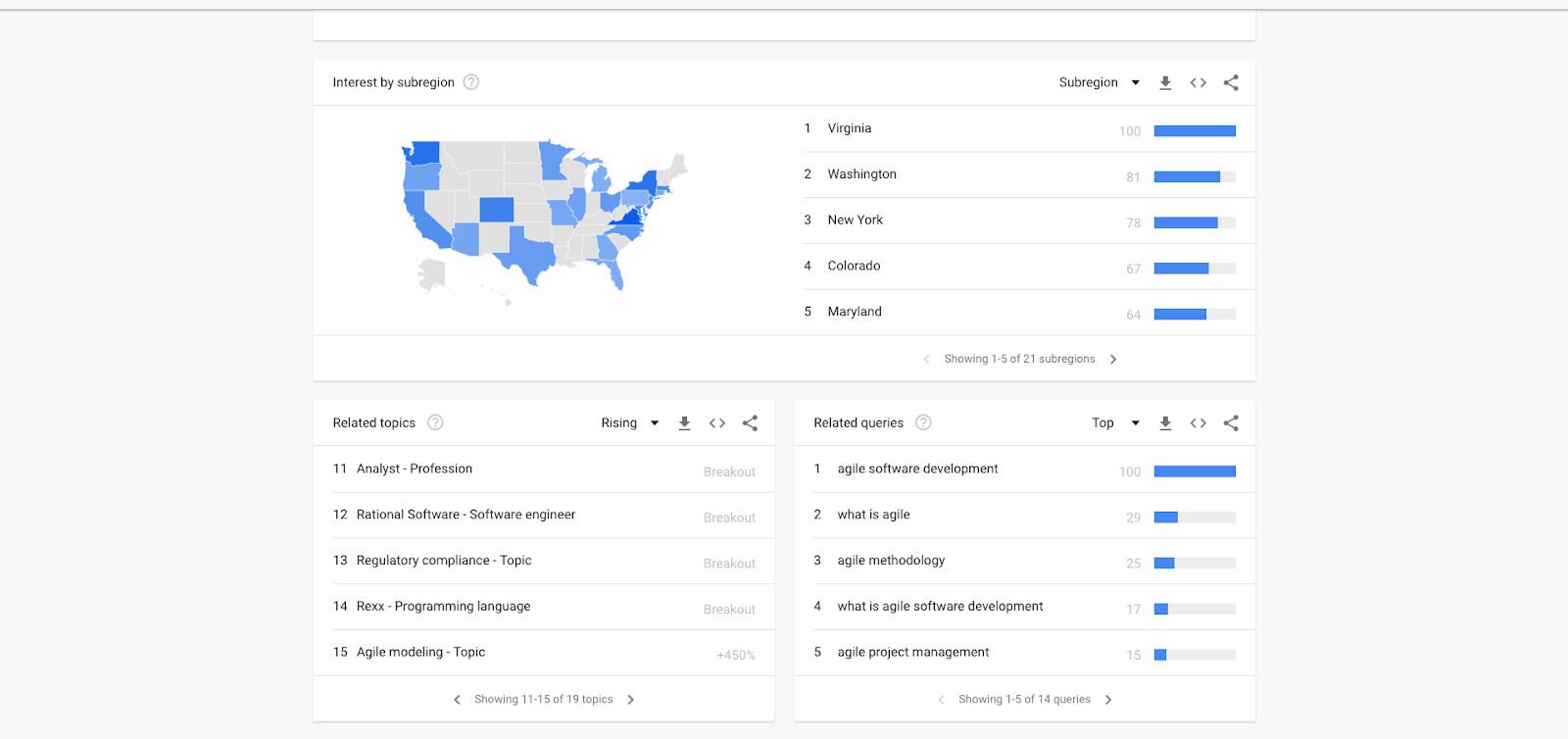 Google Trends also offers great search data around related queries with high search volume that other keyword planners don't really cover.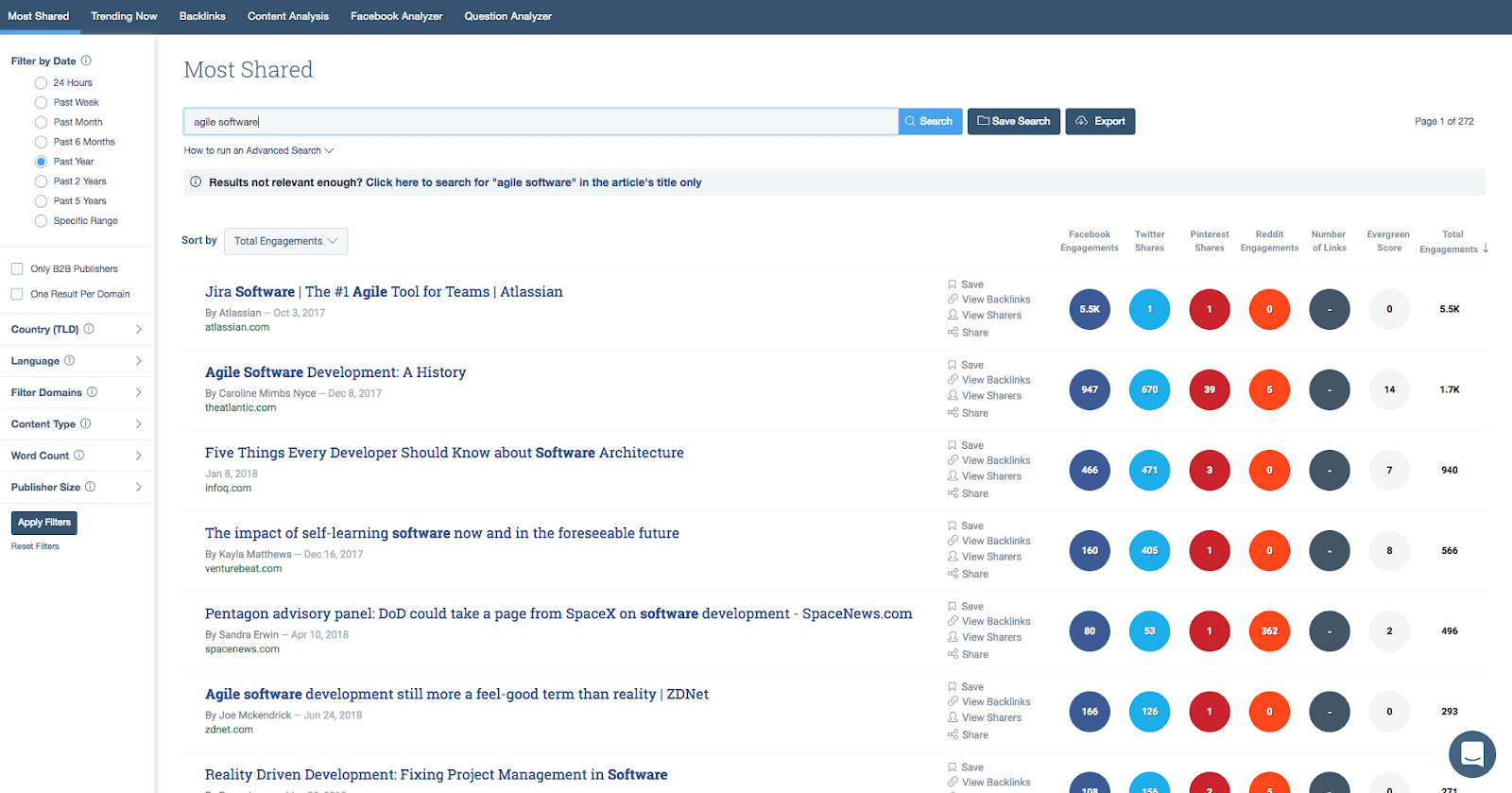 BuzzSumo offers data on articles that are being shared and actively discussed in your given industry.
Using these tools and approaches, you can uncover topic ideas that are highly relevant to your core topic pages. From here you can create new content that is both beneficial on its face, but can also pass authority and boost interlinked pages in your pillar topic.
So why go through the trouble of explaining this topic-driven approach?
See, the problem with most keyword planners is that they give you very limited insight into related topics that are also important to your customers.
Keyword planners help you uncover opportunities for wins by optimizing existing content. But competitor analysis and these tools help you uncover opportunities for wins by creating new topics that are related to your core service offering.
3. Use New Content to Improve Existing Rankings
So, where do we go from here?
Sure, creating new content will help with indexation and maybe pull in a little traffic, but how do we use this to increase the rank of our money pages?
Well, link, link, link!
Set up internal links using target anchor text to send authority metrics that way to your core service pages and communicate its importance to search engines.
Furthermore, build out links to these pages and promote them on social media to increase the amount of authority flowing through these pages.
Finally, I would suggest going back and updating old posts to reflect your core service offerings and link back to those parent pages.
Conclusion
By using a topic-driven approach to website hierarchy over a strict keyword approach, you can vastly expand the reach of your content strategy and help promote important internal service pages on your site.
More SEO & Content Marketing Resources:
---
Image Credits
All screenshots taken by author, July 2018