As a digital marketing consultant, I often come across companies where content marketing and SEO strategies don't go hand in hand like they should.
What's even more shocking is when I come across companies where their SEO and content marketing strategies are in conflict with each other.
You've probably seen it yourself.
This is old style thinking that needs to die.
SEO & Content Marketing Work Best Together
Here are two truth bombs – especially when it comes to extremely competitive niches:
Creating high-quality content alone doesn't work.
SEO alone isn't enough.
If you were to do a Google search for [content marketing], what sites do you see?
Content Marketing Institute
Forbes
Copyblogger
Wikipedia.
Moz
What do all these sites have in common?
They have built an incredible amount of trust among online users and website owners. As a result, these sites have gained top rankings and attracted tons of links.
It's going to be one heck of a challenge to outrank them, no matter how great your content is.
And that's why every time you want to publish a new article, not only do you need to keep in mind what's really trending now and what answers your target audience is looking for. But you also need to consider what kind of posts have the highest chance to acquire more links and find the right type of keywords.
This post will show you exactly how to find the right keywords that will give you a competitive advantage and help you figure out how many inbound links your article needs to acquire to appear on the first page of Google.
Step 1: Evaluate Your Current Situation in Google
Find what kind of keywords have already been bringing you traffic and conversions. Such search queries can be found in your Google Analytics account if you have connected it with your Google Search Console account.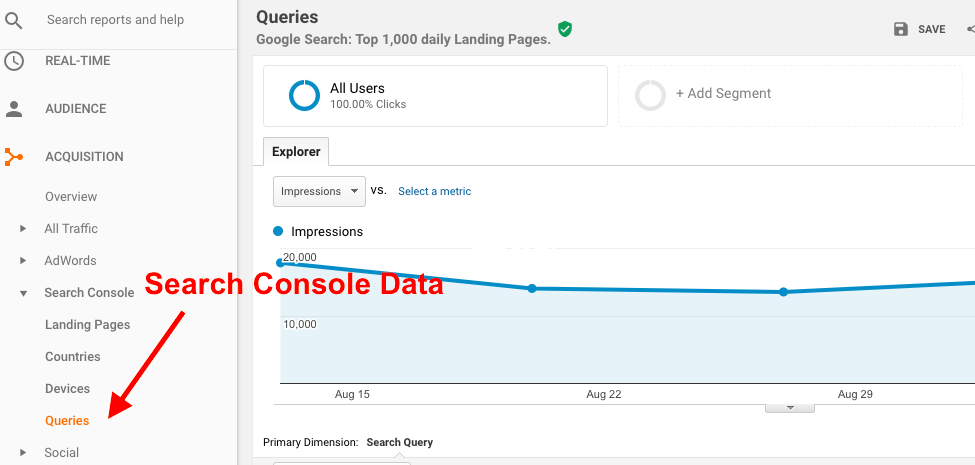 But there's one little problem. Google Analytics, even after being connected with Google Search Console, won't show you which keywords have converted. Unfortunately, Google only allows you to access this data for your landing pages.
And that's where tools like SEMrush, SpyFu, SERPstat, or Ahrefs come into play. These tools will provide you with this missing puzzle of this data.
The aforementioned tools let you see for which keywords a particular URL appears in Google. They also show you how far from the top of Google your site is for a particular keyword. You'll see this update displayed right next to the keyword.
For example, here's a screenshot from SEMrush that shows all search queries one of my previous articles, How to Build a Content Marketing Strategy That Works in 5 Steps, was ranking for in Google: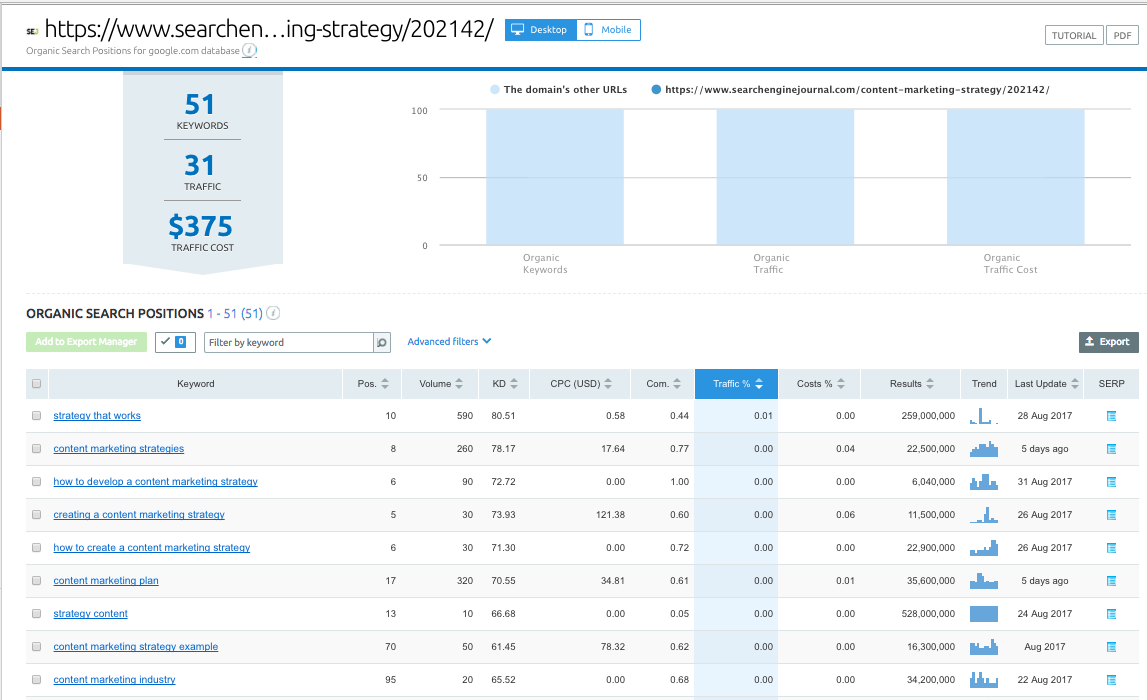 To the right of each keyword, you can see the position this keyword currently has and its search volume.
Step 2: Find Related Keywords
Now you need to find keywords that are similar to those you discovered during Step 1.
Let's say, it turned out that keywords related to content marketing strategy brought you the most conversions. So it's a good idea to create more content using keywords related to that subject.
Why?
Because those keywords mirror your audience's search behavior the most. These keywords also have the highest potential to bring you more paying clients.
There are several ways to find these keywords. One thing you can do is to simply check Google's Autocomplete. You can look for autocomplete suggestions either manually, or using tools like AnswerThePublic.com. (A fun fact: guessing what kind of autocompletes made it to the top of Google has become a legit Family Feud-style game.)
Before you start brainstorming a title for your next piece of content, you need to know what subject resonates the most with your target audience. That's when Answer The Public comes in.
The Answer the Public website is a tool that helps you discover what people are searching for in Google's autocomplete. It has built a database from myriads of searches and it will predict what you're going to ask, based on the data that's already been put in.
The more variations of keywords you try, the more content ideas you'll get. The results are demonstrated based on the variations used to build them, and can be downloaded as an image like the one shown below: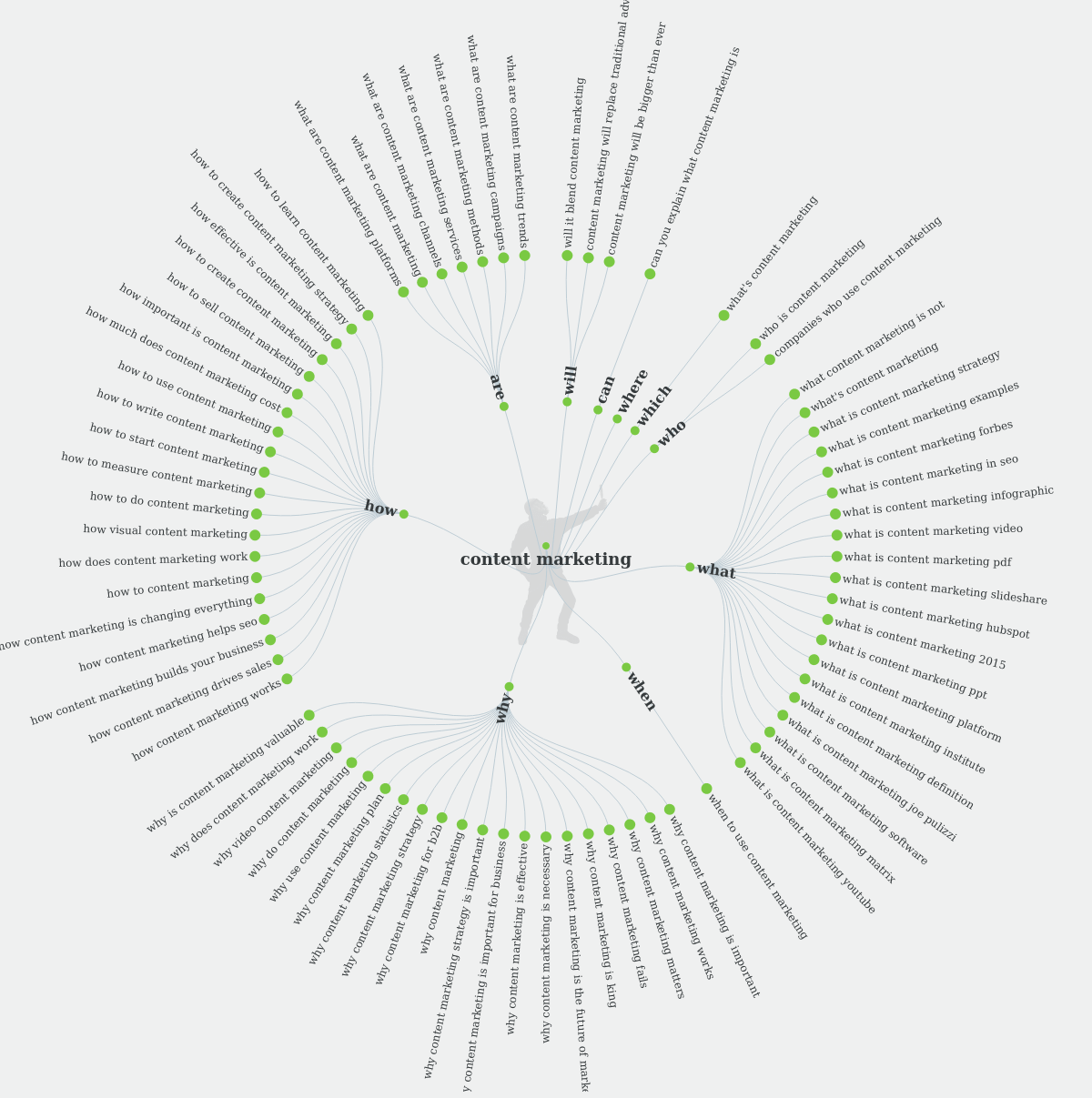 You should also look at Keywordtool.io. This tool scrapes Google Autosuggest and gives you the search volume for each keyword you entered. This tool can save hours of your time because you need to know the search volume for every keyword in order to estimate how many users this keyword can potentially bring on board.
Another tool you can try is the SEMrush Keyword Magic tool. It automatically provides you with the most important information about a keyword, factoring in metrics such as:
CPC and volume (basic, but much-needed).
Keyword difficulty.
Competition level.
SERP features.
Exact and broad keyword matches (grouping keywords by the most frequently appearing words in phrases that include your search term or phrase).
This tool quickly gathers the data you need and offers a much wider range of analysis for both single keywords and groups of keywords. I spend less time doing monotonous work and can concentrate on something more complex.
Step 3: Check the Competition Level in SERPs
Now that you have the list of keywords that are related to your most profitable search queries, it's time to choose the keywords (e.g., topics for your future articles) that will let you rank higher in Google.
For a quick check, you can use SEMrush Keyword Difficulty tool. It tells you how difficult will it be for you to promote based on the domain's visibility in organic search results.
There's one problem with this tool, though: it doesn't consider the number of referring domains for the website or a page URL you're trying to look up. So you'll also need to spend some quality time with Excel.
Follow this quick and simple process to make this process hassle-free:
Start by collecting the list of domains and pages (URLs) that currently rank in Google for the list of keywords that you've selected during the previous step. To speed things up, use a tool like SEMrush that allows you to export such list of domains and pages.
The same action of finding and exporting domains and URLs can be performed in Ahrefs Site Explorer:
SpyFu has the same functionality: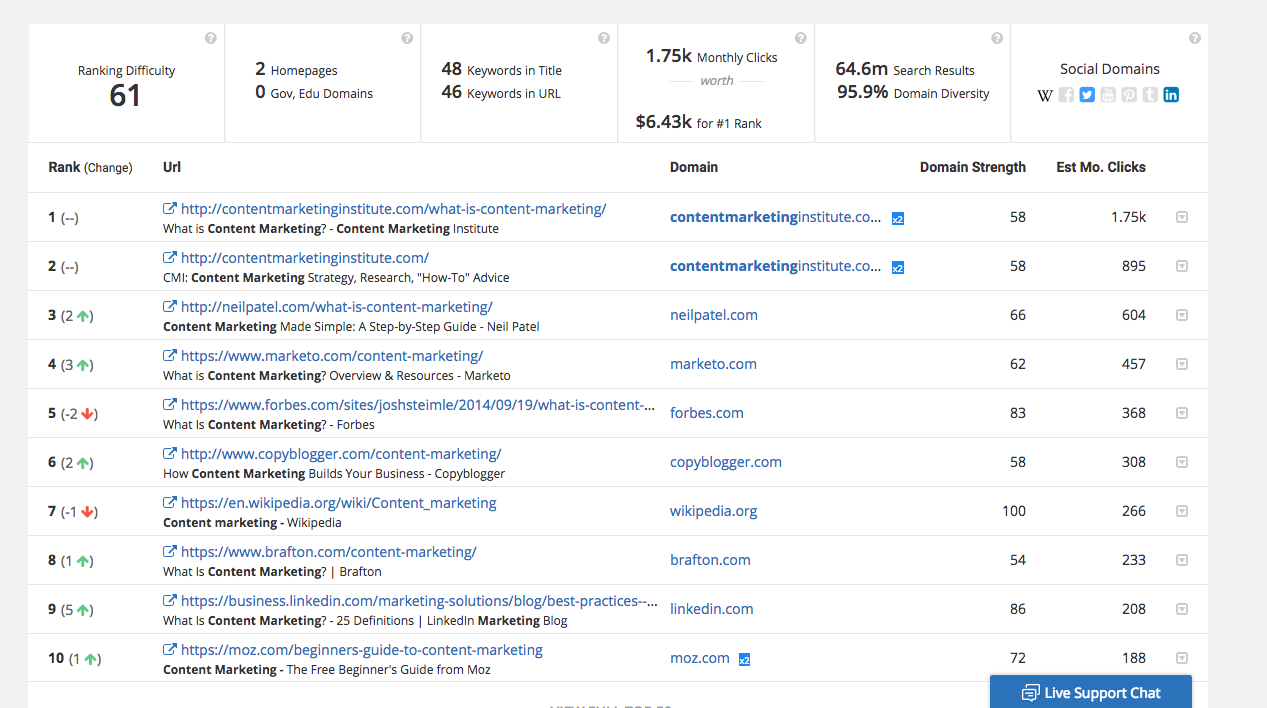 The results show you the ranking difficulty for the keyword you entered, along with the explanation of how many keywords are in the title and in the URL, the number of monthly clicks, and search results. The green and red arrows displayed on the left from the URL show whether a particular page's ranking has gone up or down.
After you collect all domains and URLs, you need to check the number of referring domains for each of them. This can be done with tools like Ahrefs or the Majestic Bulk Backlink Checker that allows you to analyze multiple links at once.
Finally, you can get a good understanding of what kind of keywords have more or less competition not only based on the number of searchers they have, but also based on the real situation in SERPs.
From this moment on, you know how many referring domains each of your content pieces need to receive in order to rank high in Google. You'll be able to tell the number of referring domains by looking at how many links have already been acquired by other pages that currently rank well in Google.
Also, you can estimate the number of visitors you'll attract on a monthly basis and calculate the conversions you will potentially earn because you researched more keywords related to your most profitable ones.
Conclusion
Outranking websites with a high level of trustworthiness and credibility is no easy task. But who says you have to do that?
Work with what you already have. Analyze which of your current keywords have been bringing you traffic and increasing your sales. Look for keywords related to those keywords.
Evaluate the performance of your site's URLs to see exactly how many referring domains each of your pages needs to have to stay visible in the search results. Elaborate on the topics that your target audience takes the most interest in.
Take advantage of marketing tools to help you leverage the results of hard work you're putting while doing other types of research for your online marketing strategy. And always be wary of your competition.
Play smart by taking small steps and using keywords that will realistically get you to the top of Google.
---
Image Credits
Featured Image: Created by Alexandra Tachalova, September 2017.
Screenshots by Alexandra Tachalova. Taken September 2017.