In just about any aspect of life, there are misconceptions and myths that won't go away. Even in today's modern world, there are plenty of widely held yet false beliefs and ideas that still remain no matter how many experts debunk them.
Today it's easier than ever for people to share information in all its forms. Unfortunately, myths have also become much accessible and easily disseminated.
Fake news, wrong information, and false ideas get all mixed up with the true, at times causing confusion, anger, and even threats.
The SEO industry isn't exempt from the prevalence of myths. As Tony Wright put it, bad SEO information is too easy to find.
In fact, there are many misconceptions about the field of search engine optimization that is getting tiring to hear over and over again.
We wanted to know which SEO myth do search marketers hear most often – and most wish would die – so we asked the Search Engine Journal Twitter community.
Which SEO Myth Do You Hear Most Often (And Most Wish Would Die)?
In our new SEO 101: Learn the Basics of Search Engine Optimization ebook, Kristine Schachinger debunks 15 SEO myths that just won't die, which inspired our poll.
Here are the results from this #SEJSurveySays poll question. According to SEJ's Twitter audience: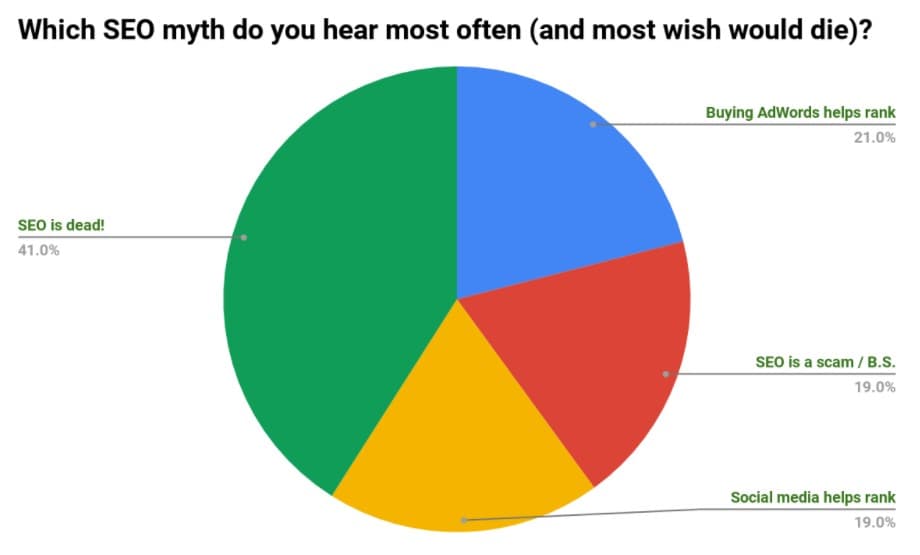 Here Are a Few Comments from Our Twitter Followers
I'm annoyed when people say SEO is dead. Have they realized for as long as there is an internet, SEO remains alive? pic.twitter.com/ivIKA633ud

— Dean Ryan G. Martin (@SurvivorDean) October 23, 2017
Heard the "SEO is dead" so many times by now that it's not even funny anymore. #SEJSurveySays #SEO

— Vladimir Covic (@v1covic) October 25, 2017
Dude, "SEO is a dark art"

— Alex Laing (@ALaingSEO) October 24, 2017
Debunking SEO Myths with SEO Facts
Fact 1: SEO is Not Dead – It's Just Evolving
If we were to believe the pundits who predicted SEO's death, SEO would've actually died multiple times.
As far back as 2010, SEJ already published this post: Despite the News, SEO is Not Dead. The message couldn't get any clearer than that.
SEO is one of the few industries where change is equated with death.
Any time a new medical discovery is found, we don't see doctors declaring, "Medicine is dead!"
Anytime a new discovery is made in space we don't see astronomers declaring astronomy dead.
It's ridiculous.
Just about everything changes.
Back in 2015, we counted how many times SEO died in The Many "Deaths" of #SEO Before 2015.
Do a Google search for ["seo is dead"] and see how many results you get. (Spoiler alert: 151,000.)
While SEO killers seem to have toned down their "SEO is dead" rhetoric in 2017, some people still use enjoy saying "something is dead" as their article's headline. Perhaps the "X is dead" type of headline is what needs to die.
Bottom line: Despite being declared dead (or dying) by countless "experts" in the past, SEO is very much alive today. Only the old ways of doing it have died.
Fact 2: Buying AdWords Won't Directly Affect Your SEO Rankings
Simply buying AdWords from Google doesn't mean you'll automatically rank high in their SERPs.
In this #AskanSEO post, SEO expert Jenny Halasz offered this explanation:
No. Investing in PPC will not directly impact your SEO performance…

PPC can sometimes have an indirect impact on SEO. A well-done branding campaign that increases awareness of a company or a new product can result in articles or other forms of press being written about your company or product. This can result in some new links, which can help SEO.
Also, Google has this to say about why AdWords PPC marketing won't help SEO:
Google's first responsibility is to provide search users with the most relevant possible results. If businesses were able to pay for higher rankings in the search results, users wouldn't be getting the information they're looking for.
Bottom line: Doing AdWords doesn't directly impact your organic search rankings.
Fact 3: SEO Is Important & Here to Stay
To understand why search engine optimization is important, we first need to know why search is important.
As Ryan Jones, SEO Director at SapientRazorfish, wrote in SEO 101:
Search matters because users matter.

As technology continues to evolve, SEOs will constantly deal with new ways of searching, new devices to search on, and new types of searches (like voice search, or searches done by my oven) but the one thing that will remain constant is why people search.
Bottom line: SEO still (and always) matters.
Fact 4: Social Media Won't Impact Search Rankings Directly
Social media can't propel you to the top of the SERPs, but it can:
As Ron Dod, Co-founder of Visiture, puts it:
Even if social media isn't a direct Google ranking factor, it is one of the best ways to promote content and be found online. Which is, ultimately, what SEO is all about.
Bottom line: Social media won't boost your organic search rankings. But a cohesive social media strategy can complement your SEO efforts.
Have Your Say
What's the SEO myth you hear most often? Tag us on social media and have your say in the next survey by checking out the hashtag #SEJSurveySays on Twitter for future polls and data.
---
Image Credits
Chart created by Shayne Zalameda