Having a social media marketing strategy is par for the course these days. But it's not enough to go in with a meager budget and some vague notion of goals.
The social media market is saturated with brands trying to stand out and reach their customers, and with 1 in 10 online purchases spurred by social media, you can't afford to risk losing business to your competitors due to a poor social media presence.
In this article, I'll be showing you how to use social media to spark real growth in your online sales using some personal insights and a healthy dose of advice from the experts (referenced throughout).
1. Focus on Your Audience's Favorite Platforms
Facebook, Twitter, YouTube, Instagram, Snapchat, Google+, Tumblr, Pinterest, Periscope — oy vey. There are hundreds of social media platforms to choose from, so how do you sink time into crafting a persona on all of them? Short answer: you don't.
The trick is to find the platforms with the highest concentration of your audience and then nail your content marketing and targeted advertising on those channels. As Social Media Strategist Peg Fitzpatrick says, "It's better to be amazing at one or two social platforms than suck on five or six."
2. Create a Compelling Identity
February is a time for romance, and what better way to say "I love you" than with… toilet paper?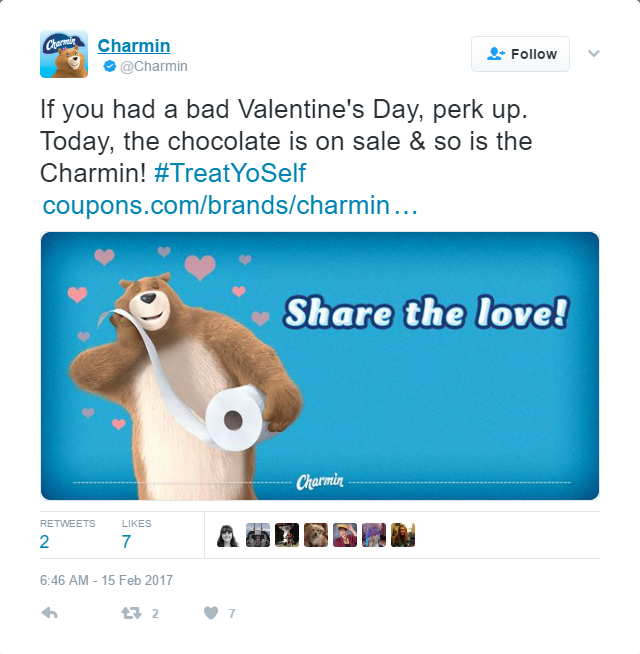 Charmin's penchant for humor on social media has earned it thousands of followers and a sassy reputation. You can use your social media feed similarly — as a place to humanize your business.
Interact with your customers in a way that best fits your brand image: start conversations, make jokes, share breaking news stories that align with your core values, and let your colors show. Most of all, don't be afraid of scaring (the wrong) customers away.
3. Publish Exceptional Content
Last year's "good content" won't be good enough as social media channels become more and more saturated with brands vying for their audiences' attention. As Robert Allen notes in Smart Insights' 2017 E-Commerce Trends, "Good e-commerce marketers will need to produce exceptional content to manage to stand out in 2017."
So what does exceptional content look like? For starters, it's often not a highly targeted ad with a "Buy Now" CTA. Sure, this might net you a few sales, but exceptional content warrants a bookmark, a share, or a return visit. Instead of ads and product pictures, consider sharing more useful content, such as product demonstration videos on Facebook and gift idea lists on Instagram.
4. Don't Go "Tool-Crazy"
Once I would have advised you to "choose the right tools for the job," but for most people, that's not an issue in 2017. The issue is tool overload. According to Chiefmartech, who keep close track of the marketing technology landscape, the number of products in the space has reached almost 3,500 in 2016, compared to 150 just 5 years ago.
It's important to manage your social media feeds and monitor them for mentions, but with more than 3,500 marketing technologies all jockeying to be your go-to solution on everything from content marketing to sales automation, it's easy to muddy up your site with too many tools. Be selective and stick to tools that improve both your life and your customers' experiences.
Which tools are best depends entirely on you, but if it helps, here are some of SEJ's favorite tools.
5. Retarget Your Satisfied Customers
The best leads you have are those who have already had a positive experience. Use your favorite Customer Relationship Management (CRM) software to buying behaviors, and send them reminders about related products they might be interested in.
You can also retarget customers who visited your website but left without buying anything. Use social media to tempt them back to your site with products that pique their interest, or to alert them when a product they perused goes on sale.
6. Use Messaging Apps for Customer Support
If you're forgetting about messaging apps like Messenger, WhatsApp, and WeChat in your social media marketing, then you're missing a big opportunity to connect with your customers. At the moment, businesses are finding them especially useful for providing 24/7 customer support.
Messaging apps are prolific and widely used worldwide; the top four messaging apps have over 2 billion monthly active users. Leading experts like NeimanLab's Joseph Lichterman predict, "Soon messaging will become like electricity – ubiquitous and involved in nearly everything we do."
7. Familiarize Yourself With Chatbots & AI
When you can't afford an employee to man your messaging apps 24/7, don't discount the rise of Artificial Intelligence (AI). AI investment is expected to triple in 2017, as brands use chatbots to answer customer questions and solve their problems quickly.
How you use AI depends on your business, but don't invest in them for the sake of following a trend. Think of common needs your customers have, such as comparing prices or finding similar products and build a bot that answers their needs. Make sure that any AI or chatbot you invest in is built on the back of solid customer research.
8. Showcase Your Employees and Customers on Social Media
If your company is filled with employees who genuinely love your brand, then employee social advocacy is a powerful piece of social proof. A bunch of enthusiastic employees, all speaking to customers and talking up your brand, is a great way to form connections.
You should also encourage your customers to engage with your brand by posting pictures of themselves with your products, participating in contests, and sharing your content. Keep your audience involved, and they'll spread your social media outreach for you.
9. Interact With Customers Using Live Video
43% of marketers are planning to use live/interactive video in their social media campaigns this year, according to Social Media Examiner, up from just 14% in 2016. The "Who is Mr. Robot" campaign that live streamed for approximately 17 hours and racked up more than 1.5 million views is one particularly stirring example of a successful social media live stream.
Streaming live videos is an excellent way to interact with your audience in real time. Platforms like Facebook, Twitter, Instagram, and Twitch all allow you to connect with your audience — but again, make sure you know where your audience lives before you choose a platform.
Live videos can be used in a variety of ways, including:
Behind-the-scenes videos
Real-time news stories
Interviews
Q&As
Live coverage
Charity events
Product demonstrations
If you're feeling particularly adventurous, you can also explore VR options and engage with your customers in a whole different way.
10. Give Your Social Media Marketing Budget Room to Grow
Neil Patel, Co-Founder of Crazy Egg & KISSmetrics, has noticed that social networks are "turning into a 'pay to play' game which is going to take a lot of companies out." Essentially, advertising on all platforms (and especially mobile) is growing more competitive.
Marketing budgets are expected to rise from the current average of 10.7% to a whopping 23.8% within the next five years. To keep up with your competitors, don't discount expanding your social media marketing budget.
11. Stay Agile
If there's one thing you can count on in social media marketing, it's that the next big trend is right around the corner. As Lifestyle Blogger Casie Stewart notes, "Last month everyone was crazy about Snapchat and then Instagram Stories happened, and now Twitter Moments are rolling out. In one app update, your whole strategy can be thrown off, you need to be agile, and ready for curveballs."
Bottom line: Don't bleed your marketing dollars dry by chasing every trend, and don't deadend yourself by sticking to dying platforms. Focus on the platforms that engage your audience and be prepared to adjust your strategy if a new platform suddenly sweeps them off their feet.
Conclusion
Of the 3.42 billion internet users on Earth, 2.31 billion of them use social media. That's a huge audience waiting for you to reach out and pique their interest with your creative offers.
The problem, of course, is that social media platforms are crowded with other brands trying to reach these same customers — so if you don't have a sound strategy backed by analytics, then your outreach is going to be edged out by the 77% of businesses that do.
The best way to improve your online store sales, in the long run, is to build up a large, loyal audience of people who are genuinely excited about your products. That means exuding a personality they connect with, creating content they genuinely enjoy and connecting with them on a personal level.
Image Credits
Featured image: Variant/DepositPhotos.com
In-post image: Screenshots by Aleh Barysevich. Taken February 2017.