If you want your social media marketing to be effective, you need active, engaged, and loyal followers.
Social media follower counts are a distraction. Don't focus on this.
Brand loyalty is what really matters. This will naturally ensure long-term engagement on social media.
Fortunately, there are several strategies that can help you build customer loyalty and enhance your brand's online image.
Why Brand Loyalty Matters
Loyalty matters more than follower numbers. Here are a few reasons why:
Resistance to competition. In today's highly competitive market, brand loyalty is incredibly hard to come by. Consumers have multiple options accessible, making it easy for you to lose them to competitors. Follower numbers may increase new followers' perception of your brand, but it's the loyal followers who add real value eventually.
Enthusiasm and engagement. A thousand loyal followers are worth far more than 10,000 indifferent followers. Loyal followers are more likely to interact with your posts and create meaningful conversations. Real engagement is more valuable to your online image and SEO than follower count.
Advocacy – Loyal social media followers are high potential brand advocates. They're very likely to talk about your brand positively, even without persuasion. The right social media campaign can turn several loyal fans into invaluable messengers spreading awareness about your brand.
How to Increase Brand Loyalty on Social Media
If your aim is to aggressively cultivate loyal social media followers who will advocate your brand on your behalf, the first thing to consider is your content and social media management strategy.
1. Create a Smart Social Media Strategy
You can't rely only on your advertising, marketing, and sales strategies to carry you through social media because each platform comes with its unique opportunities and intricacies.
Social media marketing has moved beyond the simple acts of posting and interaction to include advertising, marketing, lead generation, selling, and support combined.
It's essential to create a social media strategy that includes a cohesive plan for PR, SEO, and link building and prospect mining to keep up with your competition.
When focusing on brand loyalty, ask what value you can create for your fans on social media. The answer you come up with needs to be powerful enough to inspire your fans to be loyal. It's a good idea to research your competition when creating your social media strategy.
2. Share Quality Content
To inspire brand loyalty on social media, you need to share valuable content or useful content with your followers.
The way you present your content and the formats you choose also matter. In terms of metrics, quality content is what will give you the most ROI – shares, likes, comments, and click-throughs.
Visual content gets noticed and shared more via social networks, so it's important to factor them in when planning your social media content. Use infographics, videos, screenshots, graphs and visual aids where possible, to make your content more striking and memorable.
Also, ensure that your content is branded, with your logo, colors and chosen typography consistently used on everything you share.
3. Find Your Voice
Followers want to interact with real people, not bots or automated content. Ensure that you don't sideline personal interactions as something to do when you have time.
Prioritize personal interactions and use them to show fans your personality. The warmth will keep your followers coming back for more interactions with you.
Some brands use common values and interests to connect with people. For instance, if you enjoy baseball, you can make the occasional baseball reference on your social posts, or talk about current events, news related to it.
Cause based social campaigns are another way to connect with your audience and their values.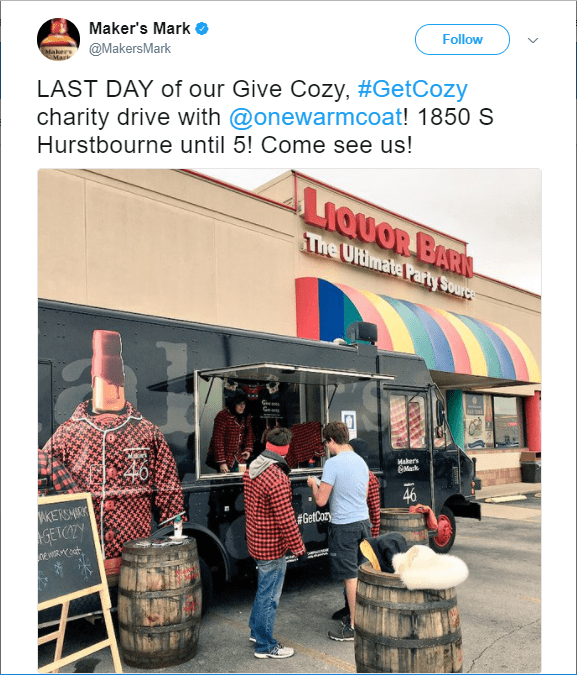 4. Be Consistent
People associate others with their strongest personality traits. That's what you remember about people and that's what lingers on your mind. As a brand, it's important to create and consistently display favorable personality traits to build familiarity among people.
These traits can be expressed through content sharing and conversations you have with people. If your routine includes blog content promotion, answering questions related to your industry and commenting on other people's shares, each of those tasks should be completed in the same voice.
For instance, 'Life Is A Game' blogger Oliver Emberton, rose to fame through his Quora answers, his distinct style of answering questions, with great visuals.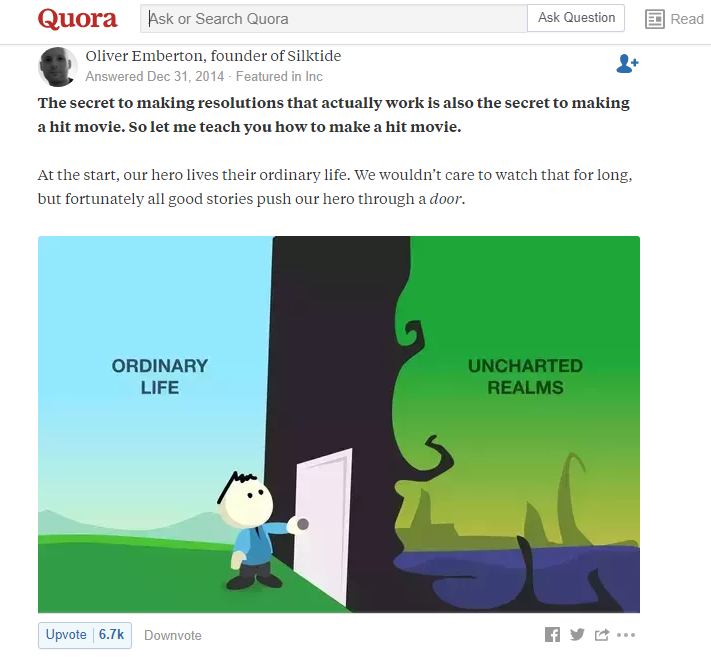 5. Answer and Acknowledge
People want to be acknowledged. If you consistently respond to their queries with useful, detailed answers, you can earn their respect. This is probably what you will notice if you look at the historic footprint left by any social media influencer.
You don't have to limit answers to your fans. You can expand your exposure by finding questions asked by anyone, and answering them.
Use keywords related to your industry as search queries to find questions and respond to them with precise and concise answers. Remember to acknowledge any responses you receive and see the conversations through.
Narrow is one Twitter automation tool you can use to find the right people to interact with.
6. Quid Pro Quo
Your followers are most certainly creating content of their own and participating in conversations, possibly related to your industry. You can use social media monitoring to find them and share them, if they are share-worthy. By doing this, you not only earn the loyalty of those followers but encourage other followers to share content related to your brand.
Another great way of managing relationships with followers is through Twitter lists. Add followers who have similar levels of engagement with your brand in Twitter lists, and visit your lists once a week to interact with them.
Finally, don't forget rewards. The right rewards for the best of your followers can be powerful in earning their loyalty. Many brands have loyalty programs to extend to the best of their fans.
Key Takeaway
You need to be human to connect with your fans.
Simply pushing content doesn't suffice. You have to move beyond that effort to make a lasting impression on your customers and social media followers.
Brand loyalty is an invaluable reward that you earn by truly caring for your followers.
---
Featured image: Freestocks.org/Unsplash.com
Screenshots taken by Jessica Davis, July 2017