This is a sponsored post, the data mining of which was done by the SimilarWeb team, using the SimilarWeb PRO platform.
Remember those SEO "truths" that everyone used to believe in? Like how keyword stuffing and amassing loads of inbound links was the way to go? Over the years, we have learned ranking number one is not the most crucial aspect for SERP, and buying ads won't necessarily help you climb to the top.
There are tons of myths still out there, and it's high time we started dismantling a few. Here's a look at some of the more recent myths circulating in the SEO world – most which can easily be debunked by looking at the hard data.
Myth #1: SEO is More Important Than Brand
To check this myth, I looked at the traffic distribution across several industries worldwide, as well as the global average for all industries. In some cases direct traffic was the obvious leader compared to other traffic sources (including SEO). But in other cases, search traffic was the clear winner. For example, search traffic is the leading traffic source for the Shopping and Travel industries, where consumers' habits tend to be more diversified. This trend becomes especially obvious when compared to Finance and News & Media, where consumers usually know specific brands they trust:
All Categories

Shopping
News and Media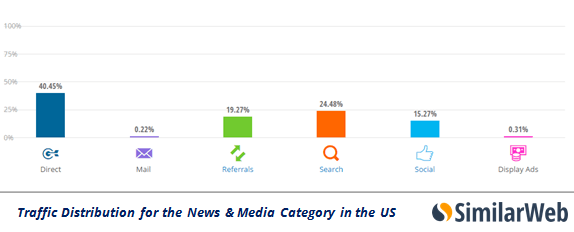 Travel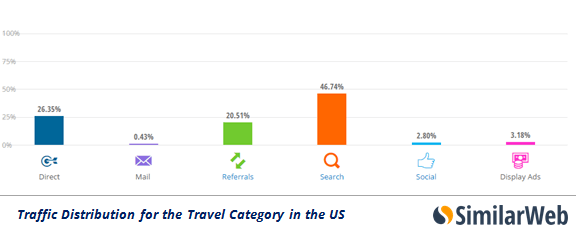 Finance

Conclusion: Myth (partially) Debunked. While SEO is definitely important, it is not necessarily more important than brand strength for all industries all the time.
Myth #2: Paid Search Will Boost Your SEO Traffic
To find out if this was true, I looked at five different websites from the same industry that are operating in the same market. I compared the ratio between their paid traffic and their organic search traffic to see if there was any correlation between the two.
I started by comparing the competitors' total search traffic: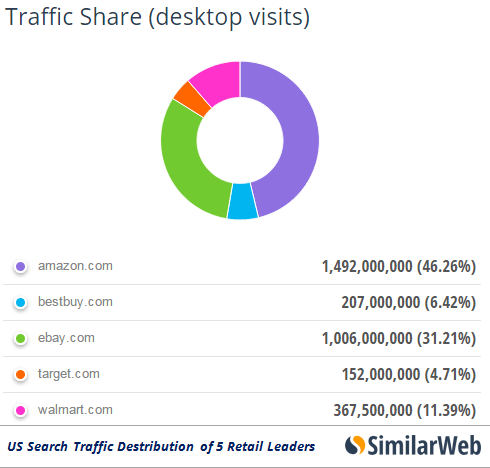 I then checked their organic versus paid traffic share:

Although BestBuy has the highest paid traffic ratio, it only gets 6.4% of the search traffic. But that's not enough: some may say I'm comparing apples to oranges and the differences between the search traffic are due to other variables.
So to get a more accurate picture, I compared organic with paid traffic for these five competitors over a period of six months. I found two interesting points – while there was a jump in paid traffic in September for Amazon and eBay, their organic traffic went down. When they had a decrease in paid traffic in December, their organic traffic went up. Same goes for Target.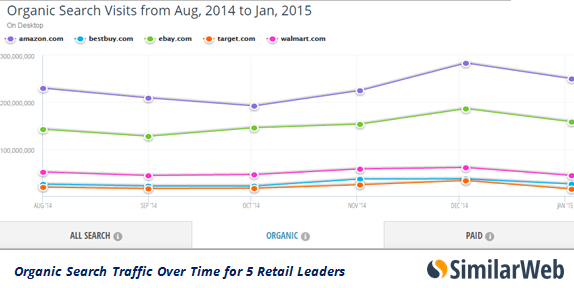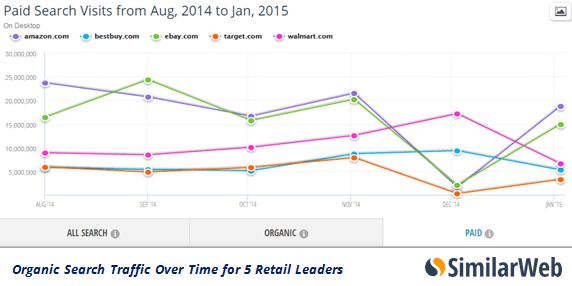 Conclusion: Myth Debunked! Looking at the numbers, you can see that paid traffic isn't necessarily causing more organic traffic to come in to the site.
Myth #3: Social Impacts Organic Search
To dig into this myth, I compared four competitors in the children's clothing retail industry to see if there's a connection between their advantage in social traffic and their organic search traffic. I discovered that while BabyVote.com is a clear leader in social traffic, it's trailing far behind its competitors when it comes to organic search.
Social Traffic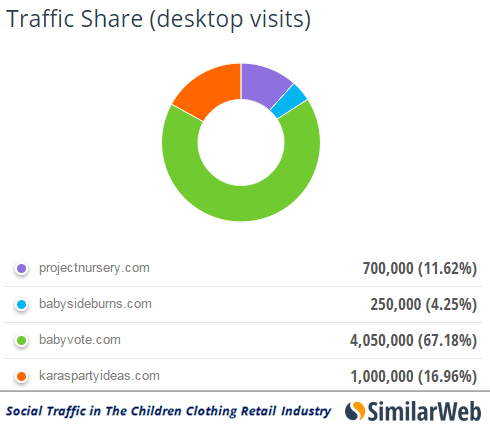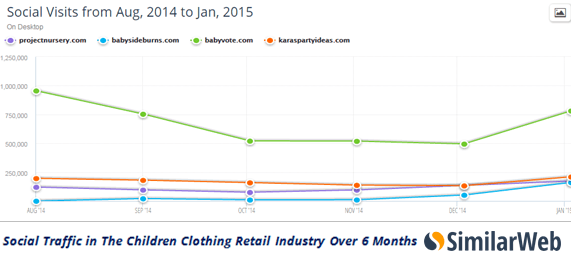 Organic Search Traffic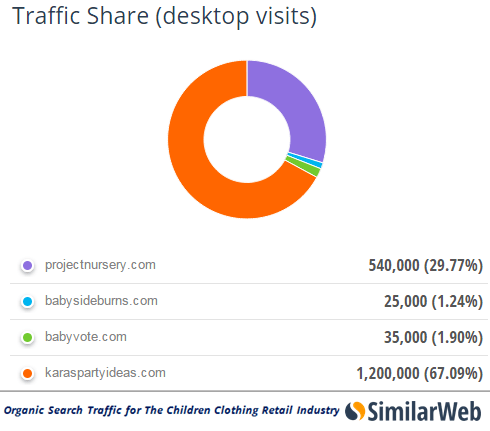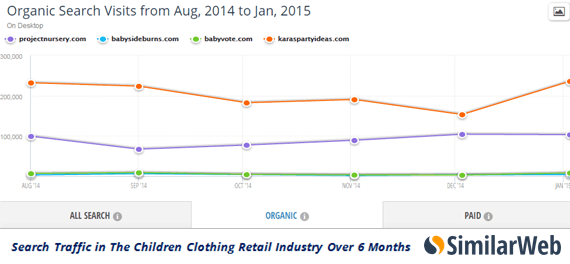 Conclusion – Myth Debunked! Even though sites bring in more social media traffic, they may not be getting the most organic traffic.
Myth #4: Long Tail Keywords are More Important than Exact Phrases
This is something you hear a lot, and there is some logic behind it. To find out more, I picked leading shopping sites that have well-established SEO presence and a lot of organic traffic coming in, and I compared their long-tail and short-tail keywords.
For the purpose of this research, I defined "long-tail" as any phrase with 20 or more characters, including spaces. What I found really surprised me: It seems that those short-tails – or exact match keywords – have much more value than they are given credit for. Apparently, most visits to the sites came from short-tail keywords.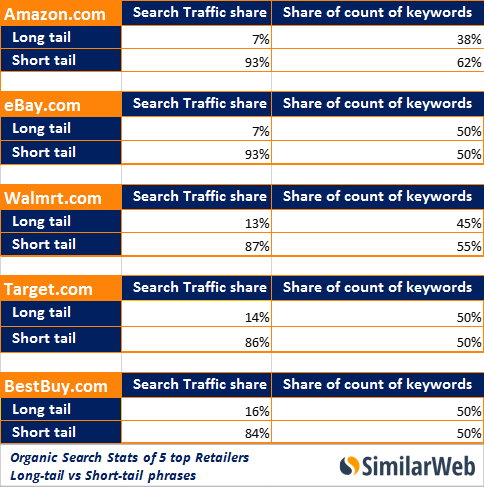 Conclusion – Myth Debunked! Looking at the graph above, we can see the value in short tail keyword focus.
Myth #5: Number of Incoming Links is Not as Important as it Used to be
This was a tricky one. In order to verify my findings, in addition to SimilarWeb, I used Majestic for their incoming links data. I compared pairs of websites in three different industries: Banking, Jobs & Careers, and Clothing Retail. I found in each of these industries, the leader in search always had a better link profile. Link profile here means a combination between referring links referring domains, trust, and citation flows by Majestic.
So for example, Livecareer.com has only 20% of the total traffic share when benchmarked against Beyond.com, but when comparing their search traffic, LiveCareer.com blows the others away! If you look at their link profile it's obvious that LiveCareer.com is doing a much better job at building their link portfolio than Beyond.com. The same thing happens when comparing finance giants USAA.com and BankRate.com and clothing retailers 6pm.com and Zazzle.com.

Conclusion – Myth Debunked! Looking at the data, it seems pretty clear that there is still value to having a solid link profile.
In Conclusion
I researched five different common SEO myths and checked them against analytics stats of different industries and websites. Out of these five myths, I managed to completely debunk almost all of them, although it's clear that SEO is not always more important than brand. The key component throughout this research is the data, which is able to provide us with facts that are backed up by numbers.
In order to have a more in-depth analysis, however, these myths should be examined using a much bigger sample of sites and industries. But this analysis is a pretty good indicator of the kind of results you would get from a wider sample.
What do you think? Have you found any of these to be true?
This is a sponsored post, the data mining of which was done by the SimilarWeb team, using the SimilarWeb PRO platform.
Feature Image provided by Shutterstock, and images throughout post provided by SimilarWeb.