The mindset of implementing a paid search campaign usually begins with determining what keywords and phrases will bring targeted traffic to a website. And as critical as this thought process is, a shift to the idea of what targeted traffic will produce the most conversions is in fact a better route to go. "Well, Justin isn't that the same thing?" And my answer is "Not really." While one starts with the creation of a campaign, the latter starts with the end goal centered on conversions. Most PPC Managers think they are considering this point, but four months into a campaign with high cost/conversions and less than appealing conversions, we soon realize we didn't build out PPC strategies the right way. We didn't focus initially on the conversion metrics that are important to our companies or our clients.
There are so many conversion rate optimization write-ups on how websites can improve landing page and website optimization, and I don't intend on going there (maybe a little). But this is all about how companies and pay-per-click advertising teams can increase conversions directly from their PPC accounts without having to make major changes to website copy. Now, once you do make the proper changes to website copy, your PPC campaigns stand more chances to improve, but I thought addressing the effectiveness of a campaign would be more helpful.
Determine What Conversions To Track
This is step one as well as an overall effective approach. E-commerce based companies may think they should be solely tracking sales, but maybe there's an opportunity to track email sign ups, engagement on certain pages, downloads, and shares.Consider implementing Google Tag Manager to get even more granular with actions on your website (hovering over pictures, video plays that pop up). Using your tool of choice, mine being the big GA, take a step back and think through the metrics and conversions that typically lead toward a purchase or engagement with the brand. Don't be afraid to incorporate some heat mapping into your decision-making process for more information as to which actions are the most accurate indicator of conversion potential.
It is important to remember that purchasers aren't your only brand advocates. Maybe your ability to attract retailers, bloggers, and other influencers are part of that strategy.
Reverse Engineer The Path Of Purchase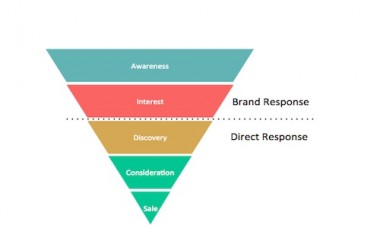 Screenshot taken 4-15-2014
Most shoppers start at the brand awareness stage and then usher themselves to choosing who to purchase from. But they may have many avenues to get to that decision. Google Analytics has a nifty tool in many of their reports that showcases behavior, acquisition, and conversion flow. If you have picked up enough data to do this, go to these reports and determine where most of your shoppers are coming from and the standard path to purchase they are taking. You may determine a few pages are assisted conversion paths that are the second or third pages they visit before purchases or end conversions (not including the checkout page).
Don't forget mobile versus computer and tablet. There are cross device reports in Google AdWords where you can see where users are making purchases, but more importantly what channels are impacting their purchasing decisions.
Google Conversions & Analytics
Google AdWords now makes life a little easier on us marketers by importing and syncing Google Analytics conversion data into Google Conversions. This is important because you cannot ensure your analytics conversions are 100% consistent across multiple advertising channels. Now you can view from the Google AdWords interface where conversions are happening across campaigns, ads, keywords, and many other segments, which is further discussed below.
Segment (My Top 6 Favorite Features)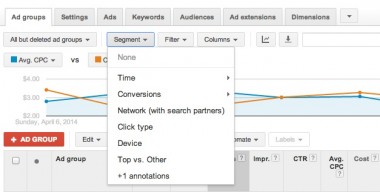 Screen Taken 4-15-2014
As PPC Managers can attest, the segment views in Google AdWords is extremely useful. If you are running and tracking conversions, you can make appropriate comparisons across the many segments available.
Time: By viewing the many dimensions of time (i.e day of week, hour of day), you can get a decent idea of what time you are getting more conversions as well as the cost/conversion across each segment. Go to your Setting Tab to set the right schedule that makes the most sense for your campaign and the conversions you want to garner.
Network (with search partners): Remember that Google has many of search partners they leverage to serve up Paid Search ads. But sometimes these other networks do not produce enough conversions to warrant advertising. By viewing this data and then going back into your settings tab to focus solely on the Google Network, you can increase conversions. The vice versa logic can also hold true from a cost/conversion standpoint.
Click Type: Under this segment, you can view where you are getting conversions, be it via clicks from the headlines or clicks from the sitelinks. If your sitelinks happen to be driving decent conversions but it's click-through rate is low, you may determine that improving the copy of those sitelinks can improve overall conversions. For smaller campaigns under $2,000 per month, this may not be huge, but if you're spending over $10,000 per month or $200 per day or more, this could result in significant savings.
Device: I could have mentioned this under Click Type, but here it's more dynamic. Can mobile improve the overall conversions of our campaigns? This segment can share great insights into this question. Remember that mobile is not best suited for everyone. For the typical B2B marketer compared to B2C marketer, you may determine that mobile is seldom driving conversions. If this is the case, you can reduce the max bid by 95 – 100% so you're not showing mobile ads and thus saving your budget for the computer and tablet campaigns. Unfortunately, we cannot segment out tablet versus computer, but hopefully Google will grant advertisers more flexibility in this regard in the future.
Top Versus Other: Probability my favorite segment, this shows you how your ads performed at the top of Google in positions 1 – 3 versus positions 4 though 10. Why is this critical? If you notice you have to spend 30% more per click to be the top 3 positions, but your click-through rate as well as conversions are up by 100% or more (based on which conversions those are), you can determine being at the top is a better approach. I highly recommend advertisers regularly view this report. Just remember to compare the cost/conversion across these metrics as well.
Conversion Rate Optimizer:

For those who love to automate, Google AdWords' Conversion Rate Optimizer will do the trick. You have to gather enough data (minimum 30 conversions) and in particular conversions for this to work, but overtime Google will dynamically bid on your behalf based on where you are likely to get the best

cost per conversion

.
Remarketing & Segmented Lists
Sometimes we need remarket to shoppers who engaged with our brand but didn't purchase. A marketer's goal should always be to increase standard conversions in a cost-effective way, but if you have the technology to remarket to those buyers…….well remarket to those buyer.
For those who are currently utilizing remarketing, Google AdWords allows you to segment your remarketing lists and serve up ads to individuals based on specific landing pages they visited. There are many other types of advanced segmented lists you can build, but Google does a better job explaining the process of creating segmented lists.
Ecommerce Lovers – Product List Ads (Or The New)
If you are not leveraging Product Listing ads, you are truly losing out (visuals, click through rate, etc…). Despite Google making changes in August to the format and feel of PLAs, they remain a powerful strategy for Advertisers with products. There are countless tips and insights on how to optimize and set up, but overall the increased click-through rates you'll get from PLAs will translate into more conversions based on the other conversion rate optimization strategies you are leveraging. Shout out to Bruce Clay and his perspective in his interview with SEJ.
[youtube https://www.youtube.com/watch?v=iLzM-FsXnR0]
Align Ad Copy With Landing Pages
PPC ad copy must be aligned with the right landing pages. Using a furniture example, if someone is searching for a sectional sofa, and you're sending them to your overall sofa category and you have sectional sofas, you could be losing out on shoppers who are either too lazy to search for those sectional sofas or simply cannot find them on your site.
Do not leave it to chance. Do not assume your shoppers are in the mind frame to buy. Get that interested shopper in front of the right landing page and you will being to see an uptick in conversions (barring how well your landing pages convert in general and the competition of the market). This strategy will also increase your quality score, which will reduce cost per click, increase the usage of your budget, and then translate into more opportunities for more conversions. Its all a well oiled machine.
Proper Landing Pages (Sorry, I Had To!)
I said I would not go there, but I must. The set up of your landing pages (e-commerce or not), is the best digital marketing investment one can make. Say you are a business that sells a product or service to other businesses. Do you have case studies that are intriguing and truly show you solved specific consumers' problems? Do you an engaging FAQ page that is not simply a list of FAQ's but instead of short video of the CEO answering half or most of the FAQ's? Focusing more on the layout, feel, CTA's, and content of your website and its landing pages will improve overall conversions. Remember that a conversion does not have to solely be a purchase. You have many other conversions to track and if we know those conversions have the potential to lead to a sale then we are well on our way.
Implement Click Through Rate Best Practices
I wrote a post on 50 strategies to increase click-through rate for paid search ads. As a quick recap, we covered:
The process of identifying click-through rate opportunities for any paid search campaign
The practical benefits of increased click-through rates
Strategies that PPC managers or companies can implement to increase the click-through rate of Paid Search campaigns.
Increasing the click-through rates of your ads can improve conversions. If you think about it, targeting the right users with the right ads only increasing your chances of more conversions that occur on your website. It's an extensive list but worth viewing.
Leverage Special Offers
In the world of promotional advertising, we're always nervous to accustom our shoppers into buying only when there's a sale. The likes of Express, Jos. A. Bank, and other retailers or e-commerce platforms have implemented this strategy, but I know the only time I shop at any of those stores is when there are sales. So I understand the argument of programming people to only buy when there's a sale. We don't always want that to happen, unless it's built into the business model of the company.
For companies looking to drive more leads and sales, consider creating special offers for those who signup and or make a purchase. Maybe the special offer is a free trial or a store credit. But take the promotional marketing approach and incorporate it into your Google ads so you can ultimately leverage those opportunities. But only do so if you are truly furnishing a special offer.
Negative Keywords
For pay-per-click adverting, this is another standard bearer. In fact, this may be one of the best strategies to increase conversions. If you are wasting your paid search campaign budget on keywords that are not producing and noticing certain segments of keywords are triggering ads that they shouldn't, adding those keywords to your negative list will allow the budget to last longer, lower overall cost per conversion, and ultimately increase conversions. Try to go to your search terms report and view the keywords that are superfluous and remove. We typically add them as a phrase in the negative keyword list and that will do the trick.

Screenshot taken 4-15-2014
Leverage Mobile More
We discussed this during the Segments Report section, but mobile spending is constantly going up. EMarketer indicated in 2013 mobile spend increased by 105%. For the local retailer or business, mobile ads have a tendency to perform even better from a conversion and click-through rate standpoint than that of computer and tablet based campaigns. But of course that must be in context of the industry and market.
Pseudo Automate (Now The Fun Begins)
I am not the biggest fan of automating PPC campaigns, but when you have big budgets and a lot to manage, developing this level of efficiency from past experience can make you a better marketer and even improve conversions. If you find those hot spots that improve conversions, create rules within Google AdWords that exploit these opportunities.
Conclusion
Maybe as a PPC marketer, your focus is more brand awareness than purchases or other sub-macro conversions. However, it's important to consider the brand awareness metrics that are critical to your campaign and measure conversions that take shape for those keywords.
So that's my list of conversion rate optimization opportunities for paid search. I would love to hear from you what additional strategies you have to employ. I look forward to your comments below.
Featured Image Credit: Leszek Glasner via Shutterstock