June was a busy month in the social media world! Facebook rolled out numerous updates, including their highly-buzzed about Author Tags which are being likened to Google Authorship. It'll be interesting to see how this pans out!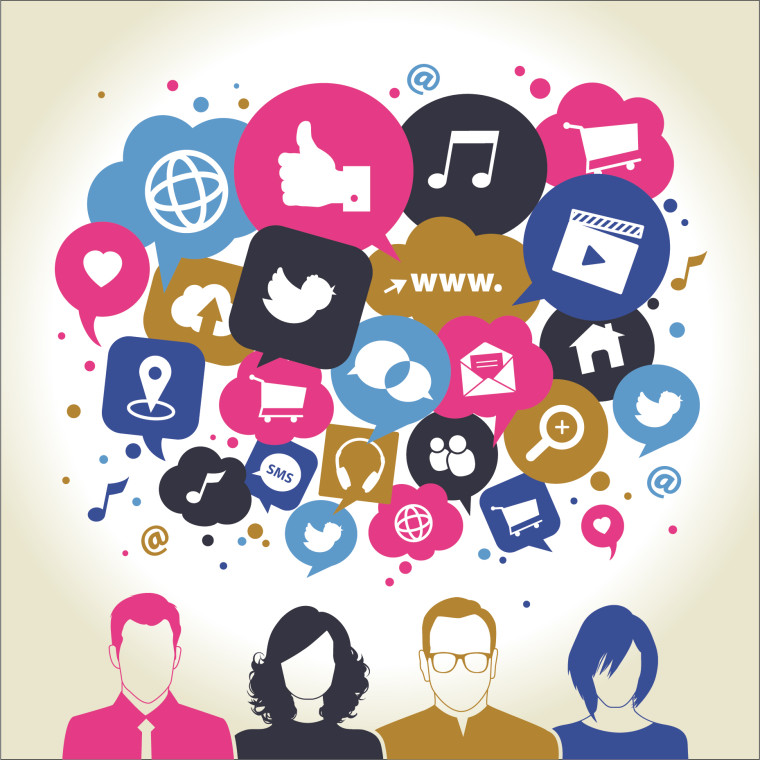 A common thread among the updates across various platforms seems to be expanded search and direct buying capabilities.
Lesser-discussed social platforms like Tumblr and Reddit also made the news this month, with Tumblr adding new search functionalities and Reddit navigating some controversy from a recent announcement by their interim CEO.
Without further ado, here are this month's social media updates, broken down by network:
Facebook
Facebook introduced Author Tags. When implemented on a website, Author Tags allow people to easily follow the author of a piece of content on Facebook. These tags are integrated in the byline of story preview in the news feed and link to the author's Facebook page or profile along with the option to follow.
Learn More: Facebook Rolls Out Author Tags: A New Way to Grow Your Following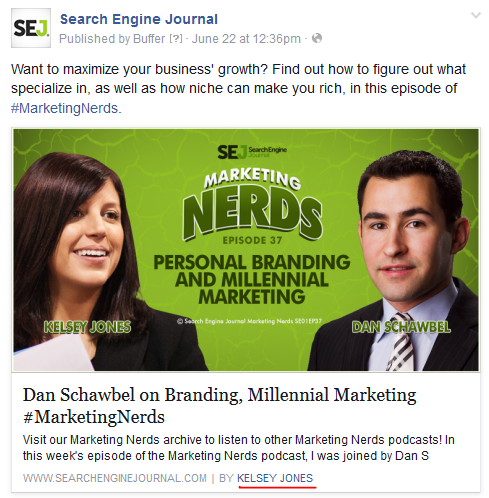 Facebook also added a new ranking factor to its News Feed algorithm. In addition to likes, comments, and shares — Facebook now takes into account the time people spend with a piece of content.
Learn More: Facebook Updates News Feed Algorithm Taking Into Account Time Spent Reading Stories
Shopify and Facebook are teaming up to launch a 'Buy' button that will enable people to buy items found in their news feed without having to leave the world's top social network.
Learn More: Facebook Partners With Shopify to Launch Its Own 'Buy' Button
Facebook business page owners now have another tool in their toolkit: "Saved Replies". This new feature allows page owners to save canned responses (messages) to use when communicating to Facebook users.
Learn More: Facebook Tries Out "Saved Replies" To Aid Online Customer Service
Now you can express your emotion and add a little more humor to your Newsfeed! Facebook now supports GIFs.
Learn More: Facebook Now Supports GIFs
Facebook's 222 million monthly US users spend an average of 14 hours each month on the the company's mobile app. By comparison, that's 6.6 hours more than the average time spent on WhatsApp per user per month, and a whole 9 hours more than YouTube users spend on its mobile app each month.
Learn More: Facebook Users Spend 14 Hours Per Month on Its Mobile App [STUDY]
Instagram
Instagram announced it has added new search functionality to its iOS and Android apps that will allow users to find photos by location, discover real-time trending searches, and more.
Learn More: Instagram Now Lets You Search By Location, Explore Real-Time Trends, + More
Pinterest
Pinterest has made it easier to find the pins and users you're looking for with more streamlined search suggestions.
Learn More: Pinterest Improves Search With Enhanced Suggestions, Trending Searches, and More
"Buyable Pins" are coming to Pinterest, and they will allow users to purchase items directly from Pinterest. For consumers, this is great news because the likelihood of a deadend link will reduce. And, for e-commerce websites, this is another potential revenue stream to capitalize upon.
Learn More: Pinterest Adds One-Click Shopping With "Buyable Pins"
Reddit
Interim Reddit CEO Ellen Pao is facing backlash from recently introduced, controversial new rules to fight harassment and create a safer space for users on the popular social sharing site.
Some of Reddit's user base view it as censorship, too vague to possibly enforce, or as Reddit pandering to a vocal minority of complainers. Some disgruntled Redditors have decamped en masse to a Swiss-based Reddit clone called Voat.

Learn More: Reddit CEO Ellen Pao: 'It's not our site's goal to be a completely free-speech platform'
Learn More: Reddit users flee to Swiss copy Voat after harassment clampdown
Tumblr
Social media microblogging site Tumblr has added new search capabilities to its site, which allow people to search through the plethora of GIFs published on the platform.
Learn More: Tumblr Finally Adds the Ability to Search for GIFs

Twitter
Buffer analyzed 4.8 million tweets to determine when are the best times to tweet according to your timezone. On average, for each timezone, the highest volume of tweets are sent between 11:00am and 1:00pm.
Learn More: Early Morning Tweets Get More Clicks, + More From Buffer's Latest Study
Calling it a "more streamlined consumption experience for all native videos", the Twitter will now autoplay videos by default, following a trend made popular by platforms like Facebook and Instagram. This autoplay functionality will extend to GIFs and Vines as well.
Learn More: Twitter Will Now Autoplay Videos, GIFs, and Vines by Default
Twitter announced Dick Costolo will be stepping down as CEO, to be replaced in the interim by co-founder Jack Dorsey, effective July 1.
Learn More: Jack Dorsey Appointed Twitter Interim CEO as Dick Costolo Steps Down
Twitter rolled out two new features it claims will make it easier to discover products and places. The next time you see a tweet recommendation about a product or store, it may be embedded with one of these new product and place pages.
Learn More: Twitter Rolls Out Dedicated Product Pages and Curated Collections
YouTube
In partnership with social news agency Storyful, YouTube has launched YouTube Newswire — a curated feed of newsworthy eyewitness videos of the day, vetted by Storyful's editorial team and embeddable from the original sources.
Learn More: YouTube Launches YouTube Newswire, A Feed Dedicated to Eyewitness Video
Google announced it will release a new app for gamers called YouTube Gaming, which will put the company in direct competition with popular live streaming app Twitch, which was acquired by Amazon last summer.
Learn More: Google Takes on Twitch With a New YouTube App Built for Gamers
What do you think of this month's updates? Which do you think will have the biggest impact?
Featured Image created by Paulo Bobita.
Image 1: Licensed Use from Shutterstock.
Facebook Author screenshot taken by author.
Additional images from corresponding post announcements.