I've been using Fridays to share new fun browser extensions related to SEO, search and social media for about two years now. I've shared quite a few FireFox addons that allow for some new searching experiences (like Interclue addon that makes results page more informative and allows for a fun way to preview results or SearchBastard that allows to search multiple search engines within one group and open results in multiple frames or tabs).
Since recently, I've also started reviewing Google Chrome extensions as well. Since Chrome browser is getting more and more popular, I figured it's a good idea to keep an eye on emerging related tools.
This week I am sharing a bit simplistic but really useful Google Chrome extension: Sweet Search.
The extension splits the page with Google SERPs in two parts: it allows you to keep your Google search results on the left while loading the pages you click on the same page in the right sidebar.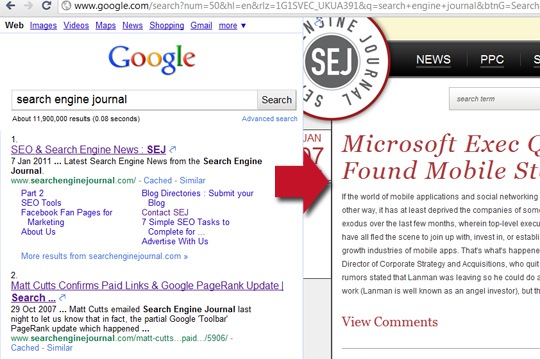 This way:
You can enjoy faster browsing;
You can quickly click through top results without being distracted by the need to click through the tabs to see the page;
How Sweet Search Works
The extension works as follows allowing for very pleasing user experience:
It loads web pages on the right (if you click the listing title);
It loads the top result in the right sidebar instantly, after you click "Search"
It opens a new separate tab with the web page in case you click an arrow icon next to the page title;
It loads new search results if you click "related" link below any listing;
It loads the web page in the same tab if you click on the sitelinks or any other external link (which is NOT the listing title);
It can be turned off quickly from the toolbar icon.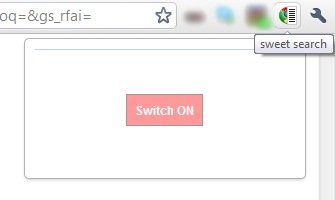 How You Can Try Similar Experience in FireFox
SweetSearch does not offer a FireFox addon (or at least I am not aware of one) but you can try a similar experience with the following tips I shared earlier:
Here are some tools to let you split FireFox into several frames
All In One Sidebar is a FireFox addon that can be used to load the search results page in the sidebar, and then open clicked links in the main window.
Google Preview Pane is a Greasemonkey script (which I shared in this post on previewing Google search results without ever leaving the SERPs) that splits Google SERPs into two parts to show you the page preview once you click (by default, the preview is displayed once you click. You can change it to show the preview on the hover-over but I wouldn't do that as the script is not really fast enough for that).