Interclue is a nice FireFox addon that lets you preview the linked page content. But it does not only that. In facti it could be a cool Google search companion.
1. More informative search results
The addon adds Delicious tags below each results for you to better understand the page topics as well as usefulness. when you hover over any tag, you will see how many times exactly that page was saved using the tag:

2. Page Preview and Further Info
You can preview each page contents without ever leaving Google's SERPs. The preview pop-up includes:
The search result text;
The linked page thumbnail (upper-right corner);
"Meta clues" that provide further info on the linked page.
The meta clues may can include (you can add / remove meta clues from the tool options):
Page date (from the page header);
Page stats (number of words, number of links, number of files);
Syndication links: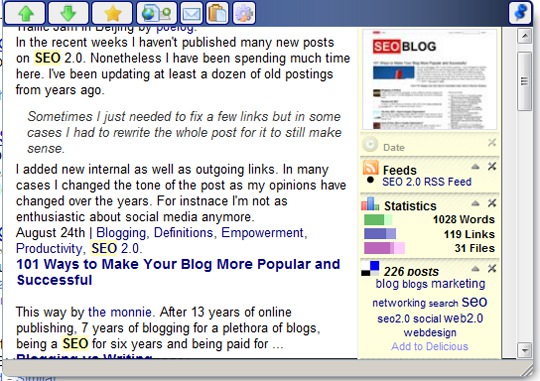 What's more, you can actually switch between search result previews using the green arrows you see above: click any of them to load the next / previous result right in the preview window – how cool is that!
3. "Similar Pages" and "Cache" Link Preview
You can easily grab further information on the page right from the search results. Just hover over "Similar" pages and get the list of related results right in the preview pane: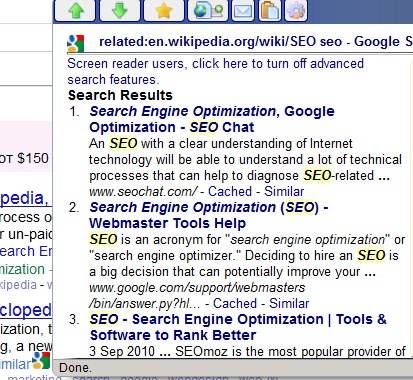 Similarly, you can load the page Google's cache version in the preview pop-up: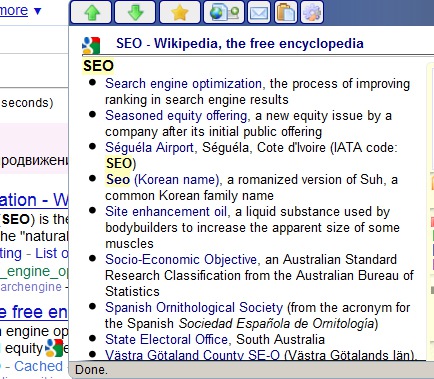 All in all, I found the tool a huge time-saver! What are your thoughts?