There can be numerous ways to tweak Google Search results page we've discussed before: you can remove re-directs from Google SERPs, combine Google with Twitter or with Bing and even sort Google search results.
This post is about the tools that let you view Google search results without actually leaving the Google SERPs by either previewing search results or splitting the browser window.
1. Google Preview Pane s a Greasemoneky script that splits Google SERPs into two parts to show you the page preview once you click (by default the preview is displayed once you click. You can change it to show the preview on the hover-over but I wouldn't do that as the script is not really fast enough for that).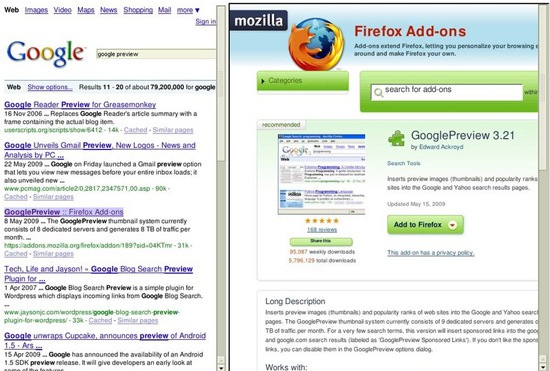 You can also try the Split Preview bookmarklet by the same developer, which can be found here.
2. All In One Sidebar is a FireFox addon that (among other features) allows to loads the current page in the sidebar, and opens clicked links in the main window. To do that:
Search Google in the main window,
Set the "MultiPanel" mode (click on "Page" in the sidebar menus and select "MultiPanel");
Load Google SERPs in the sidebar;
Click-through the search results in the sidebar and the pages will load in the main window.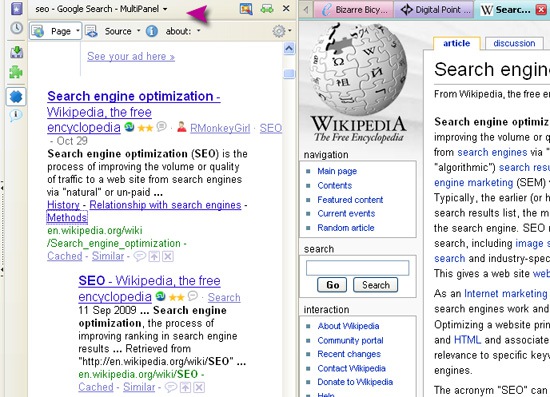 3. "Cool Previews" is a FireFox addon that displays the whole page preview in a handy pop-up for you to read its whole contents, scroll down and even clicked on-page links. You can set the preview to load on mouse-over, by clicking the link or clicking the addon icon next to the link.