This is an additional post in my series on managing several online identities. This post looks at the 3 ways to be logged in different account on one site with FireFox.
CookiePie
CookiePie is a Firefox extension that enables you to maintain different cookies storage in different tabs and windows:
Download and install the tool;
Use the tab's context menu to enable CookiePie and login to any site on this tab;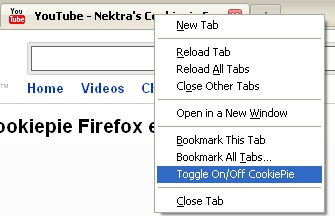 Open a new site, go to the same site and login again.
There were some problems for me with Gtalk (with the tool being on Gtalk behaved in a strange way) but with other sites it worked pretty well:
CookieSwap
CookieSwap enables you to easily swap all your cookies so that you can be logged in to multiple web e-mail accounts (like Gmail and Yahoo! mail) as different users at the same time and quickly switch between them.
Note: When swapping profiles with CookieSwap, the cookies in all tabs and all browser windows are changed at the same time. This means that your web login to sites like gmail will change in all the tabs at once (so it is not exactly being logged in in two accounts at the same time; it is rather switching between accounts with one click of a mouse).
How this extension works:
Right click on the CookieSwap area of the Status Bar Panel (lower right corner of the browser) to bring up the CookieSwap menu. Select a profile (let's say 'Profile1')
Go to a site requiring a login and login;
Bring up the CookieSwap menu again and select a different profile (let's say 'Profile2')
Open a new tab and go to the same page page. Note: Don't click on a link in the current open page. Instead, hand type the URL…like www.gmail.com, or use a bookmarked entry for the site.
Notice the site doesn't recognize you as the previous user. Login with a different username if you want.
Use the CookieSwap menu to go back to Profile1 and again surf to the web e-mail's main page. It recognizes you again as the original user that logged in!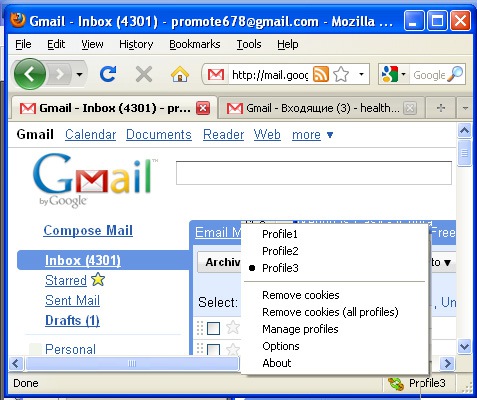 Use Different FireFox Profiles
I shared this tip in the past: how to create multiple FireFox profiles to separate your different (SEO) processes.
How to create another FireFox profile?
Exit FireFox;
(Windows) Go: "Start" button => "Run" => Type "firefox.exe -ProfileManager" => "OK" button;
Click "Create" in a profile manager and choose the name for your new profile, then click "Start FireFox";
Repeat steps 1-3 to create as many profiles as you want;
Done! Now each time you want to switch to another profile or change the default profile, repeat steps 1-2 and choose the one you want.
How to easily launch other profiles
Use this handy FireFox extension which adds two lines to your FireFox "File" menu that allow to (1) instantly access FireFox Profile manager and (2) quickly switch or launch an alternate profile with one click of the mouse:
Any more tips on logging to multiple accounts on the same site simultaneously?