Want a legal website that attracts clients who are ready to convert and earns great organic search rankings?
Then you need a content strategy.
Too many legal websites I see are simply blogging or creating content for the sake of it.
However, there's a lot more to a content strategy than just creating content.
Let me say it again: you need a content strategy to be successful.
Every piece of content you publish should have a purpose.
You should build content based on:
Your practice area.
Keyword research and analysis.
Local analysis.
Demographics.
Ready to up your legal content game?
Here are four pillars you need to have for a successful legal content strategy.
1. Foundational Content
Your legal content strategy starts with foundational content.
For legal marketing, foundational content means increasing the visibility and organic search rankings of your practice area pages (and your homepage).
Within foundational content there are actually three types of webpages you need to know and use:
Primary Content Pages
As you do your keyword research, you're going to discover that certain keywords have more value than other keywords (typically because they have high search volume and they are incredibly relevant to your practice area).
Simply, primary content pages are your main pages that target a high-value keyword. These are the main keywords you want to rank for.
For instance, you might design and optimize your primary content pages to rank for keywords such as:
Personal injury lawyer
Divorce lawyer
Family lawyer
However, the SEO competition for these high-value terms is typically incredibly high. So you will need to create content that is better than your top competitors.
As you build your foundational content around these keywords, always make sure the content you publish is relevant to the services you offer.
Secondary Content Pages
Secondary content pages are optimized to rank for keywords that are relevant to the services you offer.
So if you're creating content for a personal injury lawyer website, for example, some keywords you'll want to target might include:
Back injury
Car accident
Boat accident
Brain injury
Tertiary Content Pages
Tertiary content pages are for deeper, long-tail keywords you want to target.
You can dig really deep at this level.
For example, you can target multiple types of car accidents:
Car accident while hit by drunk driver.
Hit and run accident.
Left turn accident.
Developing more foundational content means you'll have more fishing poles in the water, which means more opportunities to attract clients who need the legal service you offer.
Every new piece of content you create is an asset that can add two types of value:
To your website: Your content helps improve your search visibility, which makes it easier for people find your website.
To your law firm: There is a tangible, measurable ROI on your content investment (as long as the page is converting).
One other type of foundational content, which may not apply to all legal websites, is localized content.
This is for law firms that serve more than one location.
If this is the case for your firm, you'll want to create content specific to those locations, targeting local keywords (e.g., city, town, or county names).
2. Frequently Asked Questions
FAQ content has been around forever, but it has become even more important with the rising popularity of voice search.
People are using their smartphones and smart home devices like Alexa to ask more questions – and their queries are longer and more conversational.
Google's search features (e.g., autocomplete, people also ask, searches related to…) make it super easy to find additional FAQ content to develop and write.
Another way to uncover additional frequently asked questions is by speaking to your client.
For instance, if you're talking to a personal injury lawyer, find out what questions their intake department is getting. Are people asking about drugs? Back injuries? Other types of injuries?
Google can then feature this FAQ content as featured snippets, as long as the content has been optimized and the site has built up enough authority.
A lot of FAQ content has become a featured snippet.
For instance, here's a search for [how much can someone sue for a car accident]: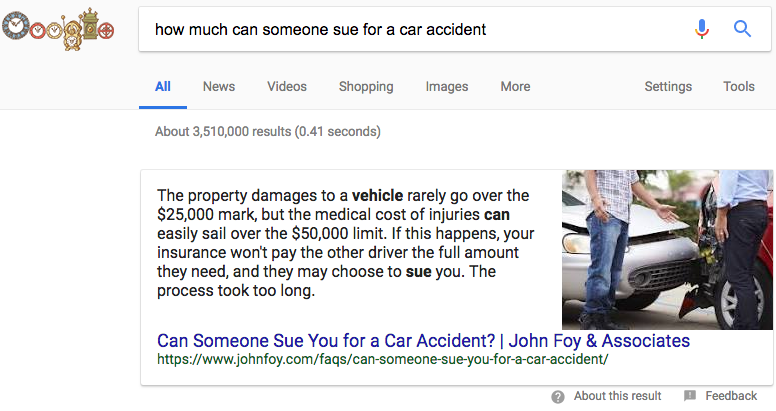 Here's another example, for [how long does dui stay on driving record]: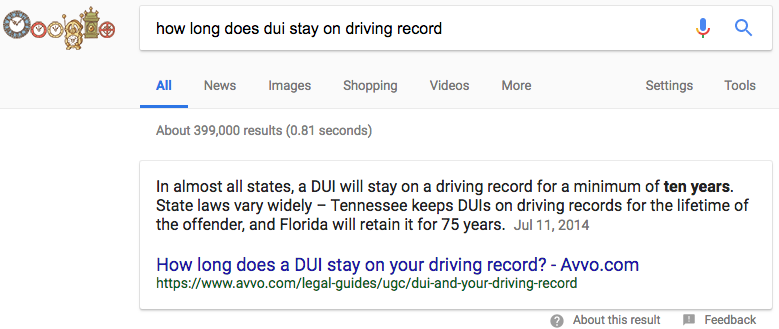 The best part?
You don't have to rank in Position 1 to get a featured snippet. As long as you can get to Page 1 of Google (ideally in Position 1, 2, or 3), you have an opportunity to appear in the coveted "position zero" above the first organic search result.
And if you're doing any PPC marketing, that will help your law firm take up even more SERP real estate.
For your FAQ content, you'll see best results by making sure each new page you create is optimized and:
Answers just one question.
Has an SEO-friendly URL.
Uses breadcrumbs.
Is at least 500 to 1,000 words.
3. Authoritative Content
This is the blog content the client creates.
We encourage lawyers to really give a personalized approach to the law, either by sharing their opinions, writing about certain cases, or doing case studies.
We also recommend lawyers get super technical here. Use state case numbers and violation codes – Google will find this information and show it to searchers who do a case number lookup.
If you see an interesting and relevant legal case you want to write about, do it!
Or, if you're a divorce lawyer, it might be a good idea for you to share your opinion on the most famous divorces.
That said, don't write for the sake of writing, especially if it's outside the scope of your practice areas.
While you want to grow your website and show Google that you're investing in your website, you don't want to saturate your website with subpar content.
At best, low-quality pages or off-topic content won't help you or add any value; at worst, it could hurt you (either how Google or potential clients view your site, based on the quality of your content).
Ultimately, authoritative content isn't meant to convert.
Authoritative content is more of a branding play meant to increase authority and influence – to help lawyers become leading experts in their area of legal expertise.
4. User Experience
There's more to content than just the words on a webpage.
Always think about the user experience.
For instance, adding images or visual content (such as banners or videos) is a simple way to break up the content: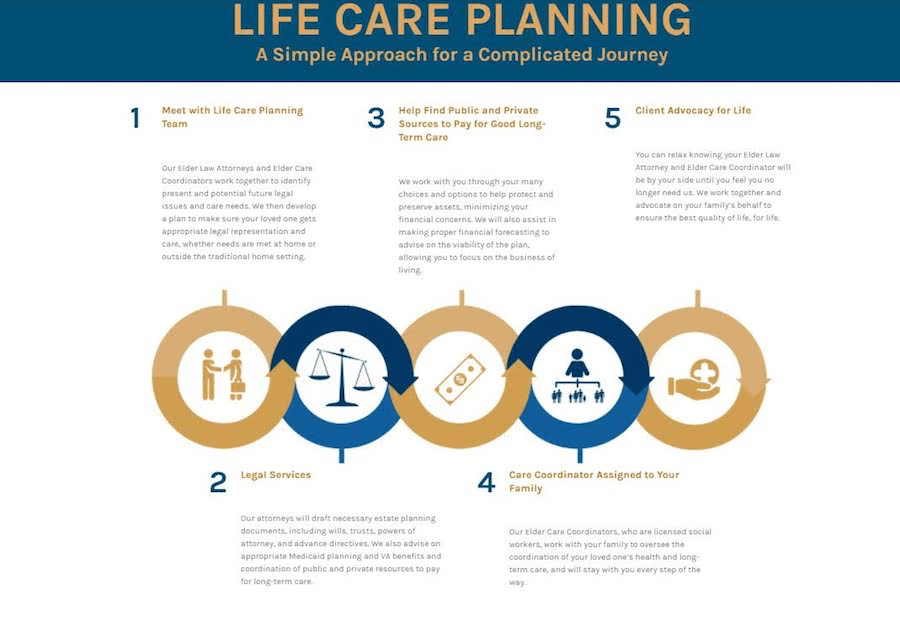 Another thing to think about is how you are going to internally link your pages.
Don't think about links just for ranking purposes (though smart website navigation will help with that).
Instead, think of your internal links a way to lead your visitors one step closer toward a conversion action (links to your practice area pages) or to find more information (links to content pages on relevant, related topics, either within your site or on an external source).
For instance, your tertiary pages should be used to lead visitors who have just discovered your law firm to your primary and secondary pages via a call to action.
Ultimately, if you make your users happy with your content experience, and follow SEO best practices, you should be rewarded with better Google rankings.
Summary
The combination of foundational content, FAQ content, authoritative content, and user experience is powerful. All four of these elements must be part of your legal content strategy.
Ready to get started?
SEMrush is a great tool for competitor analysis. It can help you develop your initial content strategy.
Then start going deeper using Google's search features, especially autocomplete, to find FAQ content.
You can also discover what types of legal content are attracting the most shares and links with a tool like BuzzSumo.
Once you've created your content, enhance it with visuals. This will improve the user experience – and boost your SEO performance.
Finally, always measure your results. Not everything you publish will be successful, but when you figure out which types of content tend to bring in lots of leads or traffic, learn from it – and try to replicate your successes.
More Content Marketing Resources:
---
Image Credits
Screenshots taken by author, April 2018