Are you using competitor research? It can help you uncover the content themes and formats that tend to work well in your industry and discover influential sites that tend to share and link to this content.
Analyzing this data will allow you to make more informed decisions about the content you create and provide you with a hit list of influential outreach targets.
Here's how you can use competitor research to discover your competitors' top-performing content and inform your content ideation.
Identifying Your Competition
You likely have two kinds of competitors.
Your traditional competitors: Those offering the same products and services in close proximity to your business or targeting customers in the same area as you.
Your competition in the search results: Those who you're vying against to rank for keywords related to your products and services.
Often, there is overlap here. But it can be easy to overlook companies that rank well in organic search, even if you didn't previously consider them a competitor. You want to know why they rank so well, especially if they occupy positions above you.
So before you focus too heavily on an existing competitor, make a note of which sites rank best for keywords related to the products and services you offer. You can either do this manually or with a competitor analysis tool, such as SEMrush.
Objectives of Your Research
What you should be looking to uncover from your research is:
Which pieces of content are being shared the most in your industry.
Which topics/themes are trending in your industry.
What type of content is getting your competitors links.
Who follows your competition and what do they tend to share.
What types of content are the big brands in your industry writing.
Let's look at each of these objectives.
1. Research Their Most Shared Content
Reviewing a number of your competitors' most shared pieces of content will give you an idea of the type of content that tends to resonate with your target audience.
Using BuzzSumo, you can enter the domain names of your competitors and view detailed stats on their most shared content.
At the most basic level you'll end up with a table containing the number of social shares for each of that website's posts, ordered by the highest number of social shares: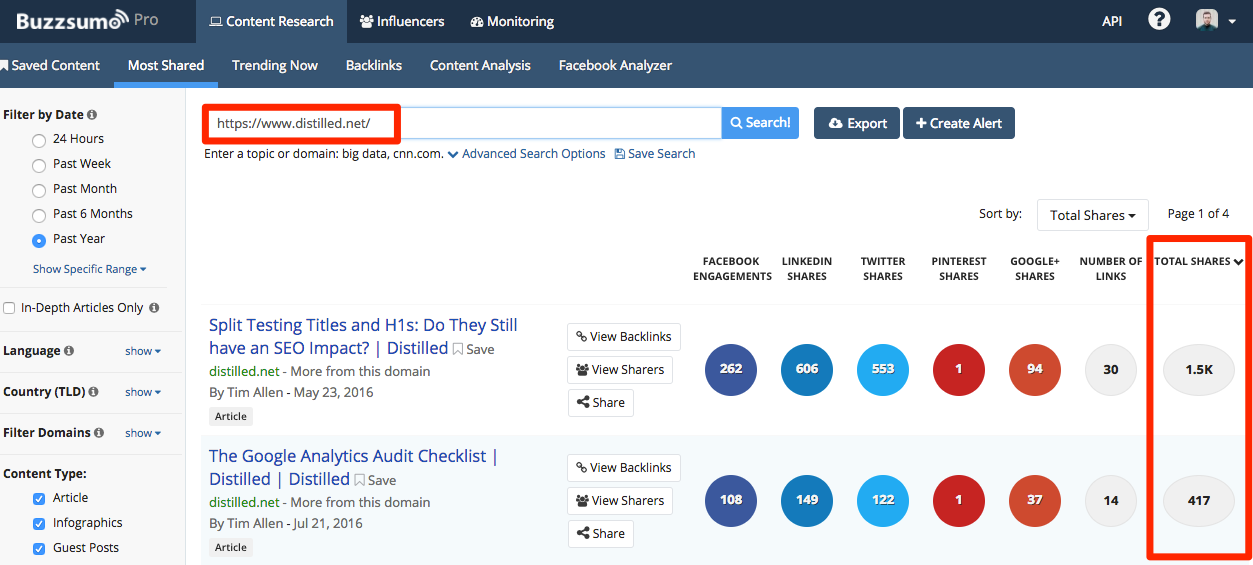 This information is hugely valuable, but it's important not to focus too much on just one competitor. Instead, collect data from multiple competitors to look for trends.
2. Find Trending Topics in Your Industry
To find trends, try to answer the following questions:
Do certain topics tend to generate a lot of shares for your competition? If a topic such as "mobile SEO" is generating traction for your competition, then it might be a good idea to create some content focused around that topic.
Do certain formats (e.g. videos) get more shares than regular posts? If videos on a certain topic tend to get the most shares, then you might want to consider creating your own video if you're planning content about that same topic. To get this info, navigate to the Content Analysis tab on BuzzSumo and review the shares by content type chart:
Does one social platform tend to generate more shares than others in your industry? Visual content such as infographics and lifestyle photography may tend to generate more shares on platforms such as Pinterest and Instagram.
Don't simply replicate your competitors' top-performing posts. The goal of competitor research is to get a better idea of popular topics, format, and platforms in your industry to better inform your own content ideation process.
3. Discover Their Best Backlinks
Getting links to your content from relevant and high-authority sites can help improve your visibility in Google's search results. Therefore, it's important to research which pieces of content are earning links for your competitors.
Content that generates a lot of social media shares and engagement also tends to attract links – but not always. So it's still important to research which types of content are generating your competition links separately to share stats.
You can use Ahrefs to review the most linked content on your competitors' sites. Here you'll be able to generate a list of URLs that have historically attracted the most links: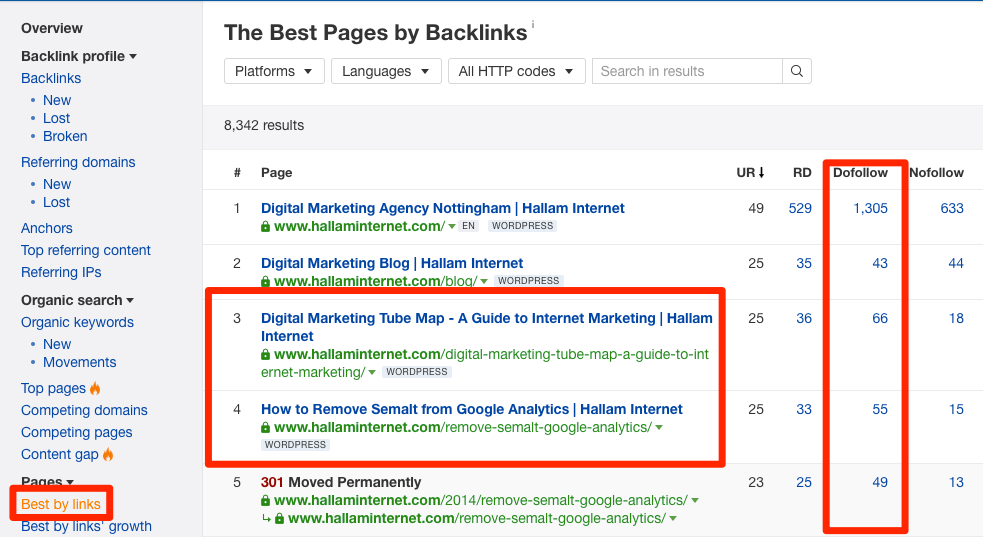 Additionally, you can then filter down to their top linked content now returning 404s and use this as the basis of a broken link building campaign:

Finally, make sure to check out the Ahrefs Best by Link Growth report to review which pieces of content have been generating links to your competitors' sites in the last 30 days: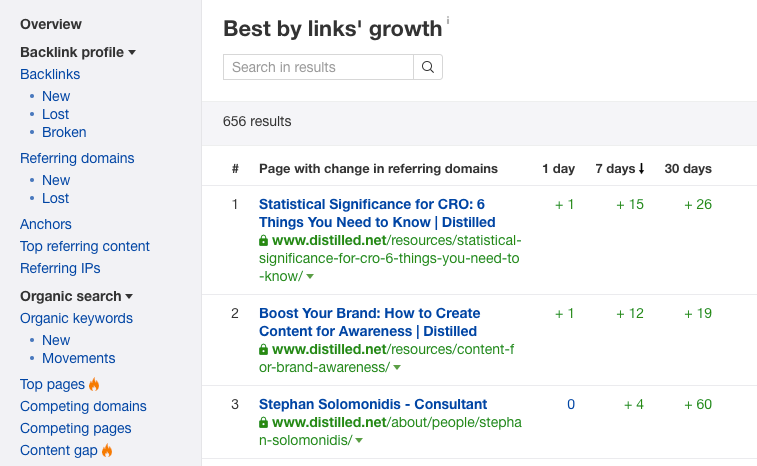 This report can help you identify trending topics. For example, if you spot a common theme between your competitors' recent links, it may pay to write a post around the same topic!
4. Who Shares Their Content
Reviewing the individuals and businesses who share your competitors' content can help you identify influential bloggers, social media influencers, and journalists with a significant following to help amplify the content you create.
To get this data you can again use BuzzSumo, this time utilizing the View Sharers feature alongside any piece of content:
In the 'view sharers' report, you can order by regularity of retweets, number of followers, and the page/domain authority of the URL displayed on their Twitter bio.
While you can never guarantee that these individuals will also share your content, you can export the data for use when conducting outreach: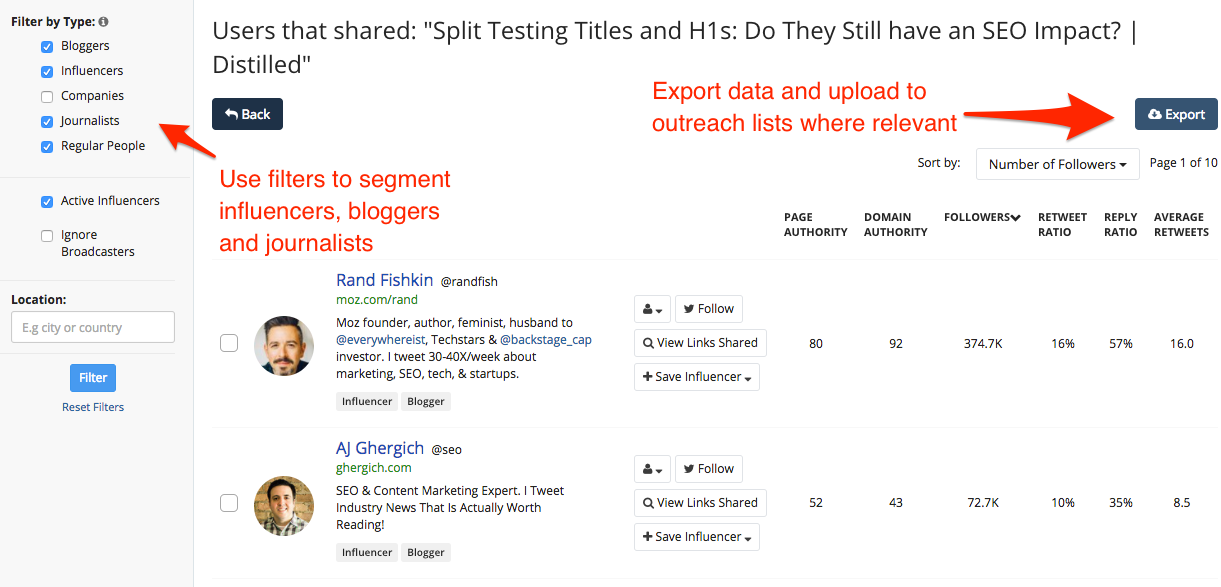 If you're planning to create similar content, you may want to connect with these influencers in advance and let them know about the content you're planning to create. You can even upload this data to a content outreach tool such as BuzzStream to notify these influencers of any content you've created or plan to create.
If you already have a credible brand, you could even contact relevant influencers and request their contribution to an industry roundup piece as a way of piggybacking on their authority and boosting your chances of acquiring links and shares.
For deeper analysis, you can use a tool like Followerwonk to review your competitors' social media following, common retweets, and favorites, along with who they mention most often.
5. How to Keep Track of Competitor Updates
In addition to carrying out in-depth research on an ad-hoc basis, set up Google Alerts to keep track of your competitors' brand mentions on the web, which in turn helps you see what kind of content is earning them coverage online.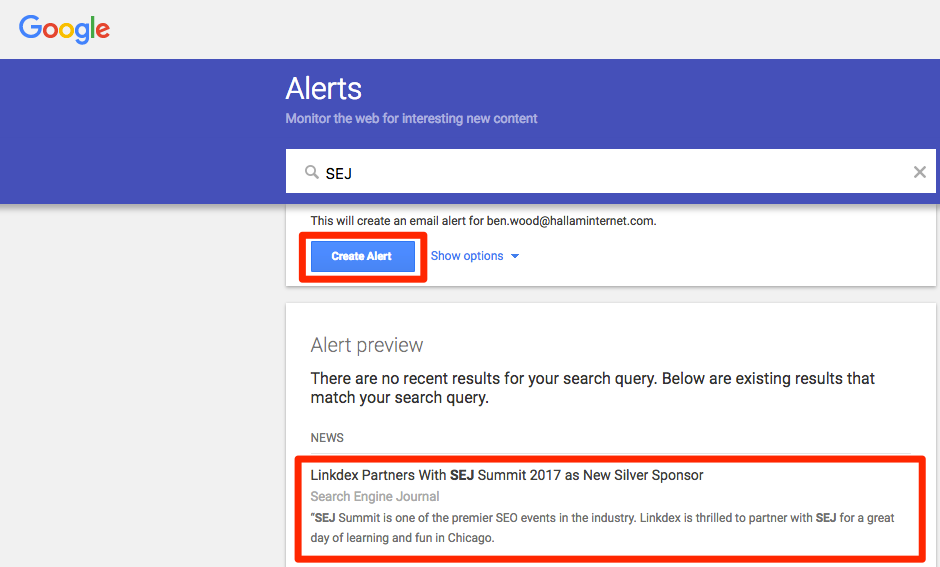 This is also a great way to discover brand mentions and link opportunities for your own brand.
Conclusion
Researching your competitors is an essential part of the content ideation process. When you know what's working for your competition, you'll be able to make informed decisions around topics, formats, and outreach targets when brainstorming your own content ideas.
When discovering that your competitor gets a ton of links and shares to a particular piece of content, it can be tempting to simply tweak and replicate. You might have success with that tactic, but imitation will never position you top of mind with your target audience. The best way is to use this information from your competitors as a starting point for your own content ideation.
Image Credits
Featured Image: Pexels
Screenshots by Ben Wood. Taken May 2017.