If you are like me, you have all your major working materials stored online: I organize useful links with Google bookmarks and Delicious, store email and IM conversation with Gmail, have most of my important (collaboration) docs at Google Docs, have multiple resource collections on WordPress and Blogger, etc.
Backing up this massive amount if highly important information is actually a smart idea because the services are not owned by me, hosted by God knows who and thus having a local copy and updating it regularly would be wise.
Backupify is a nice (free until January 31) web-based tool that allows to download content from a number of popular online services including:
Gmail
Twitter
Google Docs
Flickr
Facebook
Basecamp
WordPress
Delicious
Photobucket
Blogger
FriendFeed
Here's how it works: after signing up you will be offered the list of social media sites "to manage":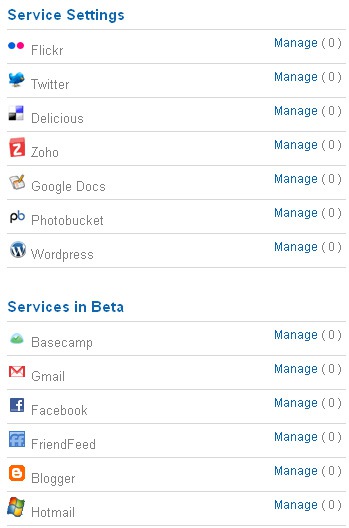 Here are a few examples :
Allow the tool to access your Twitter account by Twitter auth;
Login to Delicious using your login information;
Connect to Flickr account by Flickr auth;
Connect to Photobucket account by Photobucket auth, etc
When you are done adding your social media accounts, set up the back-up frequency (daily or weekly) and delivery options:
Email me every time a backup is performed
Email me a once daily digest of all backup activity
Email me a once weekly digest of all backup activity
Do not notify me via email of any backups
You can also access the archives of your backups at Backupify from any computer.
The only possible excuse for not trying the tool out is the privacy concerns, here's an extract from the service privacy policy (remember: your privacy is up to you):
What information is collected about me?
We only collect data you provide us at sign-up. We do not ask for any other personal information. We do not collect data without your knowledge.

How do you use collected information?
We don't use it at all. The only thing we collect and monitor is general patterns of storage and service usage so that we can make sure our architecture is optimized for speed and scalability.

What security measures do you use to protect my privacy?
Any information we have about you is stored with strong encryption.
The tool was reviewed under SEJ policy.