Relevance or authority, which link strategy is the best?
This question has been pondered by link builders for decades – and has become particularly important since Google introduced the Penguin algorithm.
Backlinks serve as an important ranking factor for search engines.
Google even named links as one of its top three ranking factors.
As digital marketing undergoes a rapid transformation, link building remains extremely important. Yet, it feels like the one practice that remains stuck in the mud of the 'old ways.'
I've built thousands of links over the last 20 years between various SEO agencies and have witnessed how much the industry has changed.
A number of useful third-party tools and software can help you better understand the SEO value of backlinks, as well as layer additional information such as organic search traffic, keyword rankings, and traffic value.
Yet I've found that relying solely on one tool or misusing them can lead to poor SEO results and ineffective link building.
So, what is the proper use of these tools and how do we determine authority?
Furthermore, what link building strategies should you still leverage and how can we use these tools to improve our campaigns?
Leveraging Software to Analyze Links
We tend to rely heavily on third-party tools to determine link quality, as Google shrouds its algorithms in secrecy.
Software allows us to decipher whether earning a link from any particular site is worth the effort, while also providing important information about how Google evaluates the quality of links pointing to our site.
There are many options when it comes to analyzing links, but some of the most popular include:
Moz Pro.
Majestic.
Searchmetrics.
Ahrefs.
SEMrush.
Before they start building links, many SEO pros tend to qualify (or disqualify) a potential link partner based on Moz's popular Domain Authority (DA) tool. DA offers an aggregate of different onsite and offsite SEO data to evaluate the trust of a domain using a 1-100 scale.
It's important to keep in mind that DA is only a barometer of how well a domain stacks up to others. While convenient for reporting and evaluating progress, DA should not be followed blindly.
Moreover, it's become increasingly popular for businesses to ask link building agencies specifically for links based on DA only (i.e., we'll take 5 links of DA 50 or higher) – this approach can be potentially futile.
To demonstrate the risk of using only DA to judge prospective link partners, I'd like to share one example of a travel website that my agency encountered recently while conducting research for client link building.
My link building team encountered the website after researching potential link partners in the travel sector.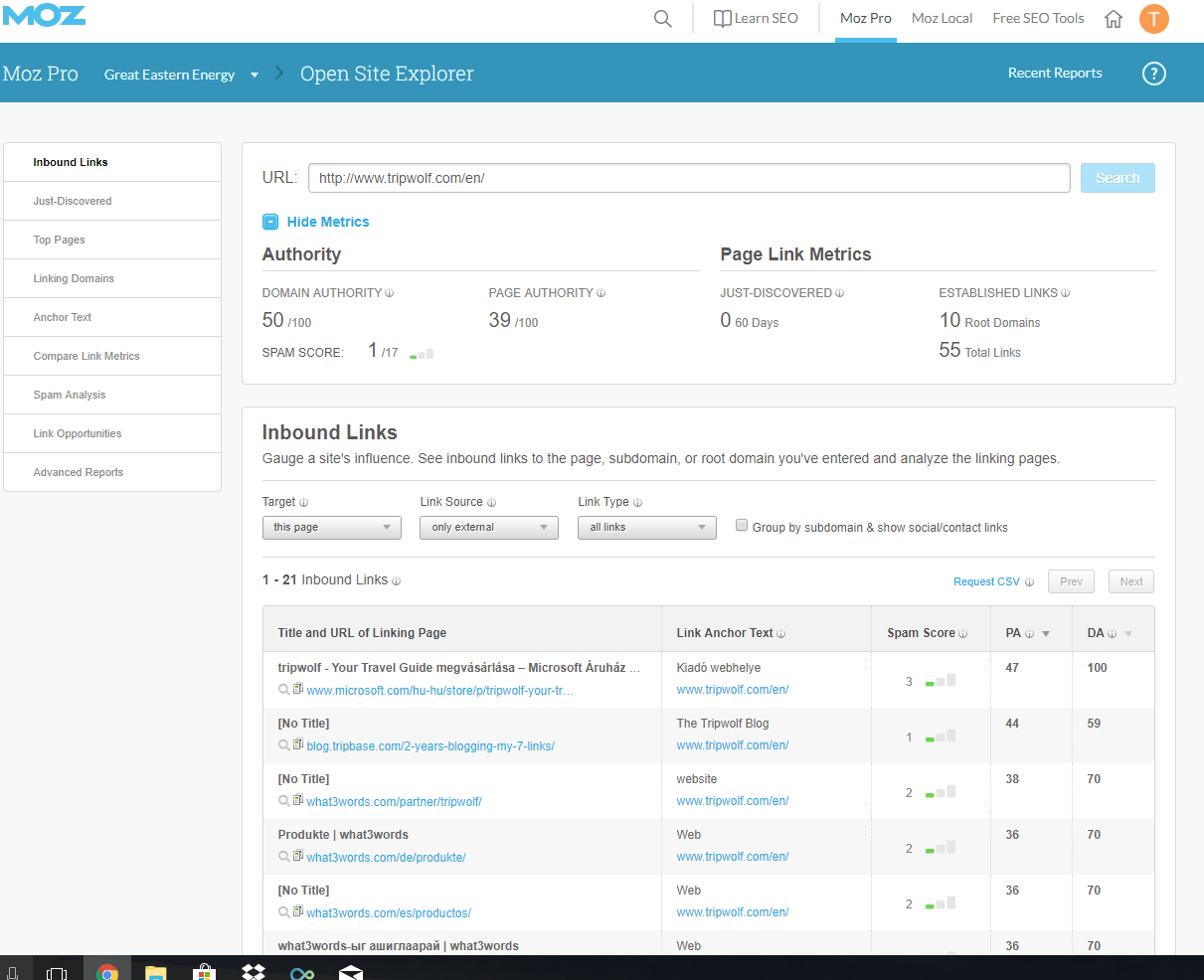 According to Moz, the DA of the prospective link partner is 50. Most experienced link builders would consider this an authoritative and attractive link to acquire. In some cases, a DA this high would be enough to devise a strategy to earn the link.
But not so quick.
Using SEMrush to look closer at this potential link partner we set out to ask:
Does this site receive a minimum standard of organic traffic (i.e., 1,000 monthly unique visitors)?
What about a minimum standard around traffic value (i.e., $1,000 in traffic value)?
Note that having organic search traffic suggests that earning a link from the site will likely have benefits outside of simply earning a link.
Organic traffic is also a direct indicator whether Google sees the site as authoritative and rewards it with keyword rankings that lead to qualified traffic generation.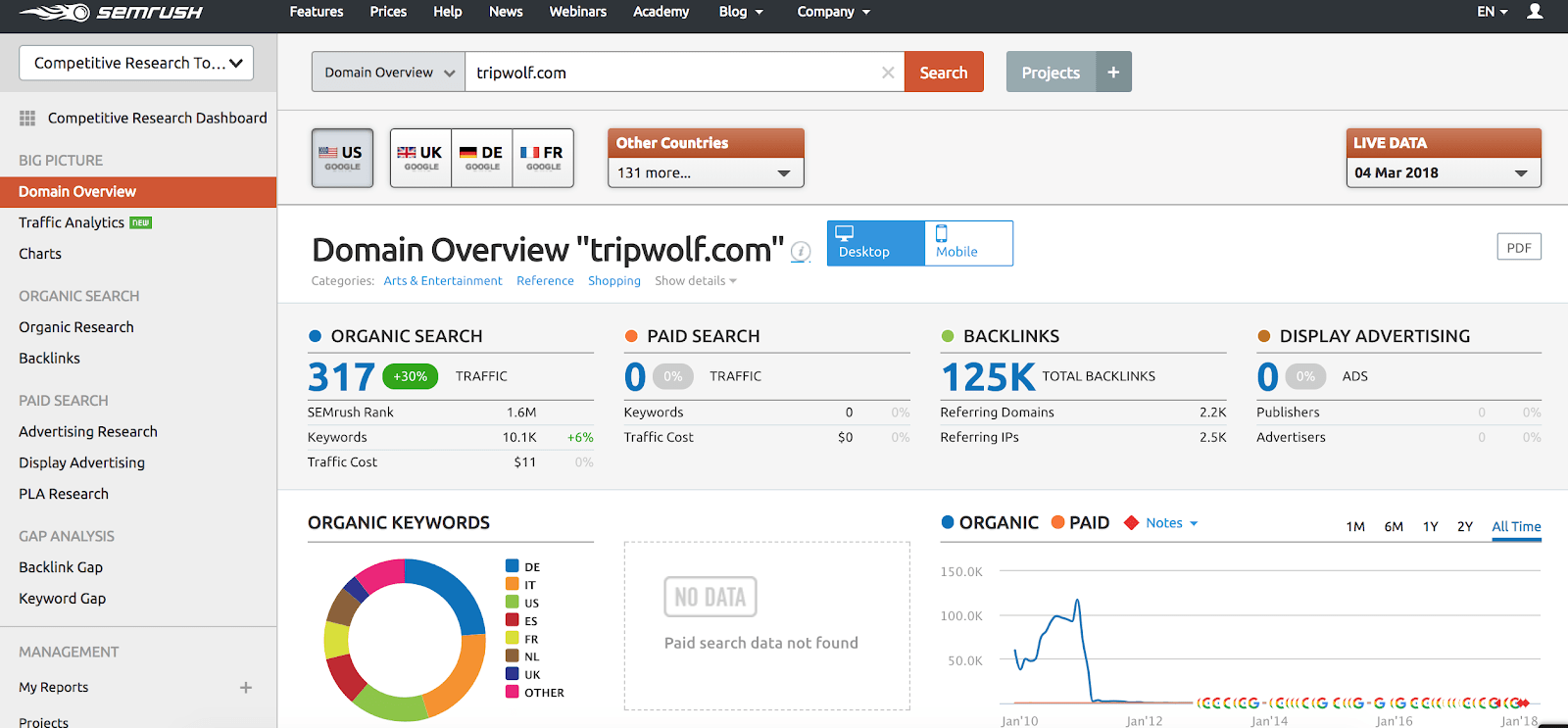 With a DA of 50, one would expect the website to have considerable organic search traffic. However, SEMrush suggests that is not the case as the site, at best, received only a few hundred visitors per month.
Looking even deeper, you see that the "Traffic Cost" (defined by SEMrush as the estimated amount the site would need to pay to receive the traffic if it was paid search) is $11.
This quick analysis highlights that DA alone is not a good enough metric to judge a potential link partner. In this case, the site in question appears to be of low quality and is unlikely to pass much authority to your website (or to our client's website).
To be fair, the site has considerable links pointing to it (2,200 referring domains) and at one point the site did have more traffic, but the site has not seen substantial organic traffic numbers in nearly five years. That's why it's vital to look beyond just DA when looking at the prospect of a link partner.
This is not an isolated example either.
When conducting searches for broken links, resource links, guest posting opportunities, and other strategies, we have encountered hundreds of poor sites that Moz, Ahrefs, and Majestic labeled as authoritative.
There are other considerations when using third-party tools like Moz, SEMrush, and others.
Many of these third-party tools don't offer much of the same data for each KPI. Only SEMrush and Majestic gave us the same total number of fresh backlinks to the domain. This is because the tools refresh data infrequently and rely on incomplete data sets.
Therein lies the problem with most link building strategies today.
If we purely followed the DA of this site or Majestic's Trust Flow, got a link, and reported it to a client, would it be of any value? Would algorithms as advanced as Google's even count this link as equity to your site?
While these metrics serve as a good barometer for how your domain compares to others, don't follow them blindly for link building reports or even identifying placements.
Moreover, you shouldn't rely on any single software. Instead, use multiple ones in tandem to provide more accurate assumptions as to link authority.
This is not to speak negatively of these tools. They are important to link building and should be used together to identify high-quality placements.
Evaluating Link Authority
This leaves us with interesting questions:
What exactly makes a high-quality link?
Does a branded (but nofollowed) link from a Search Engine Journal contribution reduce its importance?
The answer does not need to be complicated. In fact, a high-quality link should be one that comes from a high-quality site.
Obviously, quality is subjective, but here are some of my thoughts on what I believe makes a site qualitative:
Contains consistent readership or traffic flow.
Houses editorial staff that reviews content before publishing.
Ranks for valuable, relevant keywords in its industry niche.
Offers value to visitors, either through service or thought leadership.
Considered an authority in your industry.
Relevant to your niche.
I'm sure most of us would agree that a young website with consistent readership and thought leadership would be considered a great link placement opportunity. Not only would you acquire additional traffic flow, but also more exposure for your brand.
Yet, young domains don't start off with an established DA or Trust Flow, so would you really go out and grab it for a client?
I understand that most agencies have an established DA minimum of x>25 for all link placements to prevent spam. But does this also blind us from good link building opportunities?
For instance, I personally believe that a geographically relevant link with a sub DA of 25 may send a stronger ranking signal to Google than a DA 50+ that isn't geographically relevant.
Blindly following these third-party metrics distorts our mission of actually pursuing good marketing strategies, like influencer marketing, developing link-worthy onsite content, or building links on high-quality sites that only offer nofollow attributes.
Sure, placing a link on a DA of 88 makes your agency look like it's top notch. But how much is it serving the client if that link is:
Irrelevant to their niche.
Offering little to no value to their industry.
The number of unique referring domains to a site is crucial to link building success. Even if you acquired more links from the same domain it would be beneficial if it was of high quality. But I see clients get burnt a lot because agencies simply follow the wrong strategies.
Why? They keep relying on the wrong metrics.
The Proper Uses of Proprietary Metrics
Before we get too far off track, you're probably wondering what the proper uses of DA and Trust Flow should be. Honestly, whatever tools you use is up to you and there are many, but I stress using multiple tools for identifying placements and tracking progress.
A metric like DA is great for insight and maybe even the initial audit of a site, but it should not be used exclusively to identify placements. More importantly, it should not be used to track campaign progress month-to-month.
A tool like Ahrefs is good for tracking ongoing link placements and velocity, since it's the most dynamic. It's even great for identifying placements. But used solely, you'll more likely get greater KPIs from a link farm than a legitimate domain.
Use multiple tools to provide a gather a more comprehensive view of a target domain. In terms of reporting, you could rely on a number of KPIs, such as Trust Flow and DA to provide a more dynamic report. Just relay the fact that links take a while to actually pass equity to your site and that these tools all use different databases to come up with their proprietary metrics.
Highlight the barebones of the campaign from the number of new unique referring domains to any additional traffic flow or conversions that could be attributed to your work.
How much has brand reach increased and how are you working to drive eyeballs to their content?
While it's hard to relay the importance of links in reporting, it's up to agencies to create a narrative that does highlight the value that a new link has provided.
High-Quality Link Building Strategies
With this said, I thought it would be a good idea to highlight some high-authority link building strategies that do add value to your website.
Onsite Content
The best way to conduct a link building campaign is to go about it organically. Going out and snagging a guest post for your client is beneficial to your campaign, but it can also be expensive and labor intensive.
A more cost-effective and efficient strategy would be to craft quality content that other websites and publications want to link to. Instead of manual outreach with guest submissions to external domains, why not reach out to other websites to link to already existing content?
Here are some examples of link-worthy content:
Case studies
Infographics
Evergreen guides
White papers with original research
Op-eds
Interviews with celebrities, influencers, or industry thought leaders
Q&A roundups with thought leaders in your industry
Industry benchmarks, trends, and data
One of my favorite examples of organic link building is HubSpot's blog. Every year they publish marketing statistics and infographics of the latest trends in SEO and social media that I often reference in my pieces.
In fact, it's one of the first places I look when I seek out a statistic that can help prove my point. Whether they publish these to acquire links is unknown, but it certainly works.
You need to get content discovered before it can be linked back to. This involves a number of promotional strategies, such as sharing over social media, posting in forums, and direct outreach to other industry bloggers.
Leverage link bait content on your site to build relationships and become a resource where other thought leaders and bloggers will turn for information.
Influencer Marketing
If you're looking to drive more eyeballs to your onsite content, influencer marketing is a great way to reach a larger audience that aligns with your own.
In terms of traditional link building, links from influencer blogs may seem like low authority, but they have more benefits then just a link. For one, influencers often share content over a variety of channels. Beyond this, you can set up relationships with influencers to directly promote your brand for you.
Influencer audiences are:
Whether it's direct or indirect promotion, influencer marketing is one of my favorite strategies to increase brand exposure for a client.
This effectively drives more traffic to their website, nurtures conversions, and serves as a mention – which we believe factors into Google's algorithm – that can also come with a juicy hyperlink.
Using a variety of tools, my team has used influencer marketing to offer a new approach to link building. By setting up relationships with influencers, we can leverage a largely untapped market to promote our brand and our clients' to people active in that niche.
Guest Posting
While this strategy is traditional, I still believe that guest posting and contributor accounts are important to your underlying link building strategy. Not only does this offer link building opportunities for you and clients, it's also a way to craft thought leadership and authority for the author and brand.
With greater authority, people are more likely to look toward your content in the future for reference and understanding of a topic.
Focus on Branding
This leads me to my last link building strategy. Your link building campaign shouldn't be solely focused on improving keyword ranking. While important, link building should also seek to advance you or your clients' brand.
This includes everything from getting brand mentions across the internet via contextual citations, direct influencer marketing, or crafting an authoritative guest post.
Brand building increases exposure to your brand and provides social proof for your content. This, in turn, has the potential to get you more followers over social channels and direct traffic through bookmarks and direct brand recall.
If the goal of link building is to provide better opportunities for webpages to rank in a keyword search, then increasing direct traffic is maybe just as important as acquiring more backlinks. Although, their strategies are one in the same.
Use proprietary tools to seek out authoritative domains with large readership and thought leadership to build relationships with, publish content on, and give your brand some much needed visibility.
Final Thoughts
Even if Google's algorithms are dynamic, backlinks still serve an important function in ranking.
Backlinks are still vital to increasing keyword rank, but acquiring five or 10 links a month from irrelevant or low quality sites will only significantly impact rankings when all other factors remain equal.
SEO is competitive, which is why a poor link building campaign won't increase your DA when other websites are outperforming yours.
For those of us with clients in a competitive niche, the strategies I outlined earlier are a great way to acquire high volume backlinks, while also advancing your brand. They are also more cost-effective.
DA and Trust Flow are great barometers to measure comparative success, but not necessarily campaign progress. When we follow one metric blindly, SEO ceases to be an organic and creative process, but rather a mechanical operation where paid links are the norm and good marketing strategies fall by the wayside.
More Link Building Resources: