Getting high-quality links to your site was once a critical factor in how well your site would rank in the search engine result pages (SERPs) for your targeted keywords.
If you had keyword-rich anchor text links, the chances that you would rank higher in the SERPs were even greater.
A link from an authority domain like CNN could help improve your rankings and, if it was lost, you may have experienced a ranking drop.
Those were the good old days.
Now Google is much more advanced, and links are still important but getting a high-quality link is tougher than ever.
Those of us who have been doing SEO for a while, have seen many different algorithm updates from Google (e.g., Penguin, etc.) which were designed to punish sites that participated in deceptive link building practices.
I know there are several link building tactics and strategies that could help, but one of the most prominent requests I get on LinkedIn is for guest posting services.
Is it worth it?
If so, what are the right questions to ask a potential vendor?
Let's explore by going through some ways to evaluate guest posting and blog outreach services.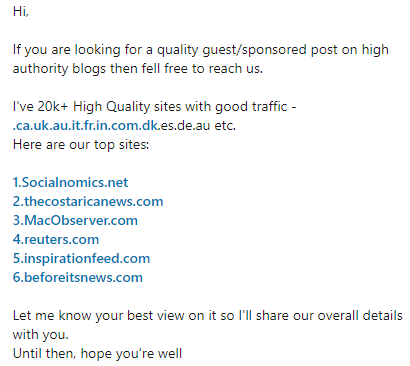 Is Guest Posting Worth It for Links?
According to an SEMrush survey, 53% of the respondents said that guest posting was the most effective way to build backlinks.
From my experience guest posting is kind of gray area.
Matt Cutts, the former Distinguished Engineer at Google, declared guest blogging for links dead back in 2014.
On the one hand, Google can't stop anyone from writing a guest article for a popular blog or publication.
If your site appears to get many links from low-value blogs (those with little linkage data themselves), then you start to look really spammy and that is where the real danger comes in.
Here's what Cutts wrote on his blog at the time:
"Okay, I'm calling it: if you're using guest blogging to gain links in 2014, you should probably stop. Why? Because over time it's become a more and more spammy practice, and if you're doing a lot of guest blogging then you're hanging out with really bad company."
Are you thinking about using guest posting services?
If so, do your homework and research on the providers. Always ask questions.
9 Questions to Evaluate Guest Posting & Blog Outreach Services
1. Do You Provide Your Link Inventory?
Ask the provider if they provide the link inventory so you can evaluate the links before you move any further.
If the vendor provides the inventory of the sites that your link and content will be placed on, always make sure the content of the site is relevant to your business.
Use Ahrefs or SEMrush to check if the sites get decent organic traffic, have links and social endorsements, etc.
A site with a DA of 30 and above may be worth pursuing. Generally, the higher the domain authority, the better (but not always).
If the site does not have any metrics, tell the vendor that you want a site that is popular, has links, great content, etc. If not, try to get your money back.
2. Can Your Provide Samples of the Content You've Written & Links You've Secured?
Ask the provider for samples of links they have secured and the content that they wrote to get them so you can evaluate the quality.
If you see that the content reads well and is high quality and useful to end users, then they are probably a legit vendor.
3. Is There a Process in Place to Evaluate Content?
Always evaluate the content for quality:
Free of spelling and grammatical errors.
Good punctuation.
It provides value.
If you find any of these errors, ask for a revision and make sure that you are happy with the content they create.
4. How Many Content Revisions Do You Offer?
Find out how many revisions of the content they offer for the guest posting services.
Typically, vendors will provide up to two revisions of content that they write.
If you're not happy with the link or the content, make sure they can provide you with another site instead or new content.
Providers that focus on making customers happy can get repeat orders and great reviews.
5. Will the Content Only Include Links to My Site?
Look to see if there are other sites that they are linking out to when they write the content or if the content only contains links to your site.
There is nothing wrong with a few sites being linked in the content but if you see 5 to 10 sites then your link won't have as much value if it was the only link on the page.
6. Do You Provide 100% Unique Content?
Ask if they use Copyscape to make sure that the content is not duplicate in any nature.
Search engines love high-quality, useful, and unique content. If you find that the content is duplicated all over the place, ask for unique content.
If the provider does not provide unique content, take your business somewhere else.
7. Where Will the Link(s) Be Placed in the Content?
Ask where the link will be placed in the content.
The closer to the top of the page the link is placed in the content the better.
If you see that the link will be placed in the footer, that could do more harm than good.
Footer links can set off an alarm at search engines, especially if it's a big site.
Imagine building 1,000 links in 10 minutes.
8. Can You Provide Case Studies & References?
Always ask for case studies and results with verifiable references that you can speak to on the phone. I can't tell you how important this is.
Getting real results from satisfied clients can help make your decision to work with that vendor much easier and build up your confidence that this is the vendor for you.
9. Can You Provide Reviews of Your Work?
Always look for reviews of the company and spend time reading the positive and the negative reviews before you decide which company to go with.
There are several sites that offer reviews such as Google, Clutch, TopSEOs, etc.
If you see a company with a lot of negative reviews, I would avoid them at all costs.
Wrapping Up
If you are going to use guest posting services, be smart and look out for links that relevant to your business, are not from spammy sites with keyword-rich anchor text links.
Be cautious of any vendor that does not disclose their inventory and has links that are spammy, etc.
Use branded anchor text and make sure the content is useful and valuable for the end user. It's also a good idea to markup your links with link attributes moving forward to send Google the right signals.
Don't get too caught up with domain authority (DA). Some of the low DA sites can grow in time and get to a higher DA later on.
If the link is relevant to your business, the site has great content and is becoming a resource that is helpful to end users then you might want to consider it.
More Resources: