I never grow tired of reviewing more and more tools that expand the possibilities of Google search. I already took a look at tools that allow to see Twitter search results within Google SERPs and a few addons that generate relevant results from other sources (like Wikipedia, Youtube and other).
And here's one more tool that retrieves search results from more sites: Kikin is the FireFox addon that "enriches and personalizes your browsing and search experience by adding results from your preferred social media websites (Facebook, Twitter, YouTube, eBay, etc).
Install:
Just click "Download", allow FireFox to show you the pop-up from this site and install the tool. Re-start the browser and you are done.
Customize:
Go to TOOLS FireFox menus and select "My kikin". You'll be taken to the the kikin website where you will be able to customize your settings. To always see results from sources, select the green button. To only see results when they are relevant to your search, select the yellow button. To never see results from a source, select the red button.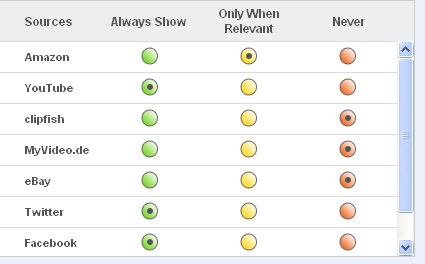 Note 1: you will need to allow access to Kikin Facebook application to get the results from Facebook.
Note 2: you will also be able to search your Twitter stream if you connect the tool to your Twitter account.
Use:
Just search for anything that you are interested in and notice a cute box above the Google search results. Click through the tabs to see relevant results from the sources you set up in the options: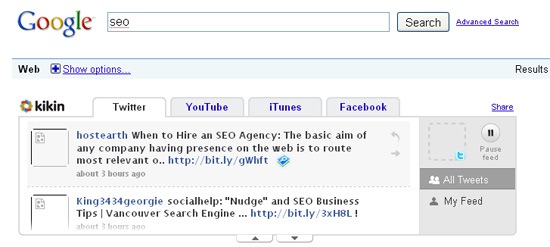 Warning:
The tool won't work for me when I am using Google toolbar to search. I am not sure why. So if this happens to you, try deleting extra URL parameters in the Google search string appended by the toolbar. Hopefully, this bug will be fixed or clarified.
The tool was reviewed under SEJ policy.