Of course, Google can't make everyone happy. I for one don't like universal search and prefer seeing plain-text search results without being disturbed by images and videos. Others like blended search results being given the ability to click through multiple data types from one page.
There is no reason to limit yourself only to what Google offers you to see. Here are a few cool FireFox addons that let you access alternative data right from Google SERPs based on your search query:
1. Infoaxe is a browser addon that will show your browsing history results based on your Google search term. Of course, you will need to give it access to your browsing history.

2. WebMynd inserts a wealth of options on the right-hand side of the Google results pag (above the paid search results):
send Tweets directly from your search results asking your friends advice related to your search;
search multiple services directly from Google search (Flickr, Amazon, YouTube, Yahoo, Digg, Delicious, Techcrunch, CNN are only few of those available);
all additional options can be configured right on the page by dragging and clicking the search engine icons.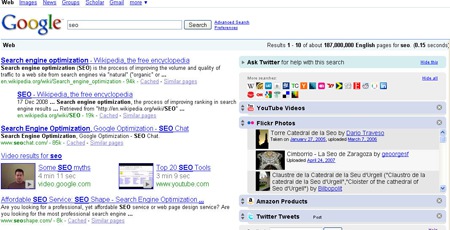 3. Would you like to see what people say about your search term? Google@Omgili is a search plugin that combines "objective and subjective" (i.e. machine and human beings) by letting you see related forum discussion next to regular Google search results.Besides, it looks for discussion threads that link to each page in Google's results "so you get a deeper insight about those results".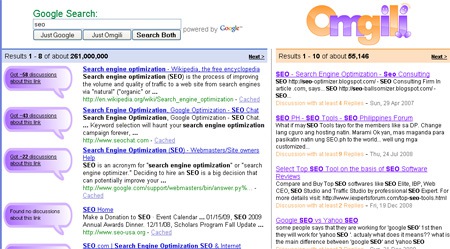 Note: I've deleted Google paid results because the screenshot was too huge. In reality, there's also AdWords results between those two columns.