When you aim to get your website on Page 1 of Google, you will quickly face the reality of online competition – all the prestigious spots on that page are already taken.
So how do you get one of those positions for yourself? Sadly, there's no other way besides pulling some of your competitors down the ranking ladder. Search is a dog-eat-dog place.
There's more than one way to reach the top, but SEO is the best – especially when you do it yourself. Take a look at all the options to see what I mean.
The easiest way is to advertise your site using PPC ads. Top positions will be yours for as long as you pay for them. The obvious problem here is the budget, but if you are confident you can offset the expenses with profits, this is a good option.
Another way is to hire an SEO agency. For a fee, they will optimize your website to rank well in search engines. Since the principle behind SEO is to increase a website's authority, this is going to have long-lasting results, which is more than you can say about paid advertisements.
Lastly, you can just take matters into your own hands. If the road to Page 1 lies through SEO, why not walk it yourself? It may be time-consuming, and your inexperience might make things worse, but there's no denying SEO is the most financially optimal choice.
This post will continue under the assumption that you took option number three. A new self-made SEO expert is born!
If you plan to butt heads with your online competitors, what will it take to win? You want more action on your website than on theirs, more visitors, and more customers.
On a more fundamental level, it means ranking higher and getting more user traffic. SEO can help you accomplish this objective, so let's reveal how to make it happen.
Get your SEO tools ready for action!
Stage 1: Make an Accurate List of Your Competitors
Before you start a fight, you will need to choose your opponents first. And you will need to choose them correctly.
How do you know if you've hit the mark or not?
Simple: a wrong choice will cause you to race against the guys who aren't even chipping away at your target audience. Meanwhile, your true competitors will rake in money without even knowing you exist.
Choose your battles wisely, or you'll waste your time and resources!
When you check who ranks highest for your desired keywords, don't be in a hurry to add every website on Page 1 in your competitor list. There are other criteria that cannot be exposed through a manual search for one or two keywords.
You will need to comb through all the high-ranking sites to find the ones that really stand in the way of your goals. And that's a lot of work.
Such tasks are best left to automated tools designed specifically for SEO competitor research. That's where WebCEO comes in. Rev up the WebCEO Dangerous Competitors tool and click on Settings.
Open the Keywords tab and type in the keywords you want to rank for. More keywords will produce a more accurate report.
Then open the Search engines tab. Add the search engines with specified locations to the list. You can also set the depth of SERPs to scan if you want.
Click Save.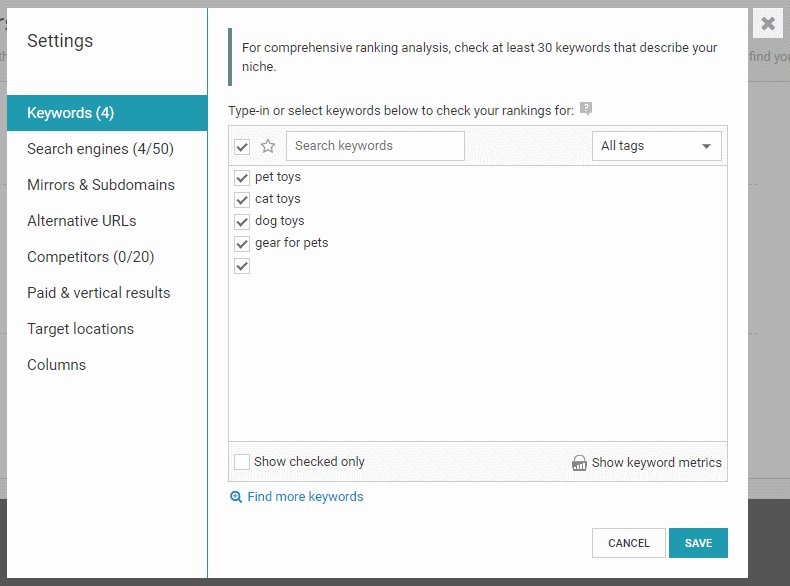 The tool will begin scanning. Once it's finished, it will generate a table with competitor sites that have ranked well for the entire set of keywords you checked.
Your own website will be shown there, too, helping you compare how well you are doing against your opponents.
What criteria should you look at?
Ranked keywords in search results. Remember those keywords you input earlier in the Settings? This column shows how many of them help each competitor website rank high.
Average ranking position. The same website may rank differently for different keywords. This column displays the competing websites' average ranking positions for the keywords you've selected.
Alexa global traffic rank. This value signifies how much traffic a website receives daily; the lower the number, the more traffic it gets. As the name suggests, WebCEO draws this information from Alexa.
Choose the websites that outperform yours in those departments. You should also double-check and visit the websites competing with you for your set of keywords in order to make sure they actually share a niche with you.
Now that you have your list of competitors, it's time for the next stage of the plan: analysis.
Stage 2: Analyze Your Competitors' SEO Strengths & Weaknesses
You could end your preparations here and venture on your hopeless crusade right away. But there's more to SEO competitive analysis, and there's more you could do to sharpen your edge. Go all the way and don't take any half-measures.
The next step is a thorough analysis of your competitors' websites.
What can you gain from that?
As it happens, there's plenty you can find and use to your advantage. Let's look closer at each point.
Keywords
Most SEO tools let you scan your competitors' sites and find out the keywords they're optimized for. What can you do with this information?
Keywords can be a website's strength, but they can also be its weak point – depending on how efficiently they are used.
If your competitor doesn't rank well enough for some of their keywords, you could attempt to do a better job by using them yourself.
Simply put:
If a competitor ranks well for keyword X, it's a sign that it won't be easy to outrank them for X.
If a competitor ranks poorly for keyword Y, try using Y on your own site and rank better for it.
WebCEO's Dangerous Competitors tool has already told you how well your competitors are ranking for your own keywords. Now it's time for a different tool to take the stage: Spy on Competitors in the Keyword Research Tool.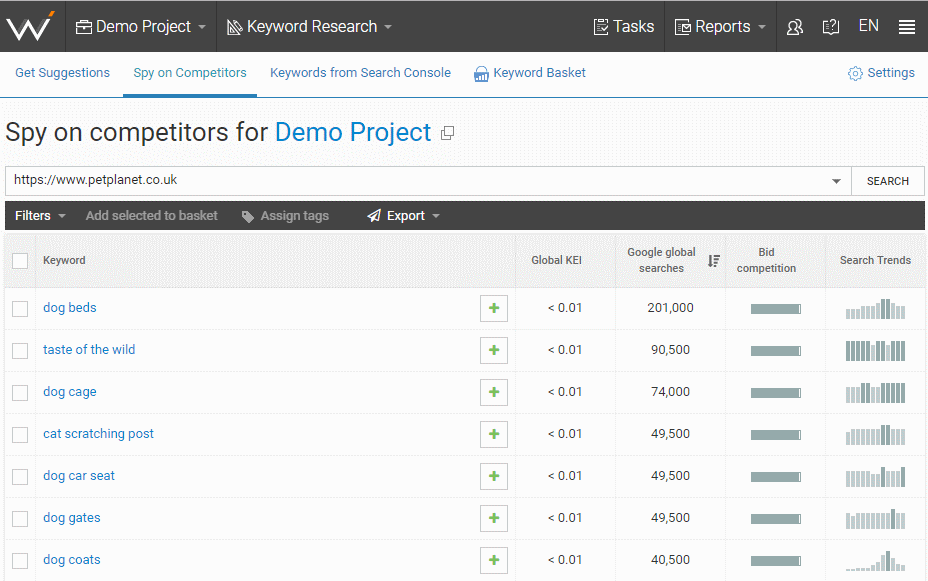 Type in the website's URL and click Search. The tool will display a table of keywords used on the website.
Tick as many checkboxes as you want, then click Assign Tags to mark the selected keywords with a tag of your choice (I'd recommend using the competitor website names).
Repeat the process for the other sites in your list.
Keywords chosen in this manner will be automatically added to your own keyword basket, and since they are tagged, you'll be easily able to quickly find them and remove them later if you want. But for now, open the Competitor Rankings by Keyword report.
Click on Settings. In the Keywords tab, click on the All Tags dropdown menu and choose the tag you assigned earlier. All of the selected competitor keywords will be displayed; check their rank positions.
Then open the Competitors tab and type in your competitors' URLs. As a finishing touch, you can visit the Search Engines tab to specify where you want to check their rankings from.
Press Save. The tool will show competitor rankings for the chosen keywords. With this, you'll be able to see who doesn't rank for some even though they'd probably like to. Try to exploit those "weaknesses" when you optimize your own site.
Backlinks
There are two big reasons to pursue backlinks: to drive extra user traffic from other websites and to show the search engines that your website deserves a high-ranking position.
You want to make sure your backlinks aren't spammy and come from reputable sources. Finding these sources can be a major pain, but you can alleviate it by checking who links to your competitors.
If they are ahead of you, they must've collected plenty of high-quality backlinks, right?
WebCEO offers two ways to look up your competitors' link profiles. The first one is to create a project for a competitor website: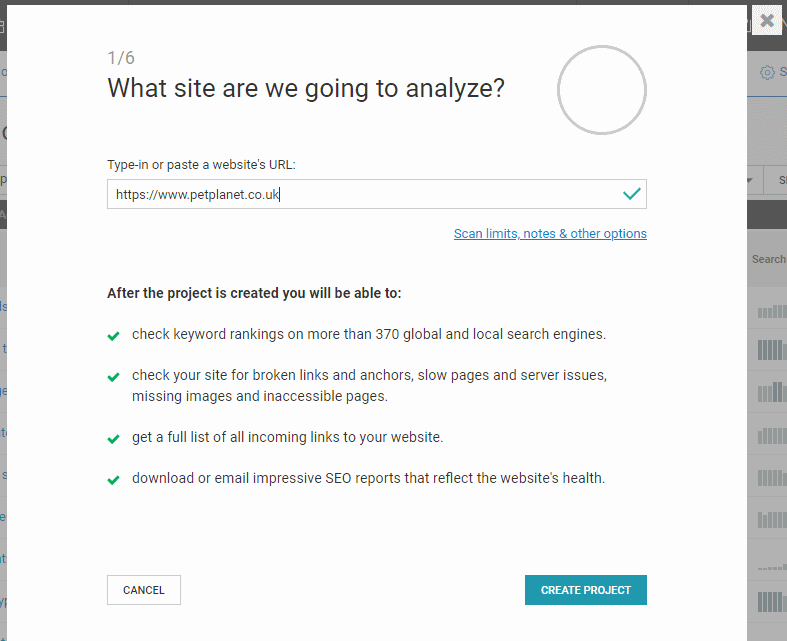 Then, use the Backlink Quality Check tool. Open the Linking Domains tab to see the list of domains linking to your competitor, or the Backlinks tab to see the list of individual linking pages.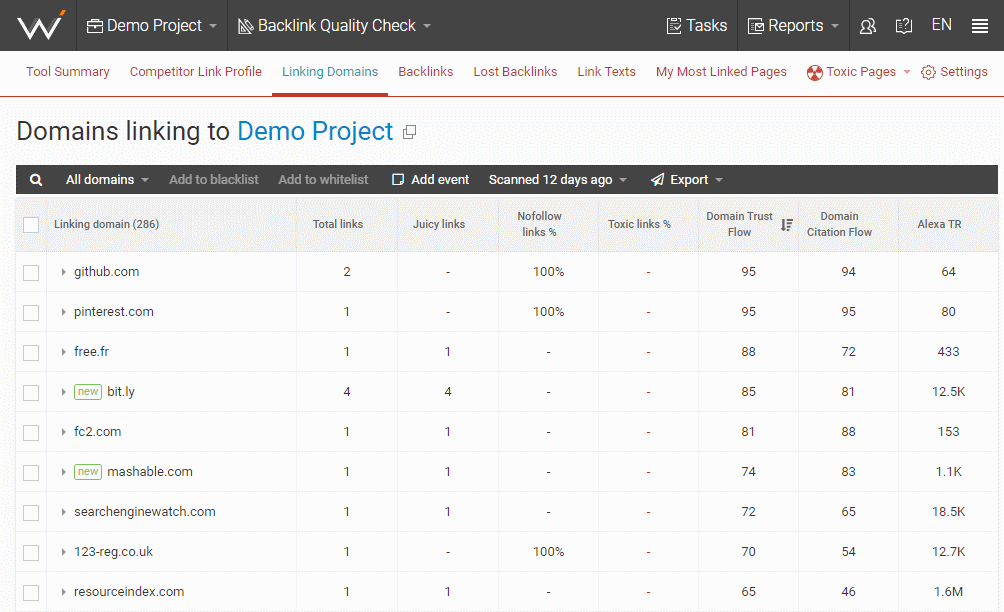 The other way involves using the Competitor Backlink Spy tool. Add up to 10 competitor websites in the Settings and click Save. The tool will generate a table of webpages linking to you and competitors.
Find backlink candidates among the pages that are marked in the competitors' columns, but unmarked in yours. The table is sorted by default to show the backlinks your competitors share with each other.
You can click on the top of other columns to sort, for instance, by the domain name authority of the backlinks at least one of your competitors has.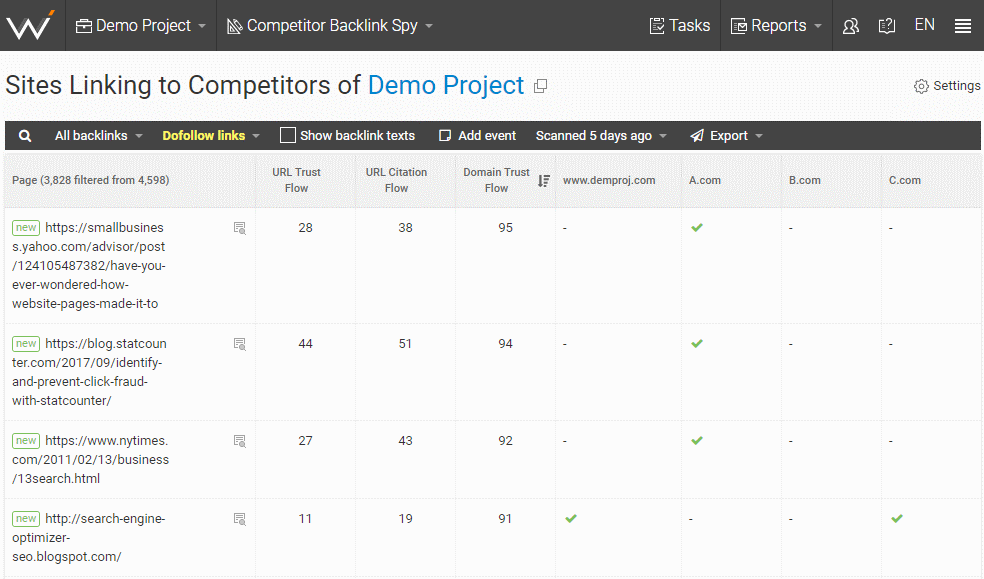 Brand Mentions
Unlinked mentions aren't as powerful as backlinks, but they perform a similar role: strengthening a website's online presence.
Note that "strengthening" doesn't necessarily mean "improving." If somebody says bad things about your site, it becomes better known, but not in a good way – as opposed to staying obscure.
Make sure to behave and earn a good reputation from positive mentions! Your competitors most likely have.
Monitoring your own online mentions helps you manage your reputation.
How does tracking mentions of your competitors help you? Simple: keeping an ear to the ground gives you opportunities to get mentioned on the same websites as them.
One tool that comes to mind is Google Alerts. Its detailed settings will help you catch the most relevant mentions you need from any part of the world. The results will be sent to your email on a regular basis.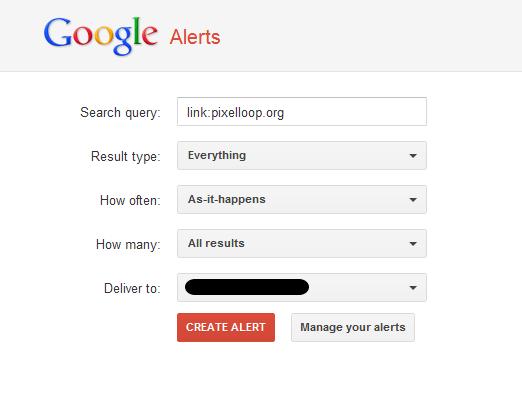 Stage 3: The Real Fight Begins
Wholesome SEO implies reinforcing your website's position on all fronts. That's how you beat your competitors, after all.
Where is the best place to start applying your efforts? That would be the departments where you are most lacking – or, even better, where your opponents are lacking.
You've collected all this information about their SEO; use every opening you can see to strike!
Here are a few powerful tactics.
Beat the Underdog
Suppose you compete with Website A and Website B, and they also compete with each other. Website A is beating Website B at certain aspects of SEO, and the gap is clearly noticeable with SEO tools.
So what you do is take a page from Website A's book and use their SEO assets to overtake Website B as well! Do this quickly, or Website B will catch up with the guys in the lead first.
In other words:
If Website A has more backlinks than Website B, get some websites from Website A's link profile to link to you.
If Website A has keywords for which it ranks better than Website B, increase your own rankings for them and overtake B.com.
If Website A is getting large amounts of traffic from area X while Website B doesn't, localize a bit to direct users from that area to your own website and make Website B eat your dust.
"When you aim to get your website on Google's page one, you become faced with the reality of online competition very quickly."
Step up Your Own SEO
Let's not forget about on-site SEO, too. You want your website to be the best, don't you?
There's always something that could be changed for the better, not least because Google keeps raising their standards for what counts as a high-quality site.
So what can you do?
Create the best content you can. Content is what the web is all about, and Google wants to give its users the best answer. Since you want to outdo your competition, it's a good idea to check out the content they create and design a plan to one-up them.
Provide the best user experience. Giving your site a nice-looking design is good, but you will also need to make sure the site itself is easy enough to navigate and use. And there's the matter of fixing any site errors that impede user goals, too.
Reduce your page load time. Website loading time is a major part of user experience; the longer a page takes to load, the more likely users are to bounce themselves off it. What's more, page load time will be a mobile ranking factor in 2018. Load fast or be left behind.
Make your site mobile-friendly. How a website looks and works on mobile devices will greatly affect its visibility in search results. You don't want to fall behind with this one, either.
Increase your click-through rates. Search engines look at how often users click on search results for queries. If you get more clicks (or have a higher CTR than your competitors), logically you should rank higher in the SERPs. The higher your pages rank, the more clicks those pages will receive. Use this virtuous circle to your advantage! Write titles and descriptions for your site's pages that will make users unable to resist the temptation to click, even if they see it lower down on in the search results. If there are clickable elements on your site, pretty them up as well.
Post on Social Media
If your competitors don't have pages in social media (or just aren't very active there), the odds are already in your favor. Most companies only post on Facebook these days, leaving LinkedIn, Google Plus, and Pinterest empty.
Those who post only on Facebook also tend to forget to put a link to their website in most of their posts, which causes Google not to notice their activity.
Chances are, you can blow away most competitors on social media if you're even a little savvy.
Let's say you've taken the first step and created pages on every big platform. What comes next?
Follow these tips to win the public's affection.
Post often, post regularly. Consistency is how you avoid losing your audience's interest. The answer to "how often?" varies for each platform, but it's optimal to post at least once a day or once a week and stick to the schedule.
Post engaging content. It's the same on your site and with social media: you want users to react to your content, not simply look at it. Ask open-ended questions in your updates that will encourage visitors to reply. Content that encourages people to participate (like polls, quizzes, and contests) is universally loved.
Use high-quality images. No need to hold back like you probably would on your own site due to page load time. Present your best-looking images for this! A picture isn't worth a thousand words for nothing.
Use emojis. A sprinkle of mood-setting emoji here and there does makes reading more fun. It might be inappropriate in most other places, but social platforms are perfect for this.
Use hashtags. Make your posts in social media easier to find by adding the # symbol in front of keywords that are often specifically followed by others.
Tag influencers and bloggers from your niche. This is a more advanced tactic for those informed about the big names in their niche. You might want to do your homework before recklessly tagging notable people. But when you know what you are doing, exposing your content to influencers will do wonders for your brand's fame.
Get Listed on Niche Platforms
Your online presence is never big enough. Keep expanding it.
Look for resources where you could get your site listed or mentioned, but your competitors haven't reached yet.
This can be done with a Google search set to exclude competitors' brand names – for example, "shop review sites -example.com" or "cooking blogs -example.com".
Found a site suiting your interests? Then be the first to make yourself at home.
Naturally, you should be present on the same resources as your competitors, too. You can find those with the Competitor Backlink Spy Tool of WebCEO.
Pay Attention to What's New with Competitors
Another good idea is to keep an eye for any changes your competitors implement on their websites.
How can this be of use?
Normally, when people change something on their sites, they intend to bring about a positive result. If the change sticks, you can be certain it was a success.
Likewise, an unsuccessful change will be reverted or changed yet again into something new. You can also judge a change's effectiveness by monitoring competitor traffic with WebCEO's tool aptly named Competitor Traffic.
If something worked, you might want to try it on your own site. And if it didn't, avoid repeating another's mistakes.
Break away from competitors
with 15 WebCEO Tools
The opinions expressed in this article are the sponsor's own.