Ask.com Expands Search Engine & Information Focus
Ask.com (formerly Ask Jeeves), in an effort to seriously contend with Google, Yahoo & MSN, has officially dropped the Jeeves character from their branding and are focusing on their Ask Search Technology, search tools and a simpler design. Ask.com feels that the new branding represents the achievements in search which have been accomplished with advancements in their Ask Search Technology (formerly Teoma), user experience, content serving via Smart Answers and personalized search technology.
The new informational focus of Ask.com has led Ask from the shadow of campy cartoon marketing campaigns and overserving of advertisements to a sleek and targeted direction in enhancing the user experience, letting their users find relevant information and answers to their questions in a fast and friendly environment. "The new Ask.com is the culmination of years of innovation, combining the most advanced core search technology with one-of-a-kind tools that make search better," said Steve Berkowitz, CEO of Ask.com. "People deserve a search engine that gives them the tools to get what they need faster, not just a bunch of links on a page. Ask.com takes search to the next level."
As an example, instead of homepage space being filled with the representation of an informed company in Jeeves, Ask.com is now using the experiential strategy of invitation with its doorway of knowledge via the Ask.com Toolbox. The customizable Toolbox offers more than 20 vertical search tools including maps, images, weather, dictionary, local and desktop search. Like Google and Yahoo's tabbed pages, the Toolbox is Ask.com's way to help give direction to the type of search a user will make from the very beginning of their journey. Instead of searching for doctors in their area and then realizing that a local search brings more relevant results, the user is now taking an active roll in controling the type of search which is performed.
One noticeable Toolbox offering is Bloglines, the blog search and subscription service owned by Ask.com. Although Ask has yet to integrate blog results into their Ask.com search functionality, it is refreshing to see Bloglines listed on the homepage. Maybe one day soon Ask will include Bloglines subscription links in their normal search results to let users subscribe to sites with RSS feeds like they have in Ask Japan (Ask.jp).
Hopefully Ask.com will be taking more of a functionality lead from Ask.jp, as not only does Ask Japan offer the Toolbox, but also multiple search buttons from the homepage which take the user control factor an extra step. In my opinion, to top of the search functionality and change the total user search experience (and make it even more 2.0) Ask.com should adopt the Ask Japan homepage search box format, adding more of a rounded search experience from the beginning.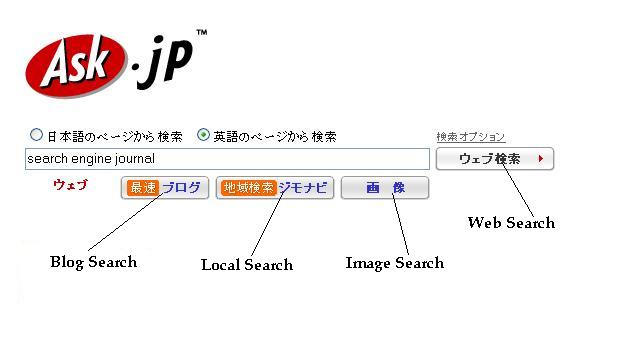 Regardless of what other global Ask companies are doing with their search products, Ask.com does have a long list of new features which have been added. Including :
* Ask.com Maps which combine an AJAX-based interface with a differentiated set of mapping tools.
* Encyclopedia Search: Utilizing content from Wikipedia, Houghton Mifflin and Columbia, Ask.com displays direct answers right at the top of the results page.
* Desktop Search: Ask.com Desktop Search users now have the ability to access their files and emails through their Web browser, in addition to a standalone application. Ask.com is the only search engine to offer both choices.
* Fewer Sponosred Listings and More Smart Answers : Ask.com now has the fewest ads of any major search destination on the first screen of results. With Smart Answers, Ask.com is also the only search engine to place editorial results above advertisements.
"The new Ask.com is like having a speed dial to the best search has to offer." said Jim Lanzone, general manager of Ask.com U.S. "With the new site, we've continued our singular focus of innovating at the core of search – where it matters most to people. We've put unique search tools in the right place, at the right time, freeing people from wading through endless links so they can get to the good stuff faster."