Video is one of the search marketing trends to look forward to in 2017. Even the experts say that visual content, including video, will go big in the coming year.
According to Think with Google:
"When it comes to online video, one word summarizes the trends in consumer behavior: 'more.' […] consumers are spending more time on more devices with more focus and passion for online video than ever."
So now would be the perfect time to add video to your content and search marketing strategy. But what's the best platform to publish videos? Look no further because we've got answers here!
According to a survey sent out to Search Engine Journal's Twitter audience, 85% of respondents publish their videos on YouTube, 11% publish on Facebook, 4% publish elsewhere, and none publish on Vimeo. These results show that YouTube is still king when it comes to video. But don't discount other sites just yet. Let's get the low-down on these video sites and how you can use them to boost your marketing efforts.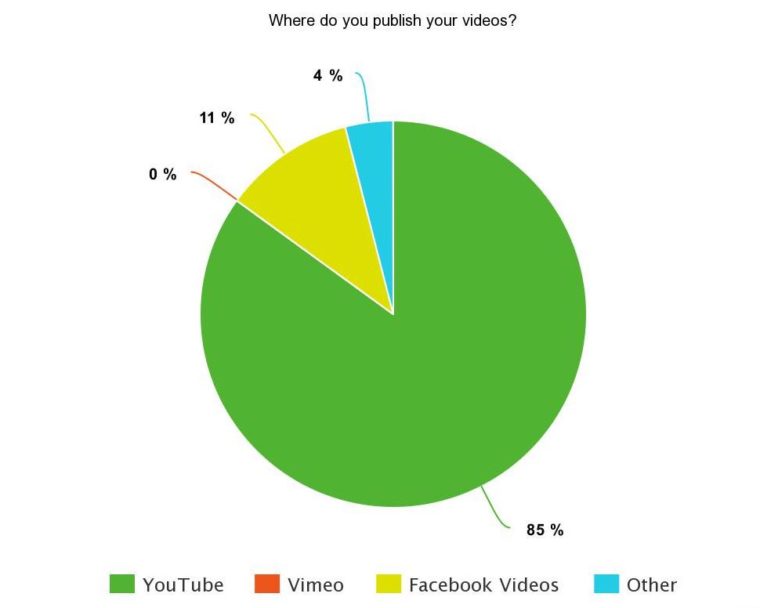 YouTube
Here are some motivating stats based on Think with Google's infographic:
A very engaged audience: 50% of YouTube subscribers aged 18 to 34 would drop what they're doing to watch a new video by their favorite creator.
A passionate following: 4 in 10 millenials say they only trust YouTube for videos on causes they care about.
More reach: Advertisers could have reached 56% more of 18- to 49-year old viewers by also advertising on YouTube.
Not only does YouTube widen your reach, it also allows you to gain the following of a loyal audience. For some inspiration on how to use YouTube for marketing, check out these successful video campaigns:
Intel's Meet the Makers Series
Intel's Meet the Makers series features inspiring profiles of makers who use Intel products to build new technologies with a global impact. This video campaign uses compelling storytelling to captivate its audience.
"On Legacy" by Artifact Uprising
This video by Artifact Uprising tells the story behind one of their customers creating a custom photo book for his family, one of the services offered by the company. Find out how customers are using your service and leverage that to showcase your service to viewers.
"#LikeAGirl" by Always
This award-winning video by Always uses the famous insult "like a girl" to grab the attention of viewers. This campaign appeals to emotion by using the negative and turning it into a positive to send an empowering message.
Facebook
This infographic from Social Media Today has some interesting numbers on Facebook videos:
75% more videos were posted per person on Facebook in 2015.
Video posts have up to 135% more organic reach than photo posts.
People spend three times longer watching live videos than those that aren't live.
With Facebook's focus on video, features such as 360 videos and Facebook Live videos have been introduced. So take advantage of these features to provide an engaging experience to your customers, connect with them in real-time, and give them a behind-the-scenes look into your product or service.
Here are some tips on using Facebook's video features for your search and marketing campaigns:
And watch this interview with Kendall Bird on how to include Facebook Live in your marketing strategy:
Other Video Sites
Other up-and-coming sites where you can post videos include:
Instagram: Instagram Stories allows its 500 million users to create image slideshows and videos that disappear after 24 hours. One of its newest features includes adding links, which allows marketers to link to a particular blog post or a product page.
Snapchat: Snapchat is a fast-growing brand, with 150 million daily users, even surpassing Twitter's daily usage of 136 million active users. Check out this complete guide to Snapchat if you're new to the Snapchat game.
Pinterest: With 150 million users, Pinterest is a steadily growing brand. In August, the company debuted promoted video ads, a new type of video advertising designed to help increase sales on the site. Promoted video ads are housed on Pinterest Explore, a section where users can view what's trending on Pinterest each day.
Whatever platform you choose, make sure to create engaging and insightful videos that make the audience feel part of the experience.
Have Your Say
Where do you publish your videos? What strategies do you use for video marketing? Share your thoughts in the comments below and have your say in the next survey by checking out the hashtag #SEJSurveySays on Twitter for future polls and data.
Image Credits
Featured Image: robuart/DepositPhotos
In-post Image: Meta-chart by Caitlin Rulien