As the Managing Editor since last November, I have to touch every single piece of content, work with every member of the team. I continue to learn new things every day. We've come up with a list of factoids about Search Engine Journal that aren't very well-known… some were new to me (!).
1) SEJ was founded in 2003
We are 11 years old this year! Loren Baker, SEJ Founder, and I did a fun look back at what search was like when SEJ started.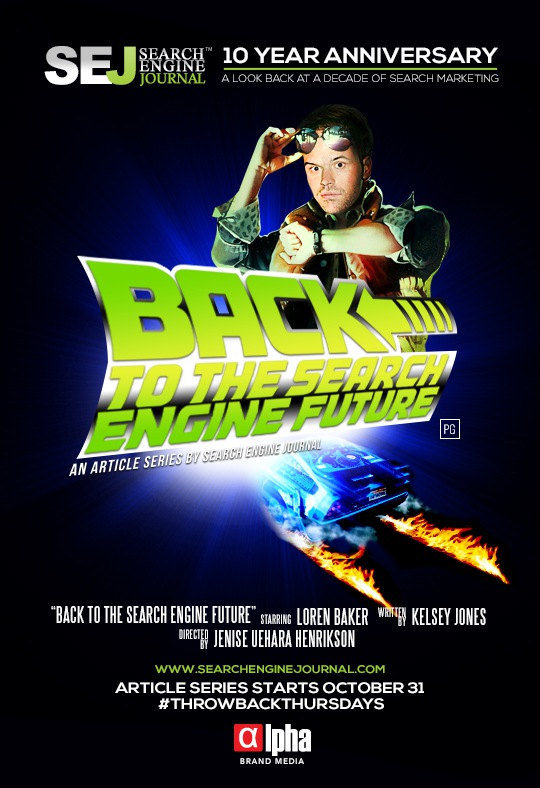 SEJ has changed a lot over those years including moving from blogspot.com to WordPress, unveiling a new site design earlier in 2014, and continuing to build our team and what we offer readers, like a new Entrepreneur section and meetups at some of the biggest marketing conferences around the United States.
2) We Turn Away 10-15 Potential Contributors For Every One We Accept
While our Write For SEJ page says we are not taking new writers, that is only partially true. Many of our new contributors come from referrals, or have a really amazing pitch letter. Every day I get two to four emails from people asking to write for SEJ.
Our new editorial guidelines and vetting process (where we check potential writers' online profiles and history) means we only accept maybe one to three new writers a month, tops.
Want to write on SEJ? Here's mainly what we look for:
Know someone who writes for SEJ regularly or works on our staff
Write your emails to me instead of "Dear Editor" or a former editor's name
Come up with concrete ideas to pitch, with linked samples of related topics you've done before.
3) An Average of 3-5 People Will Review Every Post
Our process is outlined in the Editorial Guidelines, but every post goes through a minimum of three reviewers before it gets published. If it is a controversial, timely, or exclusive story, other editors on the team may also get in on the action to make sure it is worth publishing and provides enough research to support its main points.
We have worked hard over the past year to make sure this process ensures only the best content gets through to SEJ. While we aren't 100% perfect we don't shy from telling a writer their content needs massive changes or restructuring before being considered for publication.
4) We Host Events
We've been hosting a few meetups surrounding popular conferences for a while now, including one during SMX West 2014 last year and a few in San Francisco, where a majority of our team is based.
We also partnered with Searchmetrics to provide a free, invite-only, one day conference in San Francisco this past June. It featured speakers from Technorati, LinkedIn, SurveyMonkey, and more. We had a blast and hope to do it again!
5) We've Never Bought Followers
While buying social followers is a touchy subject (some argue it helps get the ball rolling, while others are strongly adamant that it's a short-sighted practice), we have never done it — on any social network. Note that we do occasionally pay to promote individual posts.
With our online communities in the five and six digits across Facebook, Twitter, and Google+, we've grown our social media presence organically through good old-fashioned content and dialogue, with a few promoted posts in between.
6) We Copyscape Every Post
As another part of our ongoing "knuckle cracking" editorial process, we Copyscape every post published on SEJ. This helps ensure we only publish the most original content.
We do accept quotes from other articles with attribution of course, but if a post is flagged over a certain percentage by Copyscape, we either reject the article or require changes be made.
7) Our Team is Based All Over the World
We have six team members based in California. The rest are around the world (in no particular order):
Kelsey Jones (me!), Managing Editor: Kansas City Metro, Kansas
Slobodan Manic, CTO: Sweden
Loren Baker, Founder: Los Angeles, California
Danielle Antosz, Copy Editor: Jacksonville, Florida
John Rampton, Editor-At-Large: Palo Alto, California
Catherine Quiambao & Aki Libo-On, Editorial Team: Manila, Philippines
Paulo Bobita, Graphic Designer: Quezon City, Philippines
Jessica Cromwell, Project Manager: Greensburg, Pennsylvania
Debbie Miller, Social Media Manager: Orange County, California
Matt Southern, News Writer: Sudbury, Ontario, Canada
Murray Newlands, Deputy Editor: San Francisco, California
Jenise Henrikson, Publisher: San Francisco Bay Area, California
Brent Csutoras, Chief Social Media Strategist: Boca Raton, Florida
We have a weekly editorial call to touch base, learn and talk about what's going on in the marketing world. It's fun to catch up and make sure we have everything covered: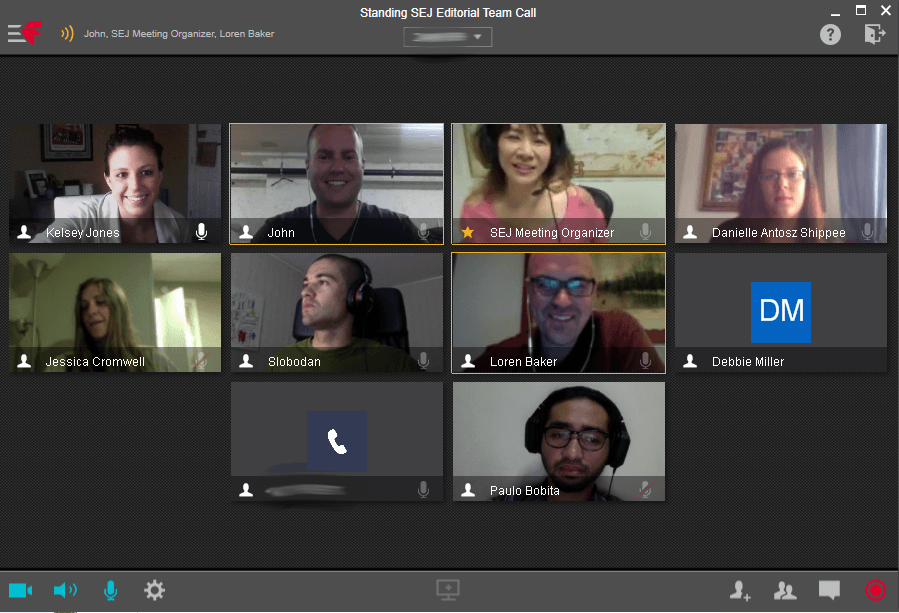 8) SEJ Leans In
If you look at the names above, you'll see that women dominate 53% of our staff.
While women in the workplace are finally about 50/50, women are still in the minority in STEM industries. We're proud to have a dedicated and balanced team who all work together to get sh*t done.
Is there anything you'd like to know about SEJ? We'd love to hear your feedback on how our team is doing.
Featured image via Shutterstock.