Chatbots are one of the hottest trends in tech and marketing. Some have gone so far to predict that chatbots could one day replace the need for websites and mobile apps.
From Slack's personal bots, to Taco Bell's food-ordering bot, Sephora's beauty tips bot on Kix, and banking bot MyKai, brands and marketers are starting to leverage the potential of chatbots.
The adoption of chatbots is increasing – 80 percent of businesses having already used or are planning to use chatbots by 2020. Chatbot revenues are also on the rise, with investments in the chatbot industry growing 229 percent from 2015 to 2016.
Chatbots are the future of marketing. It's inevitable. Or is it?
So far, at least in the search world, chatbots aren't being widely adopted.
The Search Engine Journal Twitter community told us how many of their clients use chatbots on their websites. Here are the results from this #SEJSurveySays poll question.
According to a survey sent out to Search Engine Journal's Twitter audience, 78% say only a small percentage of their clients (less than 25%) use chatbots on their websites.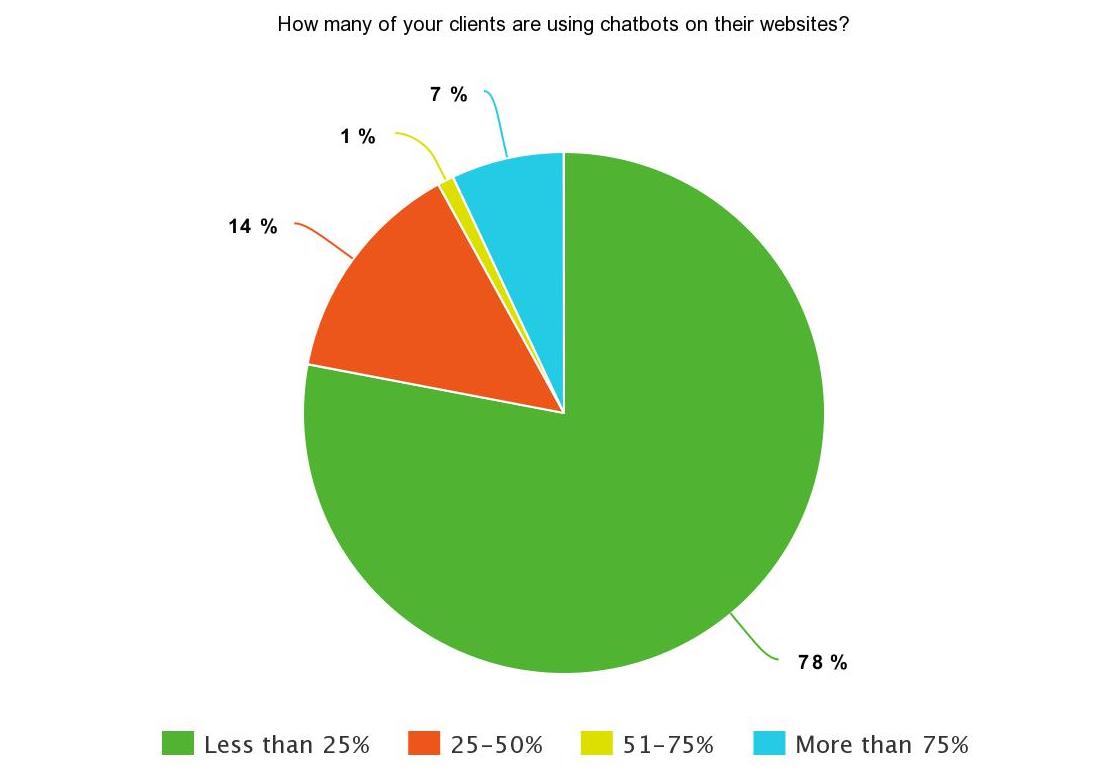 Despite being one of the social media trends to look out for this year, our survey results show that chatbots are yet to be widely used.
The Benefits of Chatbots
Still on the fence about using chatbots for your website? Here are a few ways chatbots can greatly benefit your business:
Jes Stiles, CMO Emerging Markets at Ringier AG, perfectly sums up the advantage of chatbots here:
"A messenger bot can allow you to have personalized 1-1 conversations at scale, opening up a whole new audience who does not wish to connect with brand over email or download an app. Moreover, when built in a user-friendly manner, chatbots can actually provide a better experience than a human for common use cases with faster response times (no matter what time or day of the week) and greater personalization of content."
Thinking about building a chatbot for your business? Check out this marketer's guide to building Facebook Messenger bots.
Also, make sure to conduct the necessary consumer and market research for your industry. You shouldn't use chatbots because it's a cool trend but because it will be good for your customers and worth your investment.
Have Your Say
How many of your clients are using chatbots on their websites? Tag us on social media and have your say in the next survey by checking out the hashtag #SEJSurveySays on Twitter for future polls and data.
Image Credits
Featured Image: DepositPhotos
Chart by Caitlin Rulien