I'm sorry to tell you this, but people are talking about your brand behind your back.
As a smart marketer, you've been managing to these mentions with social listening – reading what people say by tracking conversations on brand names, specific words or hashtags so that you can steer the conversation in line with your brand's identity.
The problem? If you're only paying attention to text mentions, you're missing most of the conversation.
We live in a visual world where smartphone cameras are ubiquitous. Conversations about brands are no longer black and white text, they are in full-color images.
More often than not, branded social media posts don't contain any tag or text mention. TalkWalker reports the figure can be up to 80 percent. While LogoGrab reports the number as over 85 percent.
No matter the exact number, the limitations are blindingly clear. Text-based insights alone won't allow you to see the full picture of your online brand presence.
This is why you need visual listening, which allows you to see what your customers are saying and when that content is used correctly can help you turn selfies into sales.
The Rise of Visual Listening
Visual listening involves leveraging image recognition to uncover in-image mentions relevant to your brand.
At present, it most commonly utilizes logo recognition, a more targeted use of image recognition, that can identify even partial logos within a photo. But you could also train image classifiers for object recognition, removing the need for visible logos.
It far surpasses social listening because it doesn't need the user to mention or tag your brand, only to snap a pic. Photos are understood by everyone in the world, removing language barriers. They also provide more information than text alone – an image is worth a thousand words.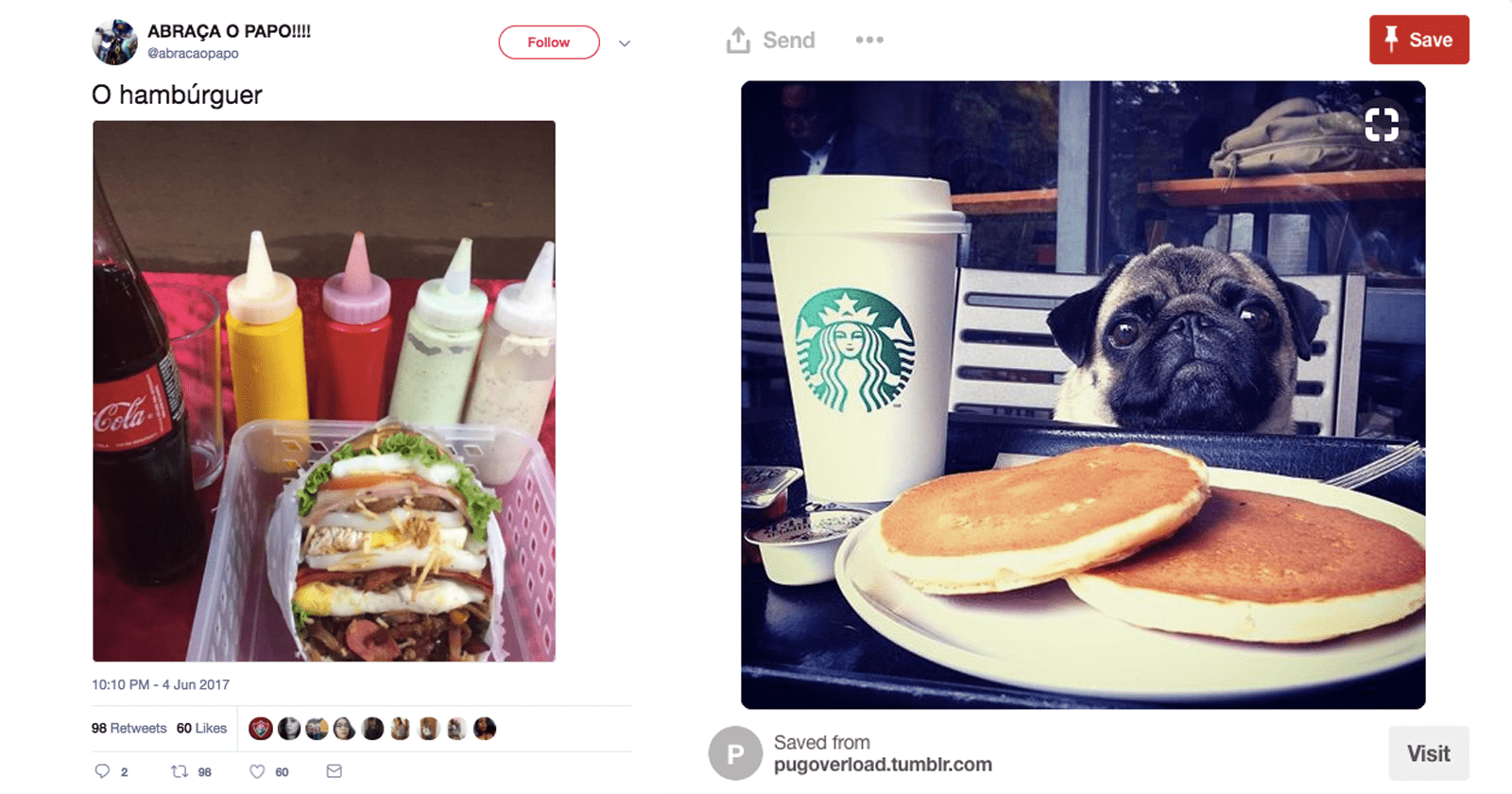 Let's look at a few quick case studies. The foodie tweets above don't mention Coca-Cola or Starbucks. They would have been missed with text-based social listening. But their logos can be picked up by visual listening.
BrandWatch reports that without visual listening, Coca-Cola would miss 200 mentions per hour. And they're not alone, TalkWalker tracks that Starbucks would miss around 178 mentions.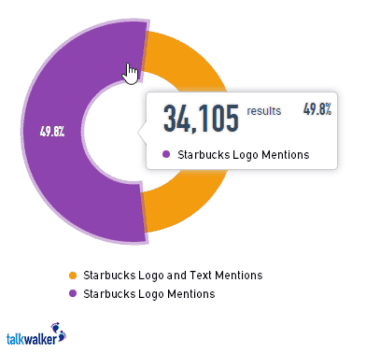 But how insightful is a hamburger? You can tell Coke that thousands of pictures with their logo also contained hamburgers, but chances are they know that already.
What can you get that's impactful on KPIs?
3 Ways to Leverage Visual Listening
1. Analyze In-Image Sentiment to Drive Brand Positioning
If nothing else, visual listening unearths significantly more social posts that haven't tagged your brand, giving a clearer view on share of voice and more text for sentiment analysis.
But you can also go beyond text to run sentiment analysis on the image itself.
Pictures reveal at a glance when, where and how consumers interact with your brand.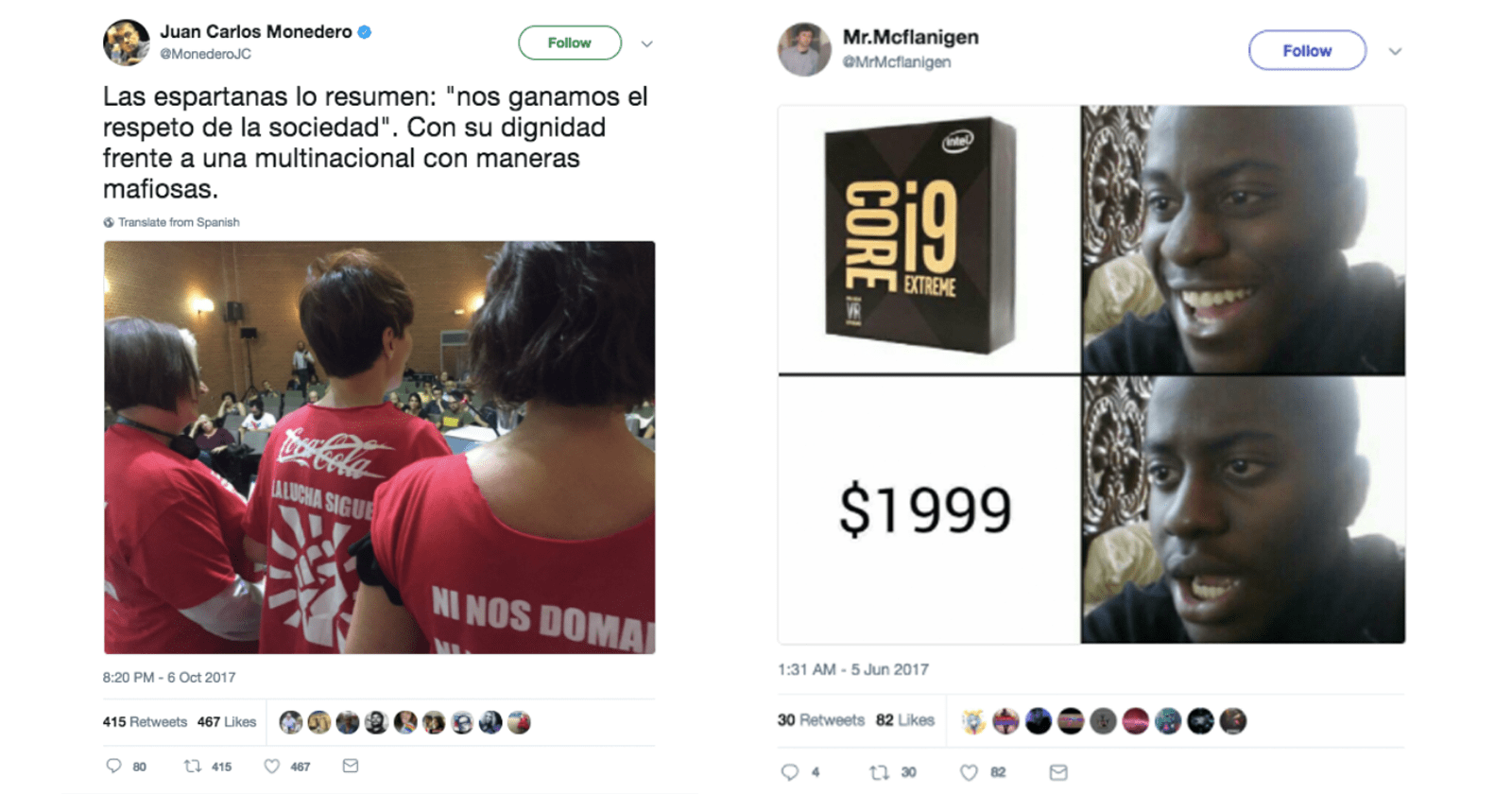 Computer vision can be applied to images to understand the tone and thus your customer's feelings in that micro-moment.
Machine learning can identify the negative sentiment towards Coke in the photo above. Facial recognition can understand the man's shock at Intel's prices.
Use image recognition to analyze UGC pictures at scale to help drive your positioning strategy.
Delve into the context of a photo by classifying the scene in which a product is placed. Is it pictured at the beach, inside a cafe, or at a sports stadium? This context can highlight intangible attributes of your brand to differentiate you from competitors with functionally similar products.
For example, Calvin Klein Jeans are positioned sexy (associated with city life) while Levis Jeans are rugged (associated with the outdoors). Consumer express themselves through their brand purchases. Without these intangible brand attributes, both brands market jeans.
With visual listening you can understand your customer's brand perception and ensure your ideal positioning is being amplified by the social sharing of your target audience.

What's more, thanks to object detection, you can better understand real customer use cases.
Pabst Blue Ribbon, an American brewery, used visual listening to uncover that beer drinkers love to toast with their dogs. They used this serendipitous insight to craft an engaging social media campaign geared toward beer drinkers and their pets.
2. Grow Your Brand by Identifying Partnerships & Assessing Sponsorships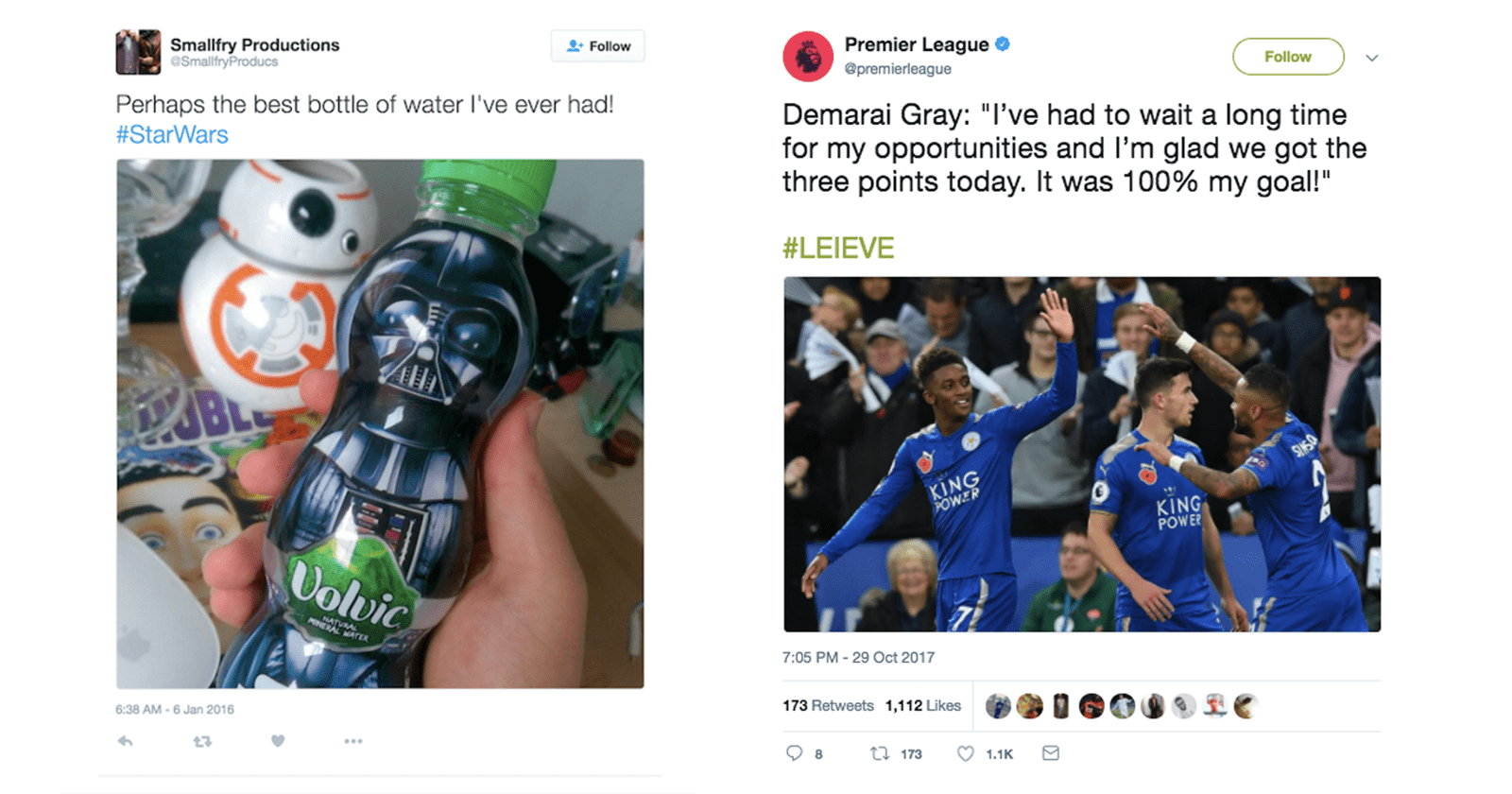 Use visual listening to understand what other brand are often visually associated with yours, to build partnership & reach a wider audience together. Or if your already have partnerships in place, measure how your customers respond to it.
Because visual listening will unearth more UGC, you can better measure sponsorships ROI.
Say you sponsor a sports team, your logo is not only viewed live in the stadium, it's also featured in all the social media coverage associated with the event.
Logo recognition can quantify that sponsorship value in terms of audience engagement.
3. Find Product Advocates and Influencers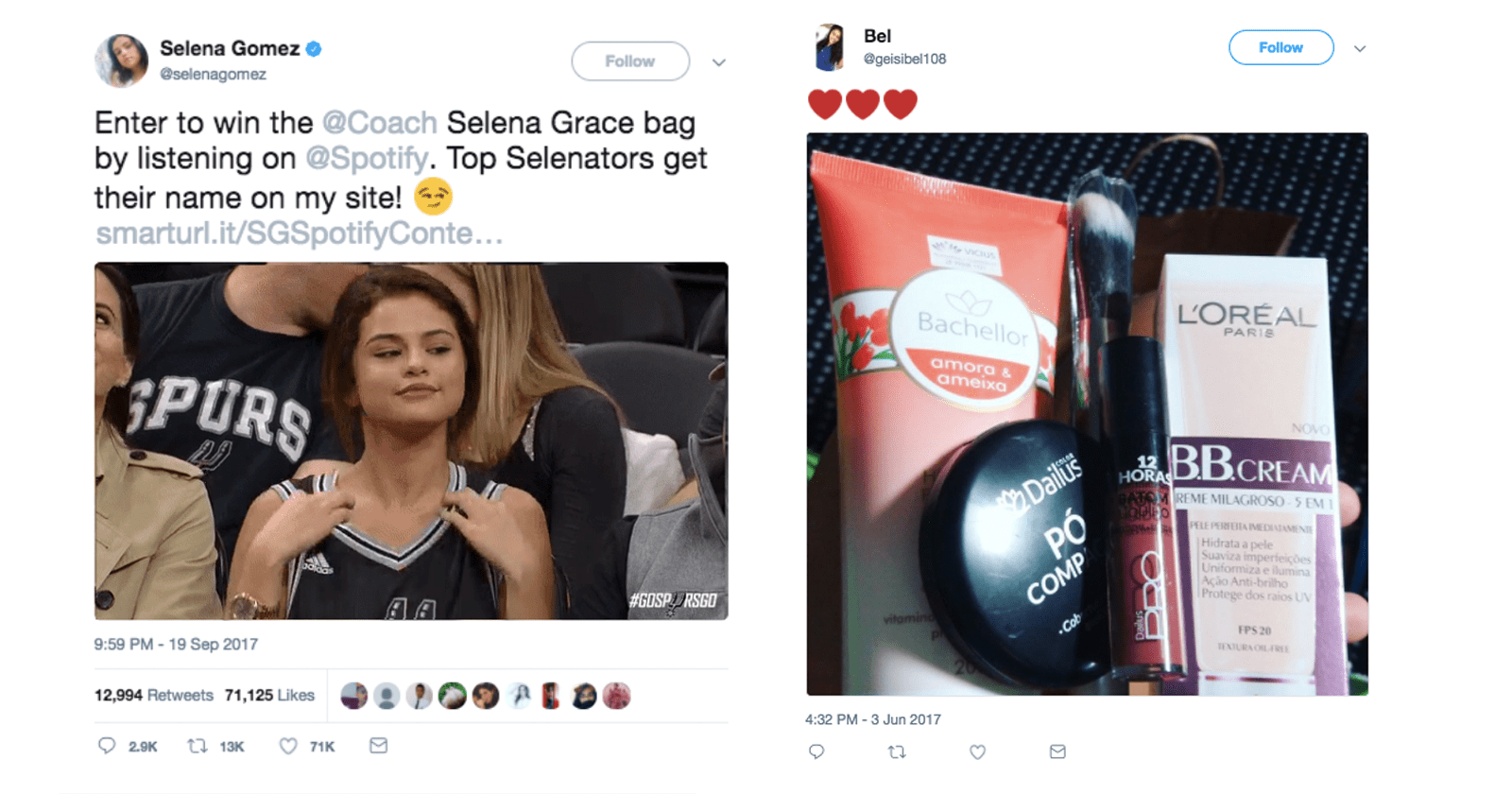 You no longer need to rely on users mentioning your brand or tagging social posts. Visual listening can identify brand advocates and influencers in the additional UGC it uncovers.
There may be hugely impactful posts you are missing – like Selena Gomez being paid by Coach and Spotify, but accidentally also advocating Adidas.
Once you find UGC of your brand, ask permission to leverage it in your marketing materials.
Olapic reports that visitors who engage with UGC and two-times more likely to convert. So showcase your community's photos on your website, in your newsletter and republish on your own social channels.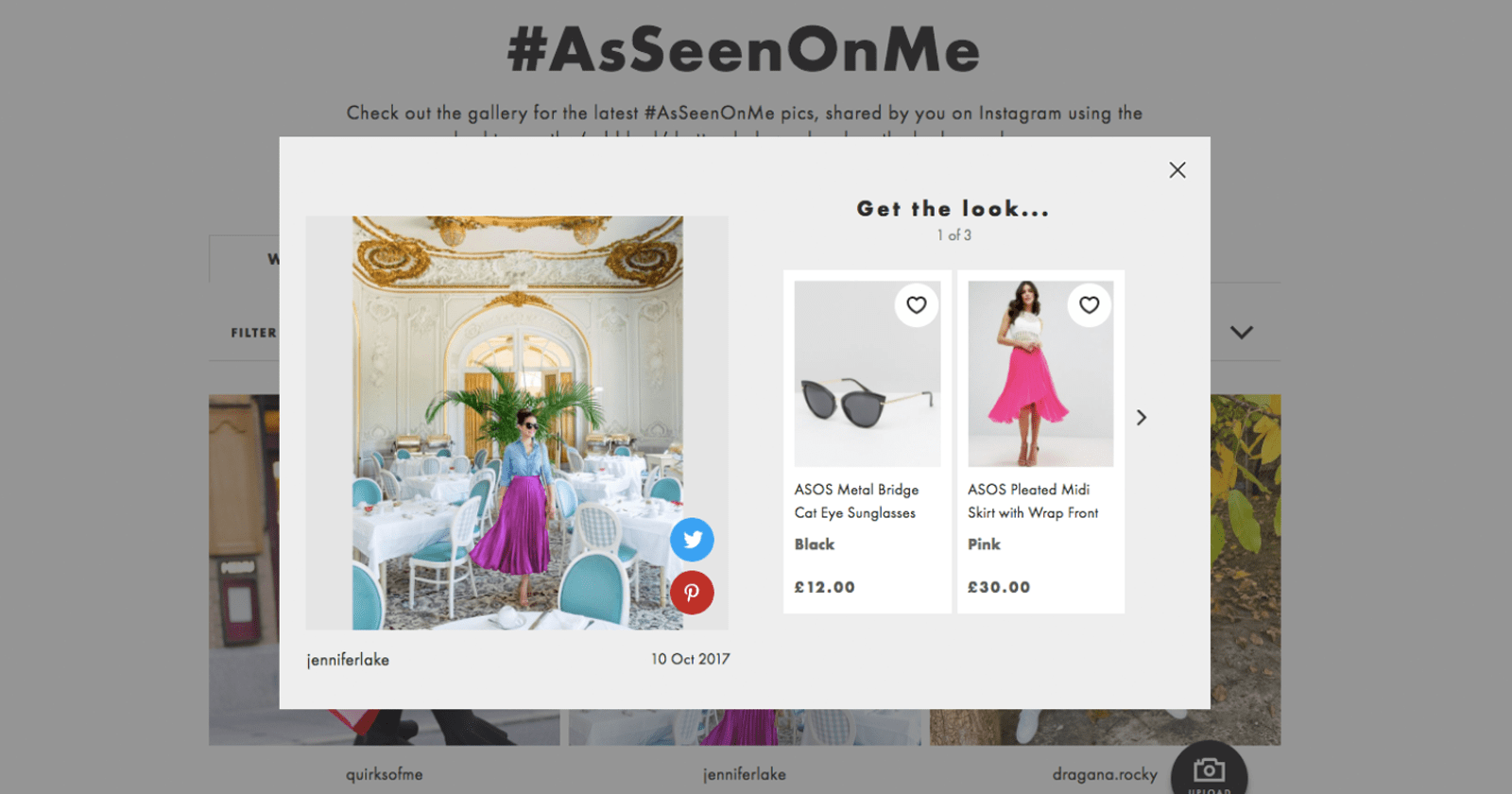 To really push sales, you can leverage visual search to use the UGC as a deep link to the product page for purchase. This tactic not only saves on the costs of content curation but also allows your social content to act as a visual customer review and assist to drive conversions.
That is how you turn selfies into sales.
The Best UGC Distribution & Visual Listening Tools
I'd love to say one visual listening tool is the best, but as with most marketing tools, there are a few considering for what 'best' means for your brand.
Here are six companies to consider based on your needs: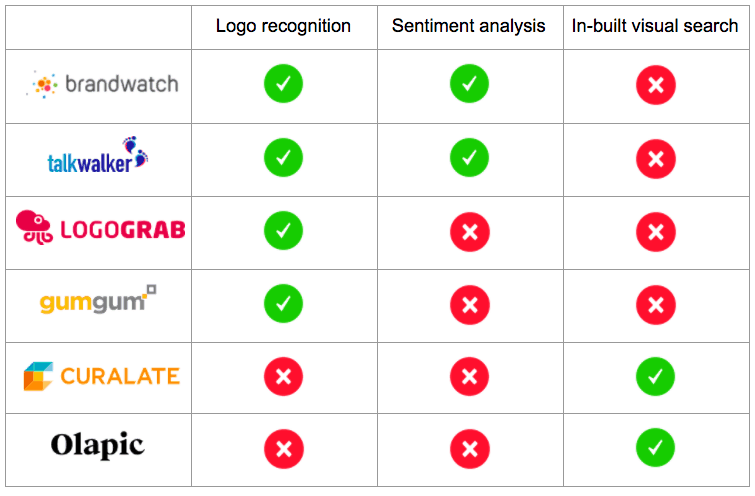 Changing touch points in the buying process, with more direct sales expected through social networks, means visual listening is set to take off. Now is the time to invest in image recognition.
More Visual Marketing Resources:
---
Image Credits
Feature Image: Created by Jes Scholz, October 2017
Starbucks Donut Chart by TechWalker
Logo Recognition Example Image by LogoGrab
Screenshots taken by Jes Scholz, October 2017