Just point, shoot, and search. There's a new way to search the internet and social media — through your smartphone, thanks to Google Lens and Pinterest Lens. Google and Pinterest are rolling out similar lens apps letting users snap a photo using their smartphone camera and learn more information about it.
Is this redefining how we search for answers using the visual side of search engines and social media? We're moving from a mobile-first world to an AI-first world, according to Google CEO Sundar Pichai, and Google Lens will be one of the game changers.
"AI and AR go hand in hand in search marketing. Sogou has been very successful in using these technologies to sell to consumers in China, so it's great to see Google and Pinterest using them too," said Cathy Hackl, expert in VR and AR marketing. "The ability to identify items is key, but merge that with the capability of overlaying digital elements onto the real world and you have major disruption in the world of search, social, and content marketing."
What Is Google Lens?
Google Lens is the AI version of Google's reverse image search, backed with a twist of AR and machine learning power. It will make our smartphones even more addictive. The big picture is, when using Google Lens, your smartphone camera won't just see what you see, but will also understand what you see to help you take action.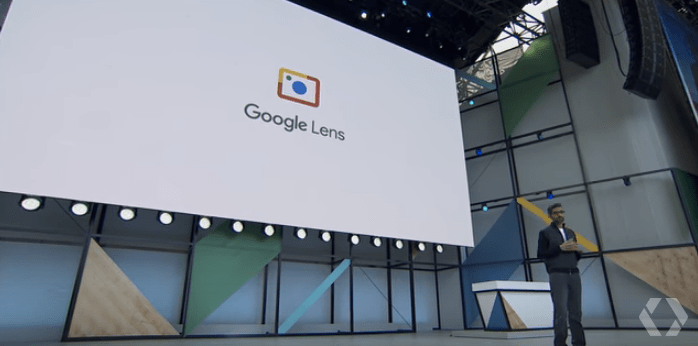 How to Prepare for Google Lens
AI technology is more than just testing the waters and seeing if the trend sticks. It's here and now.
Integrating AI into search marketing is inevitable. Getting started with Google Lens means covering some search optimization basics.
"When it comes to image search, there are exciting possibilities to explore for marketing opportunities. The buying intent may be very high on product searches. Brands need to make sure their information is clear on their products," said Joe Laratro, Google certified marketing expert and CEO of Tandem Interactive.
A strong logo is more important than ever: Pay attention to branding and logo use on products, signage, and even non-products. A restaurant should make sure its outside branding is visible from the street view.
Pay attention to alt tags: Websites should have metadata groomed and cultivated with detailed information in the alt tags for pictures, text surrounding photos, and anchor text in image links.
Optimizing the Exif data: This photo file data (e.g., image size, date/time taken, and geo coordinates) is automatically populated. Optimizing this data is a more advanced image optimization tactic, Laratro said.
Spikes of new traffic to non-product-based Searches: The Google Lens feature can create a promising traffic channel for non-product based searches, making the same case of reviewing alt tags and image optimization including file names using keywords.
In addition to all the commercialized opportunities where marketers can use Google Lens, there are also productivity opportunities. Lens will allow us to point, shoot, and schedule a call into our calendar, hook us up with Wi-Fi, and more.
Google Lens will make its way into our smartphone lives via Google Assistant and Google Photos in the near future.
Pinterest Lens: A Snap Closer to Save It, Buy It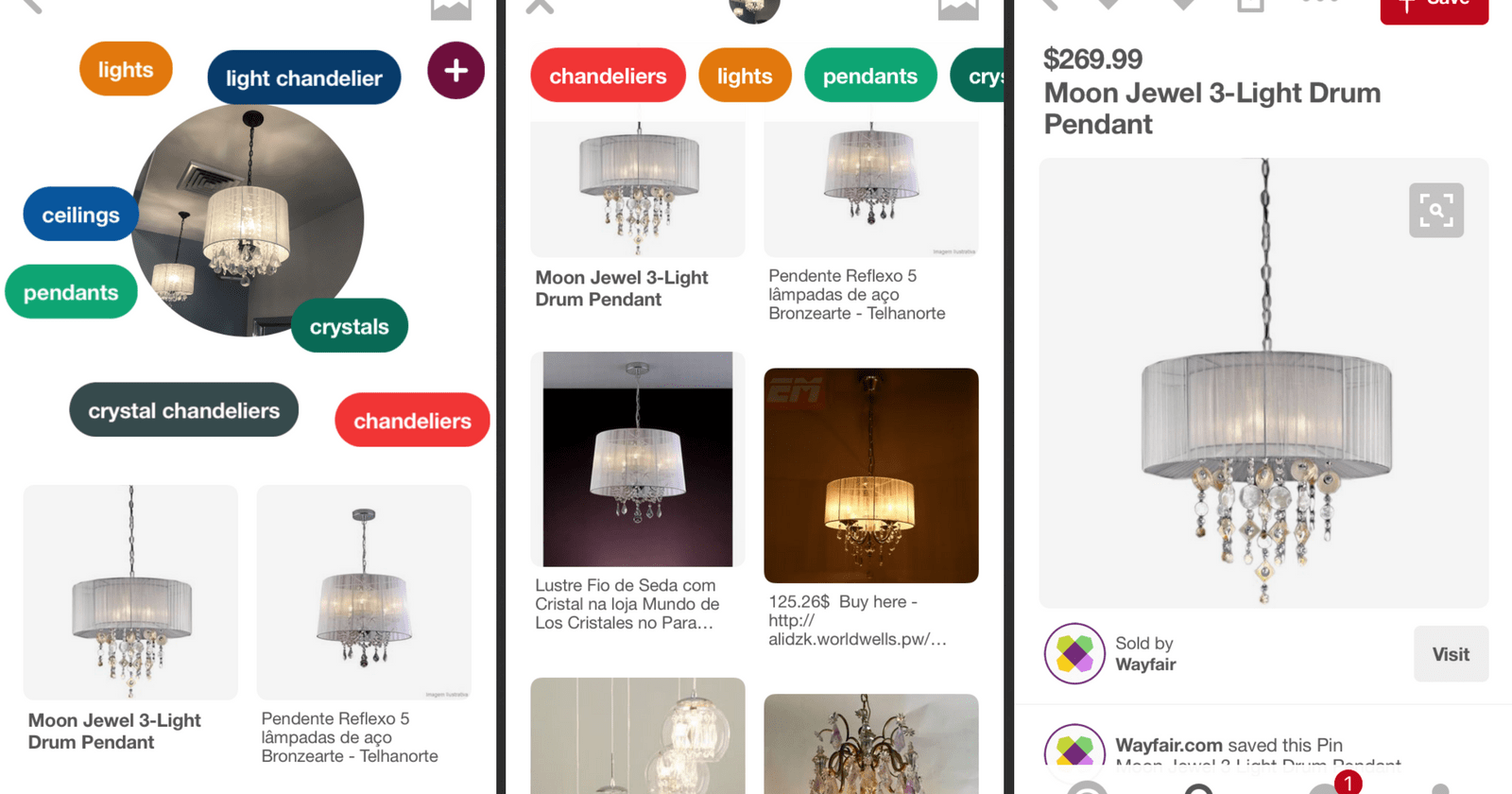 With 175 million users a month and more than 75 percent of usage taking place on mobile, most Pinterest addicts are already in the planning mode and ready to engage and buy. According to Pinterest, when someone hits the "Save it" button to a board, they are getting closer to purchase.
Pinterest Lens app, now available for Android and iOS users, gives Pinterest pinners the unique ability to search for anything through visual search in real-time or from their camera roll. This gives brands a new way to get in front of their audience with a new type of exposure and reach.
"The key for brands is to ensure you're the answer in their Pinterest search," said Kim Vij, Pinterest consultant and the host of the weekly Twitter chat #Pinchat.
How to Optimize for Pinterest Lens
You see a lamp you love at a hotel. Just take a quick pic via the Pinterest app and sure thing, a mecca of interesting lamp results pop up to start your research.
In awe of a fabulous centerpiece at a wedding? Take a picture and upload it to Pinterest Lens later to see all the related ideas.
Love bacon? Yes, it's possible to point and click to find bacon-related recipes.
Speaking of food, Pinterest is the largest mobile destination for foodies boasting 15 billion recipe ideas! If you are a food-related brand, Pinterest Lens is more than interesting — it's a recipe for success.
The Pinterest business blog notes, "Our new visual discovery technology already recognizes objects in more than 750 categories. And now we're rolling out a way for Pinners to Lens an entire dish and get recipes to recreate the meal."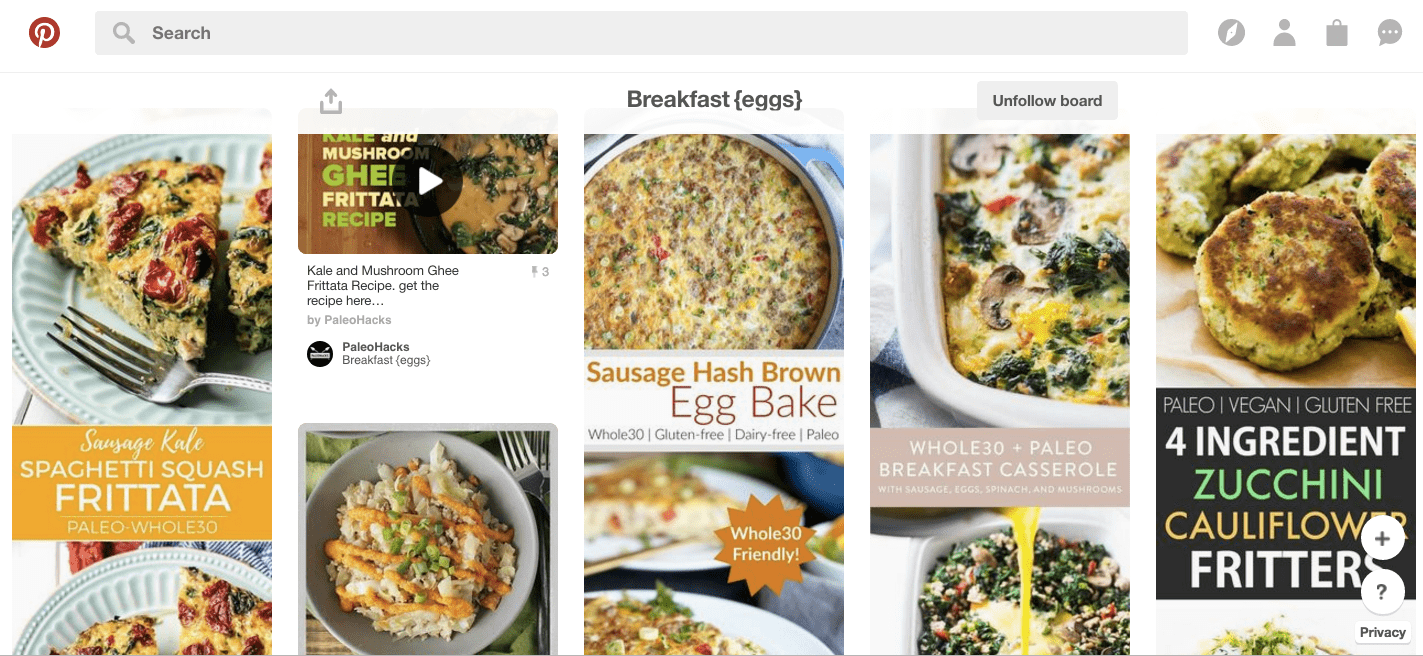 So niche food brands already using rich pins for recipes such as PaleoHacks can now optimize for Pinterest Lens by making sure all its great paleo diet focused recipe content is on Pinterest.
"The Pinterest Lens app makes it that much more critical to ensure all of our content is optimized for us to leverage this incredible opportunity," said PaleoHacks CEO David Sinick who reports Pinterest as a top source of referring traffic.
Pinning Procedures and Possibilities
"Having pins saved to your Pinterest account that relate to your product line and content is key," Vij said. "Also make sure you know how your images rank visually to help you stand a step ahead of your competitors."
Check your Pinterest search visibility. "Use the Pinterest Lens to see the keywords that come up when your brand's image is scanned with their visual search engine. You can often see if your image is on key by looking at related pins below your pins," Vij suggested.
Use popular search terms to help create a strong visual identity. You should be working on how to build a strong visual identity based on popular terms of search on Pinterest. Do this with keyword research and testing out search results.
Teach your community how to use it. The bonus element is to consider teaching your community how to use Pinterest Lens to easily find your pins. Embracing this method of search could be a key to your success on Pinterest in the future.
Pinterest Resources for Business Success
Whether you're just getting started on Pinterest or need a makeover, check out some of these resources to stay "pin" the know and gain an your Pinterest Lens advantage:
Conclusion
Google's Pichai reminds us we are well beyond the keyboard and mouse era. Vision-based computing, via our smartphones, is leading us into the next era of search and social revolution.
With Google Lens and Pinterest Lens, marketers have an opportunity for full exposure when an optimized search and social strategy is developed.
Image Credits
In-post Images: Screenshots by author. Taken June 2017.