Sharing is the currency of social media. Getting more social shares for your content can grow your site, business, or product and can lead to more engagement. But among all the social media platforms out there, which one can get the most number of shares for your content?
According to a survey sent out to Search Engine Journal's Twitter audience, the most used social share button is Twitter, with more than half of SEOs using it to share content. This was followed by Facebook, with 35% of SEOs using it for social shares. Email/SMS and Buffer were at the bottom of the list, with only 6% saying they use email/SMS and 4% using Buffer for social sharing.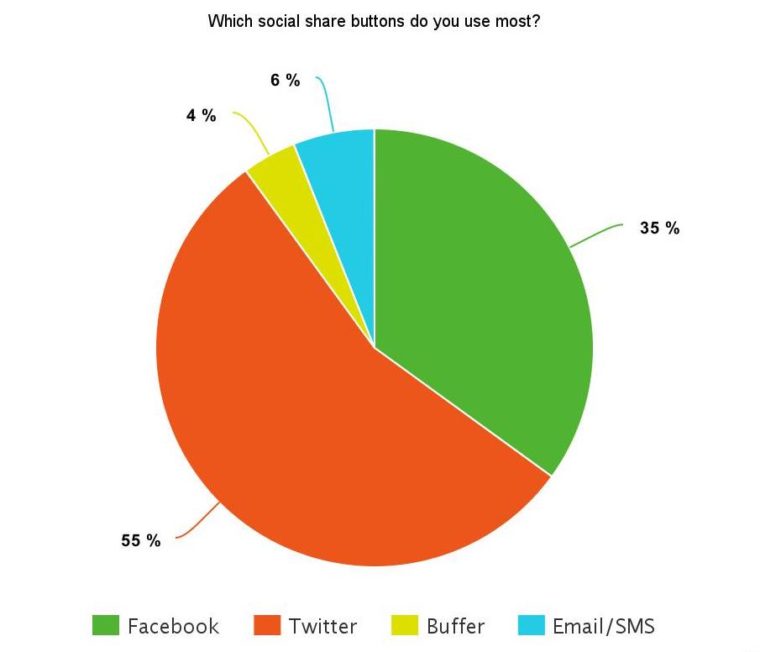 It's no surprise that Facebook and Twitter are on top of the polls. But why is Twitter used more than Facebook?
Twitter vs. Facebook
Twitter has 313 million active monthly users, and that number holds a lot of potential when it comes to getting content read and shared. But Facebook has even an even larger user base than Twitter, with 1.7 billion monthly active users. So with more users on Facebook, why is Twitter leading the pack?
Twitter's text-based stream makes it easier to produce content and its real-time feel encourages brands to post more often on Twitter. You can add your own commentary to accompany a link or post you're sharing on Twitter. You can include a hashtag, and using the right hashtag can drive traffic and engagement. Sharing using the Tweet button allows for more engagement and brings more value to the user.
Facebook's mix of text, image, and video makes it more time-consuming to create content. The Facebook share button also populates your post with the necessary text, image, or video content so there's no need for you to include anything else. This makes sharing easier but can make users feel like they're not adding any value to the content they're sharing.
Email/SMS
Email used to be the way to go when sharing content but it's now been surpassed by other social media platforms. However, there are still ways to use email to share content and get results, such as using automated workflows for email marketing.
Texting has been on the decline, which explains its low share of the polls. As alternatives, you can use messaging apps like WhatsApp and Snapchat which are emerging ways of sharing content.
Buffer
Buffer has more than 2 million users, only a fraction of what Facebook and Twitter have. But don't discount Buffer just yet. When used right, this social sharing scheduler can actually boost your social shares.
Have Your Say
Which social share buttons do you use most? Are the results of our survey more or less in-line with what you would have expected? Have your say in the next survey by checking out the hashtag #SEJSurveySays on Twitter for future polls and data.
Image Credits
Featured Image: Faithie/DepositPhotos
In-post Image: Meta-chart by Caitlin Rulien