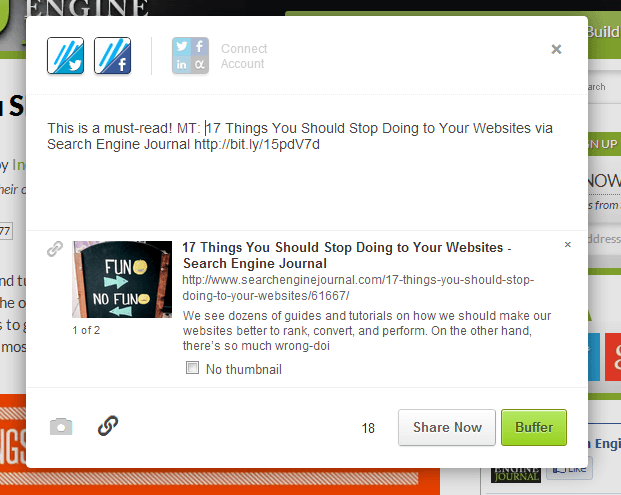 When it comes to sharing on social media sites, you can be free from the real-time grind of sending as you type. There's no need to do all your social media posting while sitting at a screen, thanks to a number of apps that do the job for you.
One of the best is Buffer, a social sharing scheduler that works with Twitter, Facebook, and LinkedIn. Buffer builds a queue of your content and sends it to your connected profiles throughout the day, whenever you deem best. You can set your own schedule (or let Buffer do it for you) and follow-up later with Buffer's suite of analytics built directly into your dashboard. The service saves time, energy, and sanity in trying to keep up with social media's constant content creation. The service is free, up to two accounts, and there are paid plans for those seeking more profiles and more features.
Looking for inspiration for effective Buffer uses? Here are 11 ways Buffer can boost your social sharing.
1. Find your perfect Tweeting schedule and sync with Buffer
Websites like Tweriod and SocialBro can analyze your Tweeting and come up with a schedule that is ideal for optimizing your Tweet times so that you're sending when your audience is listening. Buffer connects automatically with these sites so that your Buffer send schedule matches your Holy Grail of posting.
2. Get Buffer in your browser and schedule posts from anywhere
The Buffer browser extension for Chrome, Firefox, and Safari lets you clip a web page, photo, or text while browsing. No more copy and paste. Lots more efficiency, as you never have to leave the page to share what you've found.
3. Buffer straight from your favorite RSS reader
Clip your favorite stories as you read them thanks to Buffer's compatibility with the leading RSS readers. Check out this post by Buffer co-founder Leo Widrich for five Google Reader alternatives—including Feedly and Reeder—that Buffer has covered. And if you're into Google Reader until the bitter end, there's support for it, too.
4. Put Buffer and IFTTT to work for you
Want to schedule a tweet each time it rains? Want to broadcast each of your Evernote shares onto your Facebook page? Tap into the power of IFTTT and Buffer to make it happen. IFTTT is a free service that lets you make connections with apps and sites based on a conditional statement—if this, then that. For example, if it rains, put a Tweet in my Buffer. If I share publicly on Evernote, have Buffer add it to my Facebook schedule. There is a section on the IFTTT site for user-created examples to get your creativity juices flowing.
5. Buffer with your email
If you're struck by a moment of inspiration and email is all you have near, send your post to your Buffer email address—message in the subject line, link in the email body—and Buffer will add it to your queue. Power users can even attach commands to specify which accounts to buffer and whether or not to post right away.
6. Clip, create, and buffer from your phone
Buffer provides native apps for iPhone and Android devices so you can take advantage of the service wherever you are. The apps help connect popular services like mail, Flipboard, and Pocket to turn your phone into a super sharer.
7. ReTweet when you want to
Buffer works right within Twitter so you can snag your favorite Tweets from your feed and schedule a ReTweet for later. It's ideal for those who log on only a few times each day and tend to clog their Twitter timeline with RTs when they do.
8. Share your Facebook favorites on your own time
Like its Twitter integration, Buffer also lets you queue your Facebook finds to post when you see fit. Share to your own timeline or your Facebook page, as Buffer supports both.
9. Track stats in your Buffer dashboard
Find out how many clicks, likes, ReTweets, and shares your content got with Buffer's built-in analytics. The stats give you all you need to know and nothing more, delivered in a clear and concise way inside your dashboard. The best content you share receives a "Top" badge, which is good incentive to keep Tweeting and Facebooking.
10. Buffer your blog posts through WordPress
Each time you post through your WordPress blog, add your writing to your Buffer queue with the Buffer WordPress plugin. You control which profiles get the posts, and the plugin grabs media and more to optimize each post for each social network.
11. Increase shares on your site with the Buffer button
Along with the standard Twitter, Facebook, Google+, and other share buttons found on blog posts, the Buffer button lets readers share content right away or on a schedule with just two clicks. To make life easy on the blogger, the Buffer team developed the Digg Digg WordPress plugin, which adds a menu bar of share buttons, including Twitter, Facebook, Google+, and Buffer. To see it live on a website, look to the left of any Search Engine Journal post.
Conclusion
Buffer's social scheduling app can be lifesaver for those feeling the crush of social media responsibilities. With a myriad of connected tools and services and an easy-to-use interface, Buffer has become my go-to tool for managing Twitter and Facebook posting. If you're looking to improve your experience with social media, this is the tool for you.