It's not uncommon to hear marketers complain that "AdWords doesn't work." Sometimes you'll hear this from major enterprises that should know better (looking at you, eBay). We also hear it a lot from smaller businesses – they want to make AdWords work for them, but they haven't figured it out yet, and they're about to give up.
Sound familiar? If you're struggling to get better ROI from AdWords, you're probably making one of the below mistakes. We analyzed the AdWords accounts of 500 small and medium-sized businesses to get a clear picture of the state of PPC in 2013. The outlook isn't so great – we found that the typical small business advertiser is wasting over 25% of their annual AdWords budget. And some accounts are wasting up to 40%!
Here are the top four areas of PPC that need the most improvement – and what you can do to fix the problems.
Problem #1: Not Spending Enough Time in Your Account
The number 1 reason that most AdWords advertisers fail is that they don't log in enough. It's straight-up laziness. If you want to get ROI from AdWords, you have to actually log in and do work in your account!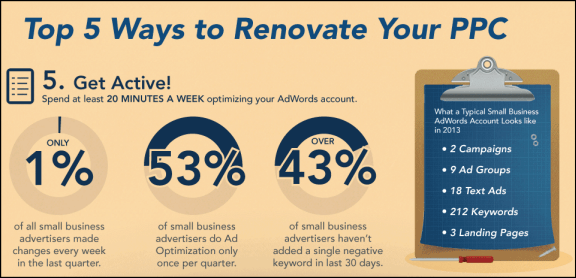 In our survey, we found that:
Only 1% of small business advertisers work on their account every week
Over half (53%) of SMBs only optimize their ads once per quarter
Over 40% of advertisers haven't added a single negative keyword in the past month
This is pretty abysmal.
How to fix it:
Commit to logging into your AdWords account at least once per week. Even 30 minutes to an hour an day will make a huge difference. Put out any major fires, then spend some time making optimizations, such as:
Testing new ad copy
Adding extensions to your ads
Creating a new landing page
Setting new negative keywords
Etc.
Problem #2: Bad Landing Pages, and Not Enough of Them
The landing page is your last chance to turn a click into a conversion. Even if you get everything else right in your campaigns, dropping the ball on your landing pages will kill your ROI. The small businesses we looked at need a lot of help in this area:
More than 1 in 4 AdWords accounts send all their PPC traffic to the same landing page.
1 in 5 small businesses send all their PPC clicks to the home page.
Less than half of small businesses have conversion tracking installed.
How to fix it:
Try to create a unique landing page for every ad group. Make sure the messaging is relevant to your ads. Don't send all your traffic to one generic page!
A/B test your landing pages to optimize conversion rates. Try changing your headline or call to action, moving the location of the form or color of the button, or adding visual cues that "show" visitors where to go on the page.
Problem #3: Poor Mobile Optimization
Google has pulled out all the stops lately when it comes to mobile advertising, launching new mobile ad types and generally making it much easier for advertisers to target mobile traffic and make the most of their mobile spending. But most small businesses aren't taking advantage of the opportunity:
Only 5% of SMB accounts have call extensions in all their mobile campaigns. (Call extensions increase mobile CTR by 10%!)
Fewer than 20% of AdWords accounts have mobile-preferred ads.
Now that all accounts have been auto-upgraded to Enhanced Campaigns, you're advertising on mobile whether you want to or not. The least you can do is make sure your mobile clicks count.
How to fix it:
Write mobile-preferred ads – Context matters. Mobile users need a tailored ad experience. For example, you might want to use a different call to action, since mobile users are often closer to the end of the conversion funnel.
Enable call extensions – Most mobile conversion are initiated by a phone call, so make it as easy as possible for users to call you.
Analyze your mobile CPA – For some businesses, mobile clicks are actually worth more, so allocate your budget accordingly.
Problem #4: Low Relevancy, Low Quality Scores
Quality Score is Google's way of measuring how relevant your ads are – to the keywords you're bidding on, to the users who see them, to your landing pages, and to whatever it is you're actually selling. If everything is relevant across the board, you get more clicks, and that leads to higher Quality Scores.
Low Quality Scores are a sign of low relevance. For example, if you have an ad for high-heel pumps that shows up when someone is looking for pool pumps, your ad is irrelevant to what they really want. Unfortunately, "sort of relevant" isn't really good enough – if someone is looking for high-heel pumps and you send them to the home page of your giant online shoe store, they're going to click away and not convert.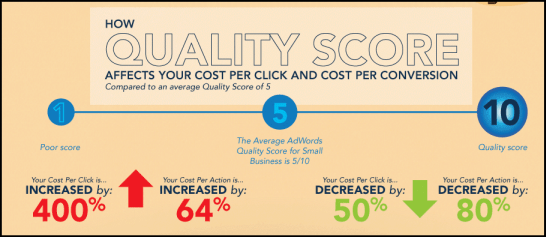 The average Quality Score for small business AdWords accounts is 5. That could be worse, but it could be a lot better – for every point that you can raise your Quality Score above a 5, you save more and more money. With a QS of 10, you save 50% on your cost per click and 80% on your cost per conversion.
How to fix it:
Regularly incorporate new keywords into your account. As you do so, break down larger keyword groups into smaller, more targeted clusters.
Run multiple versions of your ads, then keep the best performing version.
Enable ad extensions. They reliably increase click-through rate and Quality Score.
Bid on brand terms. These high-CTR ads lift the average Quality Score of your whole account.
The Silver Lining: You Can Do Better
OK, I just pointed out some of the major problems that we're seeing in small business AdWords accounts. But let's end on a positive note. The good news is, since the bar is so low, it shouldn't be that hard for you to improve! Armed with these insights into what areas in your PPC account need the most work, you can easily pull ahead of the pack. Doing just a little more than your competitors can put you way ahead in the game.
P.S. Enter to Win $25,000 PPC Marketing Makeover
We're running a contest to give one grand prize winner a free AdWords budget for 2014 – $25,000! Learn more here!