Service businesses are experiencing a great increase in advertising costs and this is creating the necessity of maximizing the conversion rate in order to reduce the overall cost per lead.
Just think about lawyers. Their cost per click (CPC) on AdWords can be of up to $100 (or even more) and this is constantly increasing. Lawyers need new advertising solutions to increase the amount of leads and decrease the cost per conversion.
Generating a new lead generation system does not necessarily require a new advertising tool. Service businesses would love to receive phone calls because they are generally easy to convert and enable personal contact with customers.
Before the launch of enhanced campaigns, Google AdWords gave you the opportunity to create a click to call campaign for mobile devices only. Setting it up was easy:
Create a new campaign targeting mobile devices only (excluding desktop and tablet devices)
Set up a call extension enabling only the clicks on the phone number and not the headline
You were ready to go!
Google recently launched enhanced campaigns. Among other changes, Google does not allow you to target mobile devices without targeting desktop and tablet devices. This means that you cannot create mobile campaigns only.
How will all of these small business owners set up click to call campaigns without wasting money into desktop and tablet devices?
There is a smart solution that enables you to do just that. First of all, let's think about the following key points that we will leverage on to build our click to call campaign:
Desktop clicks cost more than mobile clicks: Every industry is likely to have a much higher CPC cost on desktop devices. Mobile clicks are usually cheaper by a good 30% to 40%.
Enhanced campaigns have custom mobile devices bid variation: You have the possibility to modify your mobile bid between a -100% and a +300% . For instance, a $10 desktop bid could generate a mobile bid ranging anywhere between $0 (-100%) and $40 (+300%)
A low CPC bid on desktop and tablet devices is not likely to generate many impressions. Still, you will be able to shape the mobile bid starting from a low desktop bid and get a great amount of mobile impressions.
Based on the 3 points above, we can move forward with the following strategy:
Create a new campaign, go into settings, and exclude the display network
Set up a mobile bid of +300%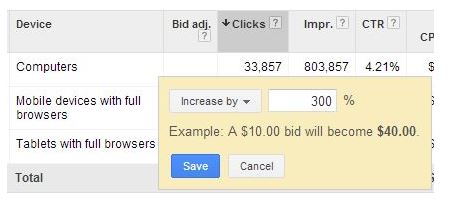 What is the CPC you want to bid for mobile devices? Divide it by 4 and use this number to set up your basic desktop bid (which can vary based on the ad group or set of keywords you are working on)Desktop Bid = Mobile Bid / 4
Make sure to not have custom keyword bids to start with (this is particularly relevant in case you created the new campaign copying an old one which is targeting desktop devices and might have custom keyword bids).
Set up a call extension that enables clicks only on the phone number. Make sure to exclude headline clicks.

Monitor the campaign every 7 days to tune up the desktop bid and maximize the mobile exposure while minimizing the desktop one
Just keep in mind that the call extension is most likely to show up if you are among the first positions on a mobile device and that it could appear next to the headline of an ad. If a customer clicks the call extension, Google will consider that a headline click even though users are actually clicking on the phone number. If the call extension does not appear, your headline becomes clickable and will direct to the landing page and therefore not enabling the customer to call you.
Once the setup is complete, you will have put in place a system that maximizes the number of calls you can generate for your service business.
Conclusion
Many businesses are struggling to get extra and cheaper leads. Generating phone calls is fundamental to maximize the effectiveness of an advertising budget. As long as you know how to, Google AdWords gives you the opportunity to create click to call campaigns that will be worth it for all service businesses.