First of all, let me start with a little disclaimer that I doubt about the ethics of the tool reviewed below. I for one recommend using it:
To research your (client's) site neighbors (It is not confirmed officially but I have seen plenty of sites being treated the same by Google – and the only thing that connected them was Google Analytics or Google AdSense. Thus checking what other sites can be associated with your (client's) one is very beneficial);
To research your competitors' tactics (Your competitors may be owning hundreds of niche sites to help in link building you may want to know about. Or they may be running some related side projects like social media communities that may inspire you);
To discover networks of sites (It's a good idea to research your future link neighbors before arranging a guest contribution for example).
I don't advise though to use this tool for any malicious purposes.
SpyOnWeb is a free online tool (requiring no registration) that lists sites (possibly) belonging to the same owner based on:
Same Google Adsense ID;
Same Google Analytics ID;
Shared IP address.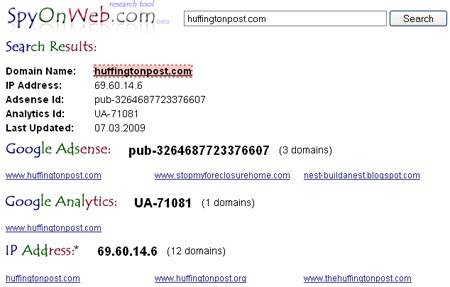 I've seen similar tools before but they were all paid, so I was quite impressed to see this free one. Too bad they do not have any FireFox addon, giving you some data snapshot while you are browsing the web.
The tool was reviewed under SEJ Disclaimer.