According to a joint study conducted by Amárach, the Marketing Institute and MCSquared, Irish marketers predicted 2014 to be better than the previous six years. Respondents reported a 30% growth in social media, as well as a 19% increase in content marketing. Over the next years, however, it's expected that content marketing will continue to increase by another 34%. Despite 24% of all marketing budgets being dedicated to digital in Ireland, there are remains some good news and bad news for marketers.
The good news? Consumers in Ireland actually spend more time and money online than the rest of Europe. In fact, 8 out of 10 Irish adults are using the internet on a daily basis. Even more astounding is that Irish customers are spending around €4 billion online every year. That amount is expected to skyrocket to €21 billion by 2017. And, when you consider out of Ireland's entire 4.6 million population, almost 3.5 million are registered online, you can easily see why Ireland is a potential goldmine.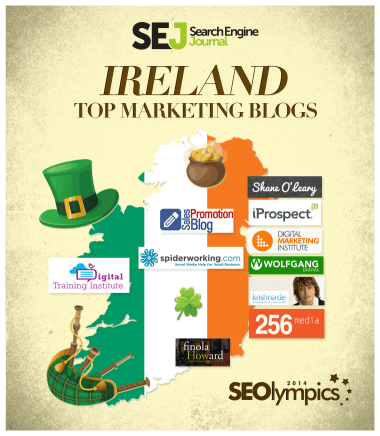 Here's the problem, however. 75% of these online sales are going to overseas vendors. Siobhan McGinty noted on Sage, "The reason for this is simple. Irish businesses do not have the web presence their global competitors have." This is a problem for Irish retailers when "74% of consumers frequently research companies online" and "over 60% of consumers research online before making a purchase."
McGinty goes on to state the Irish retailers who have found success have done so because "they have developed a personality, and more importantly, they are engaging with their customer base, through social media or a company blog for example."
With this vital information in hand, and the opportunity to tap into such a rich market, we decided to see what kind of content is being discussed and shared in "The Emerald Isle". After several hours of research, we compiled the following list of marketer blogs located in Ireland based on subjective criteria like voice, content strategy, and quality.
If we forget to include a blog you feel is worthy of this list, please feel free to add your suggestion in the comment section below.
Finally, the following list is no particular order. Enjoy.
Shane O'Leary
Shane O'Leary is a twenty-something advertising planner and digital strategist based out of Dublin who has already put together an impressive resume. As a planner at Target McConnells, which happens to be one of Ireland's leading 'through the line' agencies, Shane helped develop brand strategies for high-profile clients like Vodafone, Diageo (Guinness), Croke Park, Unilever (Knorr), Tesco, McCain,Topaz Energy, and An Post. He was formerly a Content Producer for Ireland.com and Account Executive for Simply Zesty. Shane has also contributed to publications that include Sunday Business Post, Digital Times, Digital Times, TheJournal.ie, and Brand Republic. He also lectures at the Digital Marketing Institute.
When he's not sharing his knowledge about marketing and technology with his visitors, O'Leary is a devout Leinster Rugby fan and foodie.
Recommended Blog Posts
Founded in 2008 by Ian Dodson and Anthony Quigley to help educate Ireland about digital marketing, the Dublin-based Digital Marketing Institute has since expanded its educational program to over forty countries in the world. In its six years in existence, DMI has trained some 11,000 students in the field of digital marketing. Courses include: Professional Diploma in Search Marketing; Professional Diploma in Social Media Marketing; Professional Diploma in Digital Marketing; Postgraduate Diploma in Digital Marketing; and Masters in Digital Marketing – which are all accredited by the Scottish Qualifications Authority.
DMI also runs a blog helpful for students and non-students who are looking for additional advice and techniques to assist them with all of their digital marketing needs.
Recommended Blog Posts
Over the last couple of years, Amanda Webb has created an extensive blogging network that began with co-founding the KLCK Bloggers Network in 2010 – which helps businesses and individuals with blogging and social media. In 2012, Amanda founded Blog Awards Ireland as well. She also runs the County Kildare-located Spiderworking to assist small businesses with social media strategies through training and support.
Prior to Spiderworking, Amanda was an Assistant Director in the Irish Film Business and founder of Feelgood Organic Hampers. Her blogs have included in Social Media Examiner's International Top 10 Social Media Blogs in 2011 and 2012, as well as The 2012 Social Media Awards. Her video blog entry also reached the finals of the 2010 Irish Web Awards.
Recommended Blog Posts
Back in 2007 Alan Coleman fell in love with Google Adwords, which lead him to quit his job and launch OnlineAdvertising.ie. After perfecting his talents, mainly through Chess and Fantasy Football, Alan created and managed a number of successful AdWords campaigns for his clients. After recruiting a small, but top-notch, team OnlineAdvertising.ie became Wolfgang Digital in 2012.
Over the years, this Dublin-based marketing agency has been the recipient of the Gold medal for "Best Digital Marketing Agency" and Gold, and Silver, and Bronze in the "Best Search Category" in the 2011 Digital Media Awards. The team is also the only agency in Ireland to have a campaign published by Google as a "Google Success Story," of which they now have four.
Recommended Blog Posts
Will The iPhone 6 Impact Google Search Results?
5 ways to Ctrl Z Creative Block
Headquartered in Dublin, iProspect is a digital marketing agency that specializes in SEO, PPC, social media advertising, display advertising, and mobile advertising. Known for putting their customers first, iProspect has earned a reputation as an ambitious and cutting edge agency. Thanks to resources provided by being a part of the Dentsu Aegis Network, iProspect has worked with global companies ranging from MasterCard, Kellogg's, and AIG. They've also performed case studies with Coca-Cola and GMC.
Besides articles that discuss everything from analytics to SEO to display advertising, iProspect has also an informative monthly blog series.
Recommended Blog Posts
Krishna De is a speaker, mentor ,and digital marketing professional who trains and consults a variety of clients in social media, marketing strategies, and online reputation. Having lived and worked in thirty different countries across North America, Asia, and Europe, this Dublin resident has a unique and first-hand perspective on growing a business internationally.
Krishna is also a Google Expert Contributor and has been awarded the 'Best Business Podcaster' during the 2009 Irish Internet Association Net Visionary Awards, named one of the top 100 most proactive business women in Ireland in the Irish Entrepreneur Yearbook in 2007, and recognized by Alltop.com and The Junta 42 as a top content marketing blog.
Recommended Blog Posts
In 2013, Joanne Sweeney-Burke established the Digital Training Institute after noticing a need for personalized digital marketing training. Since then, Joanne has trained over 500 people in a wide range of content marketing disciplines. Joanne is also the author of the upcoming book Social Media Under Investigation, Law Enforcement and the Social Web.
Prior to running the Digital Marketing Institute, this Galway resident was a former broadcast journalist, PR lecturer, CEO, and founder of the PR agency Media Box. Joanne also writes thought-provoking articles that examines statistics and tactics on how to improve your online marketing strategy.
Recommended Blog Posts
Calling themselves Ireland's first content marketing agency, 256 is a strategic content marketing agency that was founded in 2013.With roots based as a publishing company, 256 Media uses past experiences and skills along with modern techniques to help create engaging content that can be spread across multiple platforms that range from print to social media channels.
One question you may have is how this Dublin-based agency came up with the name 256? The agency states that "if you multiply 2x2x2x2 enough times you eventually get to 256." More importantly, however, "256 is the typical number of different values in each colour channel of a digital color image."
Recommended Blog Posts
Finola Howard is a Waterford resident who has an interesting marketing and advertising resume. Finola has been the Strategic Marketing Mentor and Trainer for small and medium-sized businesses for the Mayo Local Enterprise Office since 1999. She was also the co-founder of IrishBusinessWomen.com and CEO and Lead Strategist for The Marketing Table.
Since 2013, Finola has been working freelance to help companies in need of a brand and marketing strategist. She's also a proponent of Great Marketing Works, which means that a business should be economically sustainable, socially sustainable, and environmentally sustainable. Her blog is full of useful and practical advice that companies of any size should employ.
Recommended Blog Posts
6 Steps to Positioning Your Business for Success
How I Built a Daily Social Media Routine that Works
5 Simple Truths about Great Marketing
Web Sales Promotion Blog
Web Sales Promotion is made-up of a small team of specialists who assist clients with SEO, PPC, CRO, social media marketing, website design, and direct mail. Web Sales Promotion has worked with a diverse group of clients that range from Freshco Clothing, Leaflet Distribution Dublin, and Beautique No. 9. This Rochfortbridge based agency is also a partner with HootSuite, Google, Bing, and Constant Contact.
Their blog contains frequent updates focused on marketing strategies and techniques for businesses located in Ireland.
Recommended Blog Posts
Google SEO, Maximising Rankings and Organic SEO Results in Ireland
SEO Tips to Make Your Website Climb Google Ranks in Ireland
5 Marketing Techniques for Small Businesses That Don't Cost a Thing
Conclusion
There was our list of the best marketer blogs coming out of Ireland. Did we get it right? Or did we miss one or two that deserve recognition? If so, please share your favorite blogs in the comments.