Last week I listed a few useful Google bookmarklets for SEOs. This time I am looking at some more helpful browser bookmarklets that can come in handy for on-page SEO research and a quick view at essential site stats (to install any of them just drag it to your bookmark toolbar):
Domain information:
Alexa info – view Alexa general profile for the current domain.
Robots.txt – instantly access site Robots.txt page;
Whois bookmarklet – find domain information (via Whois.DomainTools);
AttentionMeter – view Compete.com, Quantcast, Google Trends, Alexa and Technorati stats for the current domain name.
Page SEO:
Page Headers – shows all headers for a current page (by Yoast.com);
Validate HTML – instantly access current page HTML W3.org validator;
HTTP Headers – Web-Sniffer.net header checker for the current page;
Edit Page – lets you edit the current page;
Word Frequency – highlight a word and see how many times it was mentioned on a page;
Wayback newest – shows you the latest copy saved by Archive.org;
Page Freshness – find out last modified date
Make a link for this page – instantly generate a link for the current page;
Highlight headings – shows you on-page H1-H6 headings;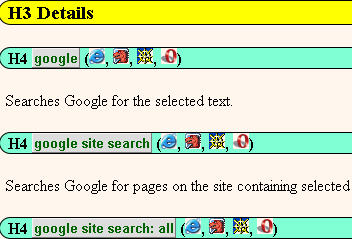 Highlight NoFollow – highlight links with "nofollow" attribute;
Show Meta – view page meta tags.
Sources: