ChatGPT has been a game-changer in assisting with daily digital marketing and SEO tasks.
To fully utilize this AI-powered chatbot, Chrome extensions are worth considering.
But with the constant emergence of new ChatGPT tools, it can be challenging to keep up.
Fortunately, I've done the heavy lifting and curated a list of 22 top ChatGPT Chrome extensions for you to try.
Why Use ChatGPT Chrome Extensions?
The chat interface of ChatGPT is user-friendly and perfect for sparking ideas or brainstorming.
However, if you want to scale your work with ChatGPT, the chat interface can be limiting, requiring you to copy and paste everything into the target document.
This may not be an issue for 1 or 2 articles, but it might not be the most efficient solution when dealing with tasks like rewriting meta descriptions for 1,000 pages.
That's when a dedicated ChatGPT-powered tool without such limitations comes in handy.
As an SEO expert or digital marketer, you likely spend most of your time working in Google Chrome. You can now enhance your experience and improve your efficiency by trying some (or all) of these ChatGPT extensions.
Let's dive in!
22 Best ChatGPT SEO Extensions
Explore the 22 best Chrome extensions designed to enhance ChatGPT's capabilities.
1. ChatGPT For Google
ChatGPT for Google
showcases ChatGPT's replies right next to search results from popular engines like Google, Bing, and DuckDuckGo.
You can chat with ChatGPT about the query and receive answers.
It also has features like a dark mode, markdown rendering, code highlights, and custom trigger mode. As a bonus, it supports ChatGPT Plus and GPT-4 (manual enable needed) and offers a way to give feedback for ChatGPT improvements.
2. WebChatGPT
The biggest limitation of ChatGPT is that its knowledge base is limited to 2021.
With WebChatGPT, however, this is no longer an issue. This Chrome extension adds relevant web results to the prompts to ensure the conversations are more accurate and up-to-date.
It lets you get web results for your queries and extract webpage text from any URL. The additional prompt templates and use of DuckDuckGo bangs are super helpful in getting more precise search results from thousands of websites.
3. Promptheus
Promptheus turns ChatGPT into a voice assistant by allowing it to receive input through a microphone.
By simply holding the spacebar, you can talk to ChatGPT instead of typing. This enables faster and more fluid conversations that are no longer constrained by keyboard speed.
You can also customize language options in the top-right corner by clicking "Promptheus Options."
Promptheus can truly make your ChatGPT experience more engaging and efficient.
4. TweetGPT
TweetGPT integrates ChatGPT into Twitter to help you create well-considered tweets or reply to others with thought-provoking responses.
By using ChatGPT's API, you can create personalized tweets that resonate with your audience and spark engaging conversations.
You simply choose your preferred topic, language, and emotional tone – and let TweetGPT take care of the rest.
This tool is awesome, but I still recommend moderating what it produces because your Twitter reputation may be at stake.
5. ChatGPT Writer
With ChatGPT Writer, you can tap into ChatGPT's capabilities to craft emails and messages on any website.
This standalone extension only needs an OpenAI login to deliver high-quality responses that very often outperform other tools.
It works on all Chromium-based browsers and supports all languages. The enhanced support for Gmail is particularly beneficial.
6. ChatGPT For Chrome
ChatGPT for Chrome enhances your search experience by displaying ChatGPT's responses alongside search engine results from Google, Bing, and other search engines.
This free and convenient extension lets you access ChatGPT's advanced AI capabilities directly from your Chrome browser.
Its key features include code highlights for easy understanding, a dark mode for comfortable viewing, and a clipboard copy option for pasting information elsewhere.
7. Wiseone
Wiseone is an AI-powered reading co-pilot that simplifies your online reading experience by integrating right into the browser window and recognizing all text types.
It automatically reads complex parts and breaks them down for easier understanding. The extension's features, such as Discover, Cross-checking, Ask Anything, Summarize, and Suggestions, can transform how you read and explore information online.
It will help you better comprehend complex concepts, and Wiseone also verifies facts using multiple sources.
8. Merlin
Merlin is an amazing ChatGPT extension that works across your entire browser. By clicking Cmd+M, you can access ChatGPT on any website – from Google to Gmail and beyond.
It's free and privacy-first, and it helps you save time with features like summarizing YouTube videos, generating email responses, and creating AI-driven social engagement on platforms like Twitter and LinkedIn.
9. ChatGPT Prompt Genius
ChatGPT Prompt Genius is a free and open-source browser extension designed to provide you with an extensive library of prompts, customization options, and additional features.
With this extension, you can easily discover, share, import, and use the best prompts for ChatGPT while syncing your chat history locally for easy access and searching.
You can export your chats in various formats, such as markdown, HTML, PDF, or PNG, and enhance your ChatGPT experience with customizable themes like SMS, cozy fireplace, and hacker.
You can also explore and bookmark threads, search through threads and prompt templates, and provide feedback or suggestions through the built-in feedback form.
10. Engage AI
Engage AI is a ChatGPT Chrome extension specifically designed to help you write insightful LinkedIn comments, build relationships, and establish connections with prospects. It lets you generate memorable, authentic, insightful, and relevant comments.
The extension also offers a variety of tone options to choose from – including friendly, funny, disagree, congratulate, and question – so that you can tailor your engagements based on the specific context.
All you need to do is open the LinkedIn post, click Comment, and let Engage AI do the magic. Of course, proofreading what the tool wrote is highly recommended.
11. ChatGenie
ChatGenie for ChatGPT is the ultimate browser extension that brings the power of OpenAI's ChatGPT directly to your browsing experience.
ChatGenie allows you to access ChatGPT with just a few clicks. You can run ChatGPT from the context menu, quickly access ChatGPT through the navigation bar (Omnibox), and get answers directly from search result pages on popular search engines such as Google, Yahoo, Bing, DuckDuckGo, and more.
Additionally, ChatGenie maintains longer ChatGPT sessions by periodically pinging it.
12. YouTube & Article Summary Powered By ChatGPT
YouTube & Article Summary powered by ChatGPT is a free Chrome extension that harnesses the power of OpenAI's ChatGPT to provide you with quick and accurate summaries of YouTube videos and articles across the web.
Just click the summary button on the thumbnail of the video you're interested in, and you'll get a quick summary of its contents. The extension works similarly for articles.
The extension intelligently extracts key points and insights from the article or video's transcript so you can grasp the main ideas and concepts without having to watch or read the entire thing.
13. Summary With ChatGPT – Open AI
Summary with ChatGPT is a versatile Chrome extension that uses OpenAI's AI technology to offer clear and concise summaries of YouTube videos and articles.
It has various features, such as generating bullet point summaries for articles, customization of ChatGPT prompts, or support for both OpenAI API Key and ChatGPT login.
It also offers example prompts, such as summarizing an article in 3 bullet points or 50 words, translating text to Spanish, simplifying text for a 5-year-old, and writing a caption based on the content.
14. ChatSonic
ChatSonic is a powerful ChatGPT Chrome extension that lets you enjoy the convenience of AI-assisted writing across various platforms like Gmail, Twitter, LinkedIn, Helpscout, and the web in general.
It allows you to compose emails, social media posts, and support tickets, among other things.
This extension offers a wide range of writing templates covering categories such as marketing, sales, customer support, and personal productivity.
ChatSonic's intuitive user interface lets you save your drafts and access your writing history with just a few clicks. Furthermore, ChatSonic offers multilingual support.
15. Talk-To-ChatGPT
Talk-to-ChatGPT is perfect for when you don't want to type your queries. It allows you to talk to ChatGPT using your microphone, converts speech to text, and delivers AI-generated responses audibly.
The official extension supports all major languages and is a breeze to use on the ChatGPT homepage.
It's a fantastic way to simplify your ChatGPT experience, as it utilizes Google Chrome's speech recognition and text-to-speech technologies.
16. Copy For Chat GPT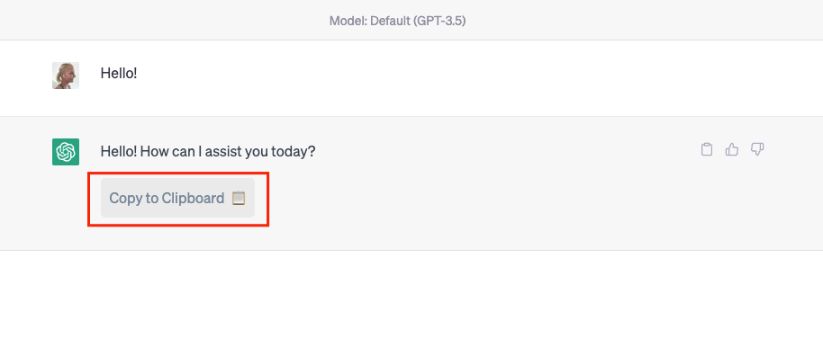 Copying ChatGPT responses is now a simple task with Copy for Chat GPT.
It adds a "Copy" button next to each response, allowing quick copying without manual highlighting.
Additionally, it provides keyboard shortcuts (CMD+K or CTRL+K) and even runs copied text through plagiarism detectors, alerting you of any issues. This ensures that your copied content is both easily accessible and safe to use.
17. ReaderGPT
ReaderGPT can be a lifesaver for managing your online reading. It generates summaries of any text-based webpage using ChatGPT to help you quickly get the gist of long articles or blog posts.
Its vast array of example prompts in the settings allows you to find the best way to summarize the content you are interested in.
With ReaderGPT, you can spend less time reading and more time focusing on the essential points of any article.
18. YouTubeDigest
YouTubeDigest is a fantastic extension that leverages ChatGPT AI to generate summaries of YouTube videos using auto-generated transcriptions.
You can choose from multiple summary formats, such as bullet points, paragraph summaries, or article-style overviews. You can even customize specific time ranges and translate content between languages.
It also lets you export your summaries as PDF, DOCX, or plain text for easy sharing and reference. This extension saves time and helps you preview video content before committing to watching the entire video.
19. Superpower ChatGPT
The Superpower ChatGPT extension adds numerous features to the ChatGPT app. It has a continuously updated library of hundreds of prompts that can help ChatGPT act in various ways.
It offers chat management features, such as folders and reordering, auto-sync, search and highlight, pinned messages, and group deletion.
Prompt management includes input history, quick access, favorite prompts, search function, and community prompts. The extension also covers language and style, utilities like word and character count, model switching, copy mode, and more.
20. ShareGPT: Share Your ChatGPT Conversations
For someone who loves to share intriguing ChatGPT conversations with friends, ShareGPT may be a lifesaver. This extension allows you to instantly share your chats with just a press of a button.
Once installed, a small share button appears in each ChatGPT conversation, and all you have to do is click it to generate a shareable link.
It's a quick and efficient way to share engaging ChatGPT discussions without the hassle of exporting or taking screenshots.
21. TeamSmart AI
TeamSmart AI provides a comprehensive collection of AI agents designed to help users with various needs.
Each virtual agent has its specialty, like Marc for software engineering queries or Rose as a mental coach.
You can access a full team of AI assistants to boost your productivity and get help in different areas.
What's more, it doesn't require ChatGPT Plus but does need an OpenAI API key.
22. OpenAI GPT-3 For Gmail
I've found this Chrome extension immensely helpful for writing emails.
OpenAI GPT-3 for Gmail offers suggestions to complete my emails using ChatGPT AI. It works seamlessly with Gmail, supports all languages, and can even fix typos.
This privacy-friendly extension is invaluable for generating complete emails and messages more efficiently.
Bonus: GPT-EZ
This one is for people who love using the default chat interface of ChatGPT and want to enhance it a bit.
The GPT-EZ extension adds a dash of color and style to your ChatGPT interface. It offers over 15 colors and 25 fonts to choose from. It transforms the ChatGPT UI and enhances the overall experience by providing additional features like download and share options.
AI Is Here To Stay
ChatGPT and AI-powered tools are revolutionizing the digital marketing landscape, and adopting them can help you optimize your work, boost productivity, and increase efficiency.
Failing to do so may result in your competitors gaining an edge.
This will likely leave you with little choice but to embrace these cutting-edge technologies sooner or later.
More Resources:
---
Featured Image: Sabura/Shutterstock