Did you miss our SEJ Summit in Dallas yesterday? Never fear, there are still free tickets available for our Chicago event, courtesy of our partner, Searchmetrics. SEJ Summit Chicago is happening on April 15th at the Hard Rock Hotel. Speakers (in no particular order) include Brian Clark of Copyblogger; John Curtis, SEO Manager at Walgreens; Allison Fabella, Director of Global SEO at CareerBuilder, Marcus Tober, CTO of Searchmetrics; and Ryan Jones, Manager of Search Strategy & Analytics at SapientNitro.
The SEJ Summit Dallas was a great event! We had ten speakers (who had 20 minutes each to deliver their presentation, complete with three takeaways) and four panelists. Topics included Facebook advertising, content marketing, preparing for social media disasters, and creating an SEO strategy for 2015.
Thanks to @MelanieNeal of @zellarubymedia for this great collage of a few of our #SEJSummit Dallas speakers today! pic.twitter.com/ykoeXTlSSa

— SearchEngineJournal® (@sejournal) April 1, 2015
Here's a brief overview of the speakers, as well as their presentations.
The Content Brand Pyramid
Dennis Goedegebuure VP of SEO & Growth at Fanatics Inc.
.@thenextcorner is kicking off #SEJSummit @searchmetrics pic.twitter.com/lGQtngyaQ6

— SearchEngineJournal® (@sejournal) March 31, 2015
Dennis kicked off the event by discussing his content marketing and strategy spin on the well-known branding pyramid. After describing the different levels of content (with "epic" content at the top, which should only be done every 6 months or so), he delved into a case study of a documentary short about the Berlin wall he facilitated during his time at AirBnB.
Dennis' three takeaways were:
LUMPS for SEO
Using a content brand pyramid for SEO
Use paid media amplification for ultimate results
Dennis' presentation is below and he also discussed the content brand pyramid with me in detail on a recent Marketing Nerds podcast, if you want to see him in action.
Creating a Winning Brand Content Strategy
Michelle Lowery, CEO of Passion Fruit Creative Group
Michelle discussed content strategy, which includes having the right people on your team and seeing content as a viable part of an overall marketing strategy, instead of an afterthought.
Michelle's three takeways were:
Think like a publisher
Content created without specific goals is a waste of time, money, and resources
Content strategy begins well before the first word is written.
Michelle also discussed content strategy with me in a recent Marketing Nerds podcast.
Why Brands Should Bet Big on Podcasting
Jerod Morris VP of Marketing at Copyblogger Media
RT @RocksDigital: .@JerodMorris on how on-demand audio content is a rising power and how to capitalize #SEJSummit pic.twitter.com/QBBCN1A5T5

— SearchEngineJournal® (@sejournal) March 31, 2015
Jerod kicked off his presentation by giving the audience some facts about the true significance of podcasting. One interesting fact he gave was 15% of Americans have reported listening to a podcast in the last year. If this number seems small, remember that only 18% of Americans are even on Twitter.
Jerod also gave some podcast content and sponsorship ideas for actual big brands that were in attendance, including Hobby Lobby.
Jerod's three takeaways:
On-demand content is a rising power
The opportunity for a big land-grab is now.
Create, leverage, or do both.
Jerod was originally going to speak about content strategy and productivity, which is something we covered together in another Marketing Nerds podcast.

Is Your Brand Missing Out on Reddit?
Brent Csutoras, Chief Social Media Strategist at Search Engine Journal
Brent's presentation centered around big brands on Reddit, including successful campaigns from companies like Nissan, Amazon, and Red Bull. Dozens of enterprise companies are successfully on Reddit today, and Brent's three takeaways centered around making sure you understand and cater to the Reddit community, instead of treating it like "just another social network:"
Reddit is valuable
Cater to Reddit
Stay engaged
Brent emphasized transparency and allowing employees that truly understand Redditors to be in charge of outreach there. It is definitely a platform that you can't go into blind, without building up a profile and knowing about the community first.
3 Common Mistakes in Branded Local Search (and How to Fix Them)
Greg Gifford, Director of Search & Social at AutoRevo
Greg managed to zip through his 137 slides in his 20 minutes, an impressive feat (most slides had scenes from some of Greg's favorite movies, so I'd definitely recommend checking out the Slideshare below). Greg mentioned Moz's annual Local Search Ranking Factors report, which they release publicly for free, as a great way to get a handle on what's most effective in local search today.
Greg's three takeaways were:
Content: Optimized and Local
Links: Relevant and Local (he recommended church and other small local business websites as great places to get links from, say if you were a sponsor or donor of a local program)
Citations: Consistent and Local (make sure your Name, Address, Phone (NAP) are all consistent)
What You Did Not Plan for in 2015
Jordan Koene, Chief Evangelist at Searchmetrics
Along with serving as emcee for the morning portion of the Summit, Jordan also gave the audience a few common areas he's seen many brands not be completely prepared for when it comes to planning out the year ahead. These areas, which were also his three takeaways, were:
Content Security
Doomsday Plans
Non-Google Search
When it comes to content security, Jordan urged the audience to see what pages they've allowed Google to index (e.g. login or error pages) and to consider updating their robots.txt file to tell search crawlers they don't need to be crawled and displayed in SERPs. His other points included preparing for SERP traffic drops and "non-Google search," e.g. where users are looking for content online, like Youtube, Yandex, and employer review sites like Glassdoor.
Jordan also described his 2015 marketing preparedness plan in an SEJ interview last month.
How to Kick the Wonky SEO Syndrome
Jessica Bowman Founder of SEOinhouse.com
Jessica's presentation was based on the "SEO Pillars" in her F2R framework that she uses for enterprise clients, which have included Salesforce and GEICO. She uses this process with new clients and urged the audience that it was easy for them to implement in their own organizations as well.
The pillars of search via @jessicabowman #SEJSummit pic.twitter.com/rEq01q59kL

— SearchEngineJournal® (@sejournal) March 31, 2015
By focusing on each area of SEO separately, your company can identify the areas that they are weak, and then take steps to improve. Areas she mentioned included Social Activity, User Experience, and External Links & Mentions.
Jessica's slides aren't uploaded to Slideshare yet. We will update this post when they are.
Facebook Advertising Strategy for Enterprise Brands
Kate Buck Jr. Director at Social Media Manager Pro
Kate used actual examples of campaigns she's worked on for enterprise clients to illustrate her three takeaways and to illustrate how segmentation, targeting, and ad creative experimentation can affect CTR and ROI. She focused mainly on Facebook advertising campaigns.
Kate's three takeaways were:
Deploy a strategic re-engagement campaign to activate existing fans and increase organic reach.
Leverage lookalike audience functionality to find and connect with new, highly-targeted fans.
Use transaction-based, direct response to invitations to create meaningful connections between your fans and your brand beyond social.
Effective Social Media Brand Management
Lissa Duty, VP of Community Management at Advice Interactive
Lissa went through a few examples of when brands respond to "fires" or pop culture in both the right way (the Oreo tweet during the 2013 Super Bowl) and in the wrong way (Play Doh's phallic tool). After describing what each brand did right, as well as what they did wrong, she went through her three key takeaways for tying it all together:
Real-Time Brand Management
The Social Process
Reputation Monitoring & Responses
Along with defining social strategies and how to respond correctly on social media, Lissa also described how customer service and support departments tie into SMM strategy.

3 Red Hot Social Marketing Hacks To Crush 2015
Marty Weintraub, Evangelist & Founder of aimClear
Marty was the last solo speaker session of the afternoon, which made for a good choice since he is so high energy. He first talked about how, honestly, is all marketers are here to make money. That being said, there are several ways you can use custom targeting in paid social media campaigns to get in front of the audience you want to target without having to pay top dollar.
One way to do this was by implementing psychographics, which is the study of what makes people "who they are"– e.g. the fact that many people who smoke weed also happen to order pizza.
Marty's slides have not been uploaded to Slideshare yet. We will update this post when they are available.
"AMA" Format Keynote Panel
Warren Lee, VP of Marketing at Nationstar Mortgage; Bernadette Coleman, CEO of Advice Interactive; Tony Wright, CEO of WrightIMC; Steve Floyd, Creative Director / Principle at AXZM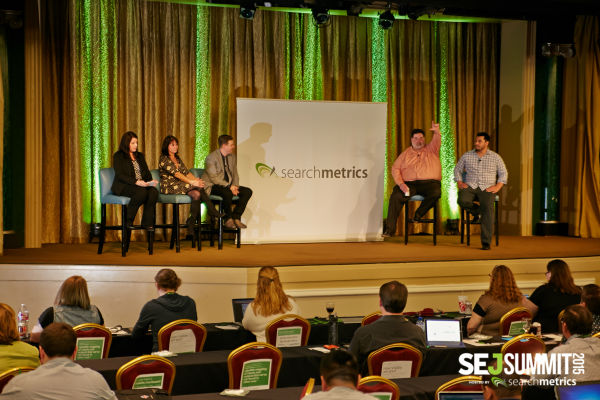 The 40-minute panel at the end of the day was in AMA format, which is a nod to Reddit's popular subreddit, where interesting and/or well-known people (like President Barack Obama) come on to answer questions from the community.
Panel topics covered included:
Google's "Mobilegeddeon" update coming April 21st. Tony recommended using Google's Mobile Usability Tool to check your site.
How does an enterprise business optimize for multiple locations? The panelists agreed it took extra manpower and "not being lazy."
Is capturing a mobile phone number or an email address more important? Tony said it depends, but the rest of the group said email was more the way to go. Either way, the panel agreed it depends on how you're using either and who your company is in relation to the customer you are contacting.
Overall, it was a fun event and many attendees said they learned a lot and enjoyed the venue. To view photos from the event, check out our Facebook photo album.
—
Did you miss our SEJ Summit in Dallas yesterday? Never fear, there are still free tickets available for our Chicago event, happening on April 15th at the Hard Rock Hotel. You can also come see us in London, Silicon Valley, NYC, and Atlanta later this year.
Photos taken by SEJ team unless otherwise specified.