Our second ever #SEJMeetup is happening tonight in San Jose, CA! We can't wait to see everyone. We've booked the Mosaic Restaurant & Lounge Tuesday, March 11 at 7pm – 9pm. It's just two blocks from the San Jose convention center- at the Four Points Sheraton.
Our sponsor Instant E-Training is giving away prizes!
The prizes include:
SEO Self-Paced Certification Program (retail value: $597)
Yearly Access to our on-demand video library (retail value: $399)
Here's how to win:
1. Register for the meetup on EventBrite (see below).
2. Check in at the door, we'll be checking names
That's it! If you haven't registered yet, please use the RSVP form below to reserve your spot and enter your name into the contest. The lucky winners will be randomly selected from our attendance sheet and announced on SEJ tomorrow.
The SEJ crew will be in the house, including:
John Rampton, Editor at Large
Murray Newlands, Deputy Editor
Jessica Cromwell, Project Manager
Debbie Miller, Social Media Manager
Brent Csutoras, Social Media Strategist
Loren Baker, SEJ Founder
Jenise Henrikson, SEJ Publisher
– FREE TO ATTEND – LIMITED TO 200 ATTENDEES –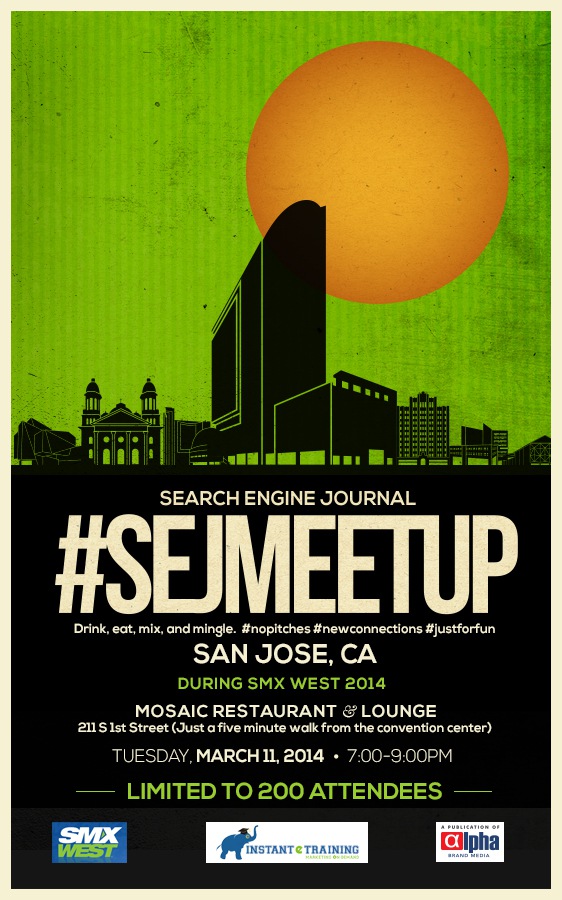 If you are not familiar with our meetups, they are completely casual networking events for internet marketers (and those that love them). It's just an excuse to have fun by getting together and catching up with those you already know, and get to know those you don't. There are no pitches; all we want from you is to show up, have fun, and make new connections!